How dreaded armed robber, Lawrence Anini, held Benin City ransom in 1986
- Lawrence Anini was a dreaded armed robber in 1986 in Benin City, then Bendel state
- He terrorised the residents including neighbouring towns of Agbor, in the present Delta state
- He was almost invincible in the city as he terrorised the area, sending fear into the residents
- He was eventually captured and publicly executed in March 1987 with his gang members and some police officers
Have you ever wondered how some persons are described as famous while others infamous? It is simply a matter of what they are to be remembered for. In the history of infamy, the name Lawrence Anini goes down in Nigerian history as one of the leading names if not the number one in notoriety. In the 1980s, the name Lawrence Anini was the most notorious and the most dreaded criminals in the country.
One might think of him as the Nigerian version of the biblical Barabbas in terms of his notoriety, only the Jews may not have chosen him over Jesus, considering the number of lives lost during the period of his terrorism and robbery in Benin City and other communities in the defunct Bendel state. As far as criminals in Nigeria are concerned, one could be right to say there have only been two sort of criminals, Lawrence Anini and others. This is combining all other criminals into one and Anini one.
Just as Justice Omo-Agege had remarked while passing his lead judgment at the High Court of Justice off Sapele road in Benin City: "Anini will forever be remembered in the history of crime in this country, but it would be of unblessed memory. Few people, if ever, would give the name to their children." This explains the level of atrocity committed by this criminal who held Bendel state ransom with terrorism.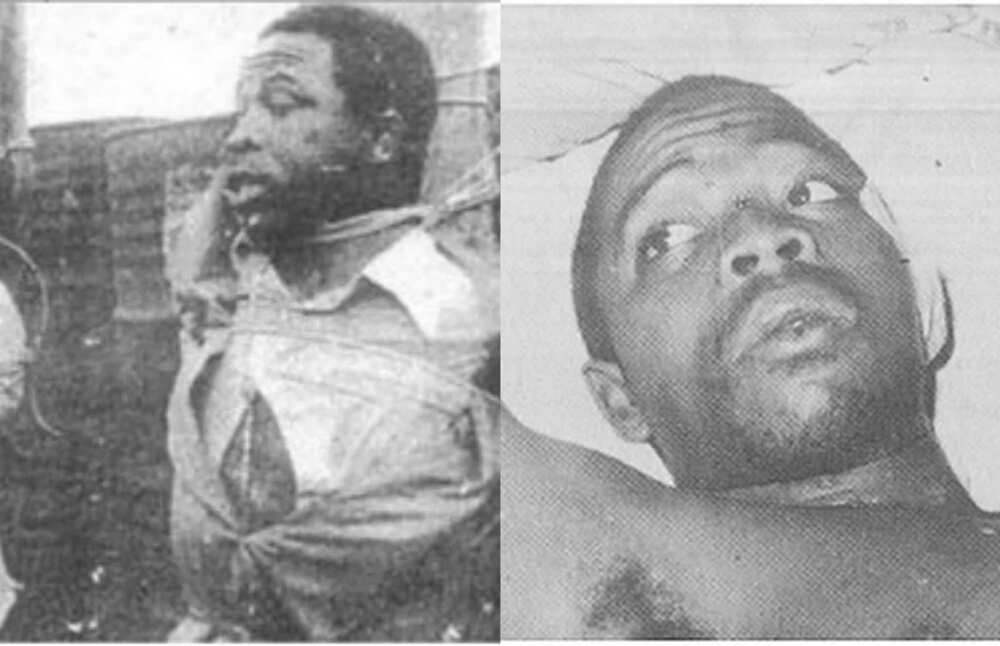 Lawrence Nomanyagbon Anini, was what one might be tempted to refer to as a five star celebrity of some sorts, whose gang singlehandedly caused fear and terror in the area now known as Edo state, formerly Bendel state. He was in fact the only criminal whose reign of terror was so bloody that he became a topic of discussion at the state security council meeting under the then military president, Ibrahim Badamosi Babangida.
Being the only son among the three children of his mother, he had lost his father as a young boy, and barely managed to finish primary school as he had started showing signs of truancy at an early age, and dropped out of secondary school shortly after to become an apprentice with a mechanic in the last 70s.
READ ALSO: Former PDP chairman in Bayelsa assassinated
Habits die hard and so even as an apprentice, the truancy in him kept coming to the surface and in no time, he was fired by his boss and proceeded to become a driver conveying stolen goods for criminals. In no time, he became what one might describe as the 'chief agbero' of the motor park, controlling and commanding touts, and even settling issues among the various motor park factions and unions.
By the time he was 34, he had considered that armed robbery would be far more lucrative for him than merely being an errand boy conveying stolen goods for criminals, and proceeded to form his own five-man gang which included, Monday Osunbor, Friday Ofege, Henry Ekponwan, Eweka and Alhaji zed zed or Zegezege who was never captured. Initially, they were into hijacking of vehicles, robbing banks as well as travelers on the high way, and worked hand-in-hand with some corrupt seeds in the police force who helped to cover their tracks and share loots.
A betrayal of trust by his police counterparts in early 1986, led to the prosecution and execution of two members of his team, and sparked off a retaliatory move on his part and in the four-month reign of terror which lasted between August and December 1986, his gang sent no fewer than nine policemen to their graves, alongside countless other civilians. In August 1986, a fatal bank robbery linked to Anini was reported in which a police officer and many others were killed. That same month, two officers on duty were shot at a barricade while trying to stop Anini's car.
On September 6, same year, the Anini gang snatched a Peugeot 504 car from Albert Otoe, the driver of an assistant inspector general of police, Christopher Omeben. In snatching the car, they killed the driver and went to hide his corpse somewhere, and the skeleton was only discovered about three months, 16 kilometers away from Benin, along the Benin-Agbor highway. The day after that, a Peugeot 504 car was snatched by the same gang near the former FEDECO office in Benin. With only a couple of days interval, they struck again, killing two policemen in Orhiowon local government area of the state.
There were also other robbery attacks that pointed to Anini's involvement, took place. Notable among them were the murder of Frank Unoarumi, a former employee of the Nigerian Observer newspapers; the killing of Mrs. Remi Sobanjo, a chartered accountant, and the stealing of the Mercedes Benz car in Benin, of the then Ovie of Ughelli, Delta state.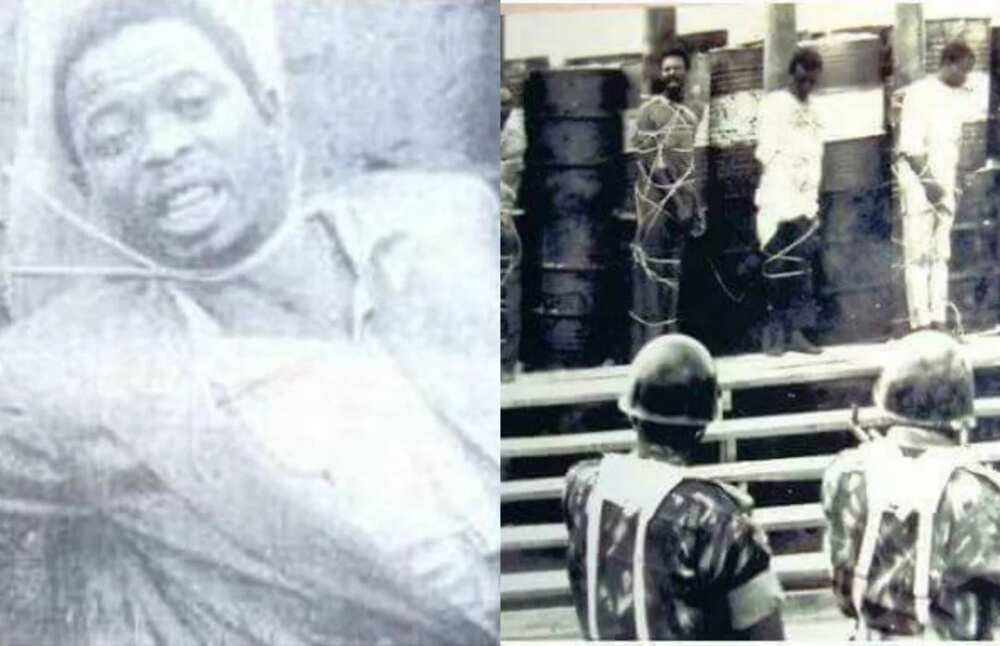 The Anini gang also struck at a gas station along Wire Road, Benin, where he stole a substantial part of the day's sales. The highpoint of it all was when, after shooting the station's attendant and joyfully started spraying money along the road for free pick by market men and women at a village near Benin as he drove away.
The height of Anini's revenge against the police, however, took place on October 1, 1986, the Independence Day when the state's commissioner of police, Casmir Igbokwe, was ambushed by the gang in Benin, and nearly yanked off his nose in a hail of bullets. The police boss survived the attacks with serious injuries. Prior to that attack, and still on the same day, the Anini men had gunned down a police man within the city.
READ ALSO: SEE 5 Nigerian billionaires who can end poverty in Nigeria according to Oxfam
On October 21 of same year, a Benin-based medical doctor, A.O Emojeve met his end when they gunned him down along Textile Mill Road still in Benin. Still unsatisfied, the gang robbed the Agbor branch of African Continental Bank and carted away about N46, 000, a heart-palpitating sum in the 1980s.
"The Law", as he was nicknamed, once escaped an operation that went bad, by driving in reverse from Agbor, Delta state, to Benin City, Edo state. His reign made dim the previous experiences under Ishola Oyenusi, who was tagged the king of robbers in the 1970s and Youpelle Dakuro, the army deserter who masterminded the most vicious daylight robbery in Lagos in 1978, in which two policemen were killed.
As expected, his news dominated the media, as it was even said that he wrote numerous letters to media houses using political tones of Robin Hood-like words, to describe his criminal acts. Nigerian newspapers and journals were also publishing various reports and editorials on the 'Anini Challenge', the 'Anini Saga', the 'Anini Factor', 'Lawrence Anini – the Man, the Myth', 'Anini, Jack the Ripper', and 'Lawrence Anini: A Robin Hood in Bendel'. The Guardian asked, emphatically, in one of its reports: 'Will they ever find Anini, "The Law"?
Alarmed by his seeming invincibility and evasiveness, and sensing the fear that had gripped the whole country, the military President Ibrahim Badamosi Babangida, then ordered a massive manhunt for the kingpin and his fellow robbers. This was to the extent that after a meeting of the then armed forces ruling council of Babangida, in October 1986, he turned to the inspector general of police, Etim Inyang and asked: "My friend, where is Anini"?
The police thus went after them, combing every part of Bendel state where they were reportedly operating and domiciled. However, the more the manhunt, the more intensive and cruel their attacks became and it began to seem like they would never get caught as it was rumored that he had charms that helped him disappear as soon as the police approached the robbery scenes.
However, as fairy-tale fans like to believe, good must someday triumph over evil; and so the invincible Anini eventually got apprehended after four months of terror. His end was not as most would have pictured it considering the invincible image he had achieved in the public's eye.
December 3, 1986, turned out to be the day he met his waterloo. His capture turned out to be only a little dramatic. It took the courage of superintendent of police, Kayode Uanreroro. Acting on a tip-off, he Uanreroro caught Anini at No 26, Oyemwosa Street, opposite Iguodala Primary School, Benin City, in company of six women.
Uanreroro led a crack 10-man team to the house, knocked on the door of the room, and Anini himself, clad in underpants, opened the door. "Where is Anini?", the police officer quickly enquired.
Caught off guard and having no escape route, Anini tried to be smart in answering the questions as to his whereabout; "Oh, Anini is under the bed in the inner room." As he made the fatal error of trying to walk past Uanreroro and his team. Uanreroro promptly reached for his gun, stepped hard on Anini's right toes and shot at his left ankle.
Before he was eventually taken away, he received several other shots in the same leg which was later amputated in a military hospital, and he sat in a wheel chair all through the period of his trial. When his hideout was searched, police recovered assorted charms, including the one he usually wore around his waist during operations. All charms were disposed after his arrest.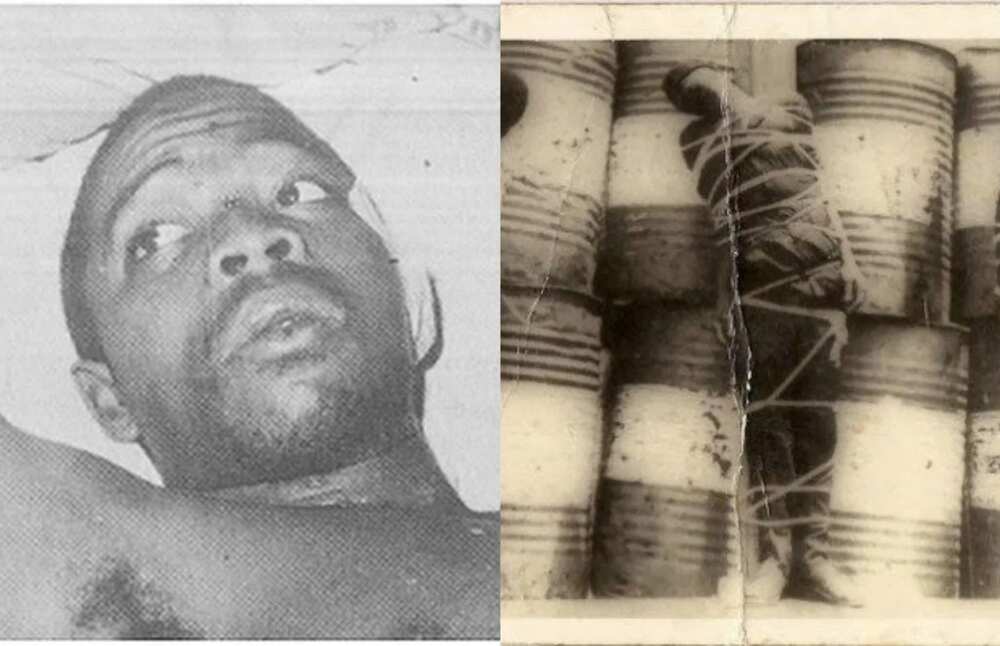 Contrary to how one might have pictured him remaining mute and stone-hearted to the end, Anini appeared remorseful and revealed a lot of information in pidgin English since he had a poor command of English. What one might find hard to understand is, how the same person who wrote to the media in English language about his operations would have such a poor command of the language that he had to speak in pidgin?
In custody, Anini revealed their principal informant as senior police officer, George Iyamu, who also supplied them arms and ammunition and police movement intelligence. He even disclosed that Osunbor, who had been arrested earlier, was his deputy, saying that Osunbor, who had a remarkable dexterity with guns, actually shot and wounded the former police boss of the state, Akagbosu. He mentioned a few other people complicit in their operation, even though his deputy Monday Osunbor did not reveal a thing from the time of his capture till his execution.
PAY ATTENTION: install our latest app for Android, read best news on Nigeria's #1 news app
Despite Iyamu's staunch denial during the court trial, he was sentenced to death alongside five other police officers who were implicated. The robbery suspects, including Iyamu, were sentenced to death.
For Prince Amen Oyakhire, the head of general investigation department at force CID, Alagbon Close, Ikoyi Lagos, who was deployed to Bendel by the then inspector general of police, Etim Inyang, the investigation and subsequent arrests had to be carefully done to ensure that they were captured alive. Speaking in an interview, more than 26 years after the execution, he stated that they worked according to the instructions they had been given.
"We arrested them because we knew that if killed in the process and their dead bodies put on the TV, people might not be convinced that such dead bodies were those of Anini and his cohorts. When arrested, they didn't hesitate to disclose their escapades during interrogation .They were allowed to speak and indeed they spoke to Nigerians," he said.
Chief Osaheni Uzamere, who was the defense counsel in the court trial, representing Lawrence Anini and other members of his gang recalled, in a recent interview that he had been the lawyer to Anini and his gang for four years before they were brought to book. Responding to how he felt about their execution, he stated that life was simply a matter of choice. "I decided to be a lawyer. They decided to be criminals. So if they decided that quick money was what they wanted, they should bear the consequences. Besides, as soon as they were arrested, they confessed to a lot of things."
Due to amputation of his leg, Anini was confined to a wheelchair throughout his trial. He was eventually sentenced to death by Justice James Omo-Agege and executed on March 29, 1987.
Watch this Legit.ng video where Fani Kayode gave details of his talk with President Muhammadu Buhari
Source: Legit.ng