Ankara top on jeans is a big fashion trend in Africa. Ankara prints can produce beautiful textiles, jeans, dresses, costumes and other wardrobe items. Do you want to create a fashionable look? Keep reading!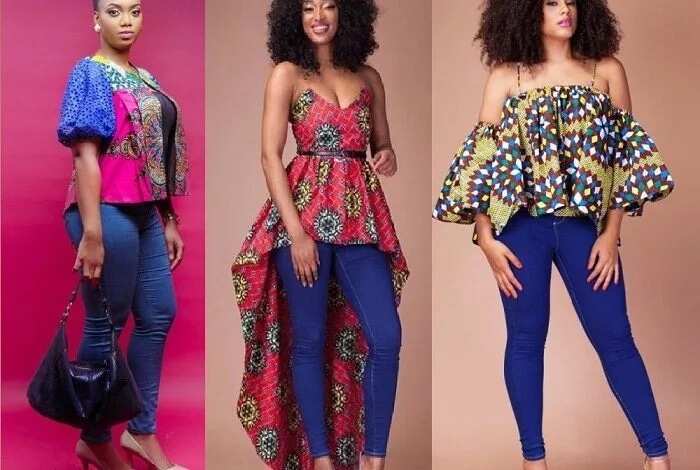 Ageless jeans
Jeans are commonly worn clothes all over the world. Millions of people of different ages, complexion, and social status like these pants with pockets. Both wealthy and poor people wear them with much pleasure.
At the beginning of their "career", jeans served as working clothes for American cowboys and gold miners. In the 70s jeans were considered as a flag of hippy movement and as an outfit for punk biker-rockers.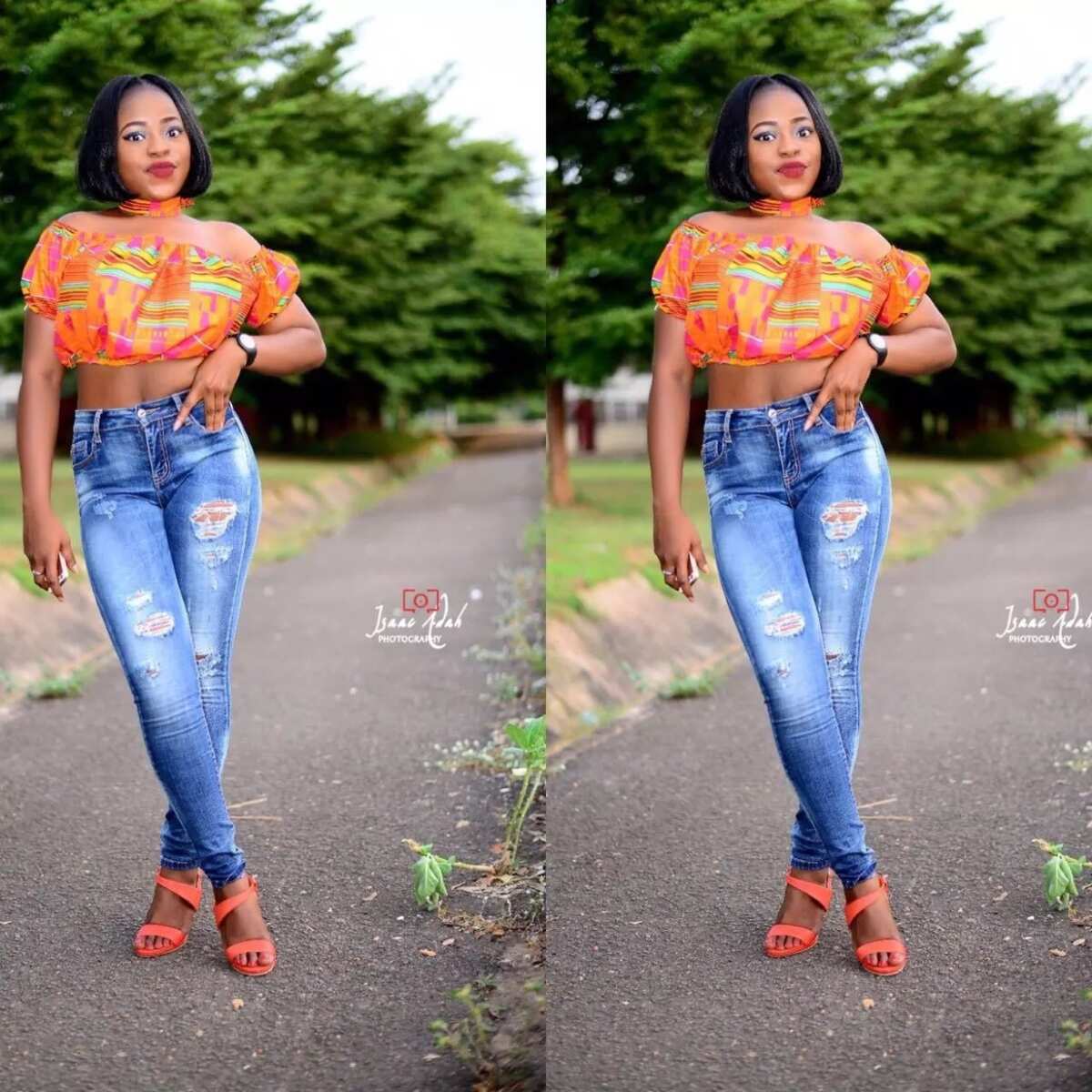 Nowadays jeans are popular among children and older men, among kings and paupers. If you set out to calculate the percentage of people wearing jeans at any given moment, it turns out that the number of citizens who prefer this kind of clothing is very high (almost 80%) and increases steadily.
Moreover, every lover of jeans probably has more than one pair. So we are some some people have their own denim wardrobe.
Ankara top on jeans success
In what other way can we explain the success of this item of clothing? Universality is one of its specialties. Jeans can be perfectly combined with another beloved by Nigerian trend, Ankara tops.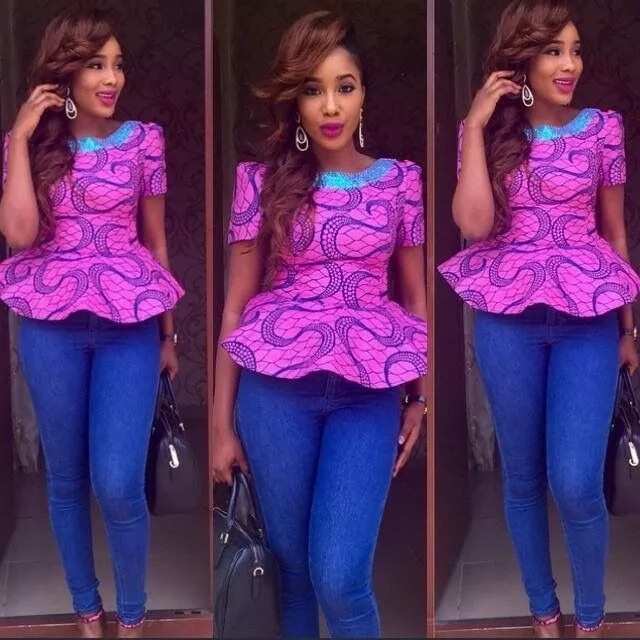 This combination is often used in casual style. However, some classic options are quite acceptable as office wears too. For jeans, you can pick almost any top: from sports shirts to elegant blouses in a free style. Blazers, sports, walking jackets and even coats combine well with jeans.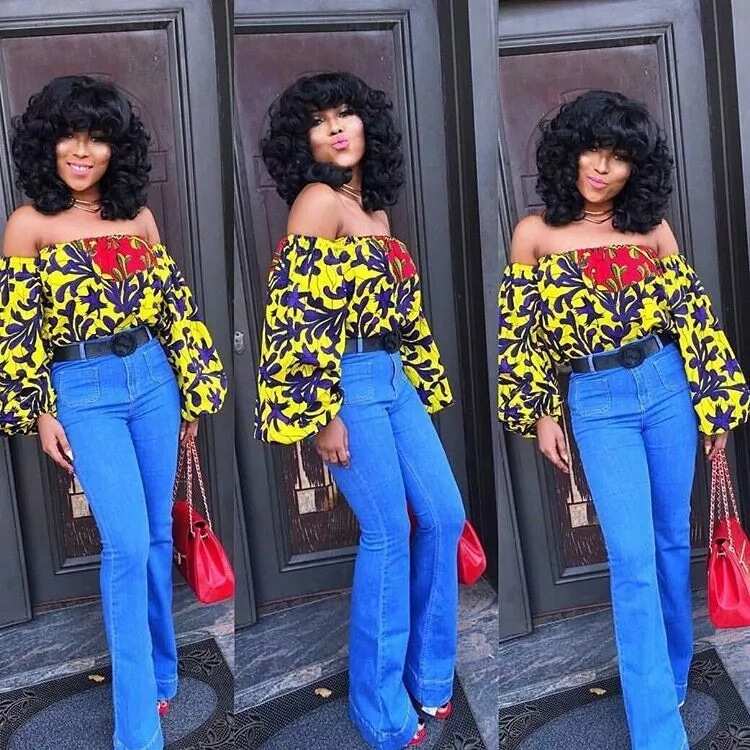 Jeans can be worn with almost any footwear. Sneakers, shoes, sandals, ballet flats, boots, − all these kinds of shoes can be worn with jeans, depending on the occasion. You can even wear long tunics with Ankara jeans.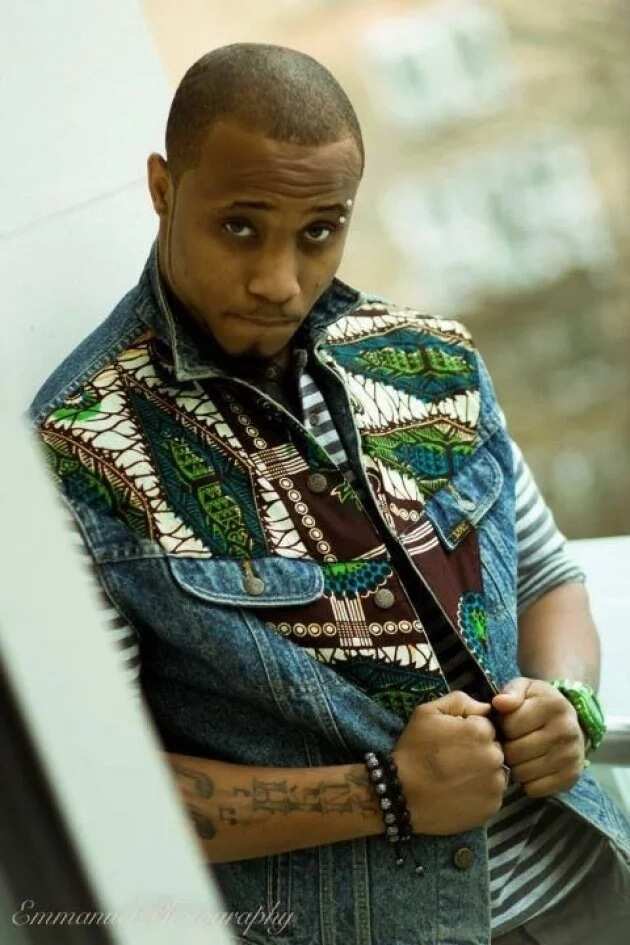 Men's jeans also have a wide range of style. The colour range for jeans is quite wide: from classic blue to almost any colors and combinations of colors.
READ ALSO: Ankara top styles for Nigerian beauties
Ankara top on jeans designs
Jeans are perfect to pair with Ankara tops because many of their collections ideally fit in with the nice ethnic African motifs. Ankara fabric is something special. It perfectly reflects the authenticity of the African continent. Bright colors and beautiful ornaments look great on jeans clothes. Another distinguishing feature of Ankara tops on jeans is their practicality and resistance.
There is no woman who does not look good in jeans. No matter your figure, the right pair of jeans will flatter you.. You just need to choose the right style. There are:
- classical jeans;
- skinnies;
- boyfriends;
-"carrot"- trousers.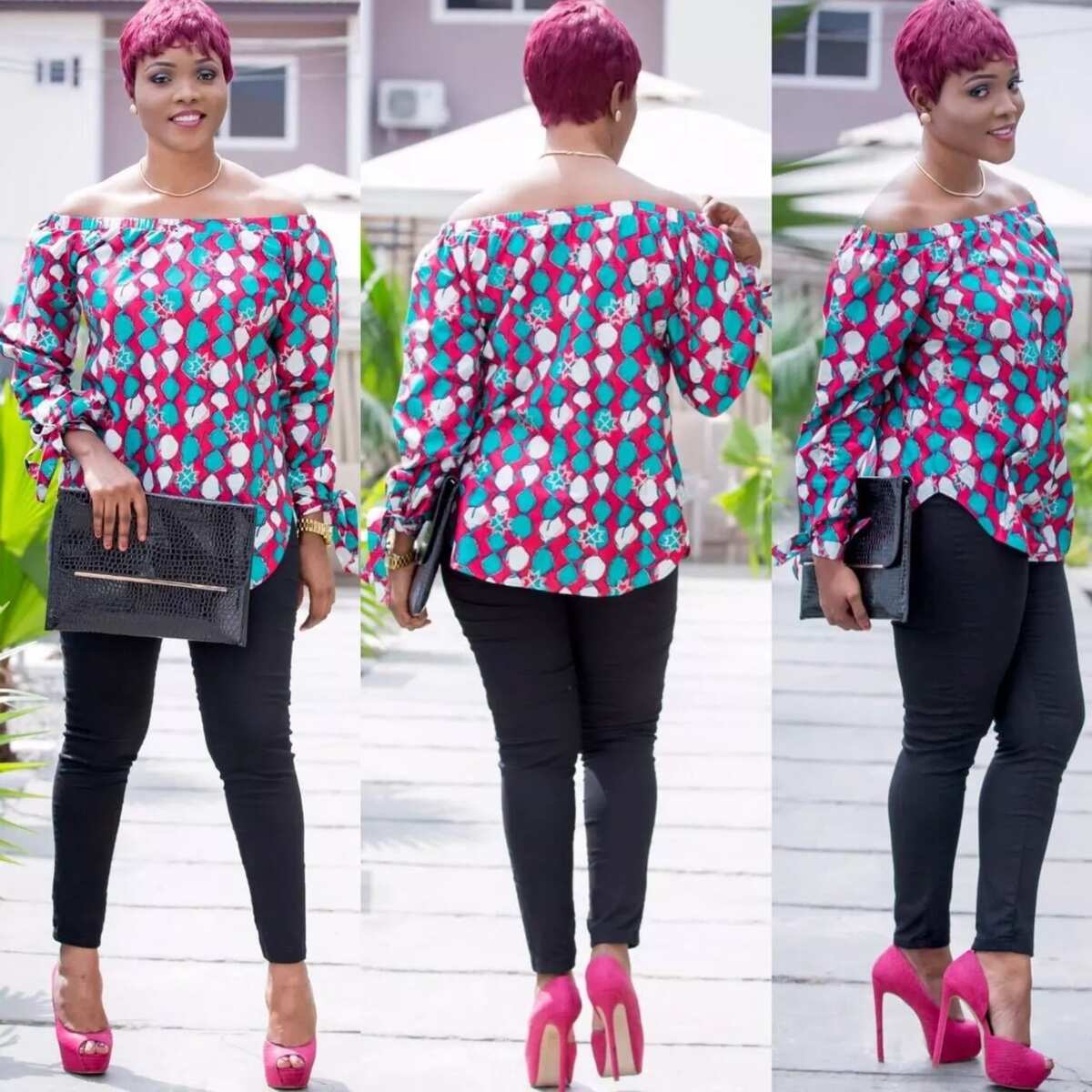 Ankara tops
Among the most popular tops designs are:
- Ankara peplum tops;
- Ankara crop tops.
The peplum top is a wardrobe item that accentuates the smooth figure of any woman. With the variety of colours, an amazing cut of the Peplum top will make it an excellent addition to jeans.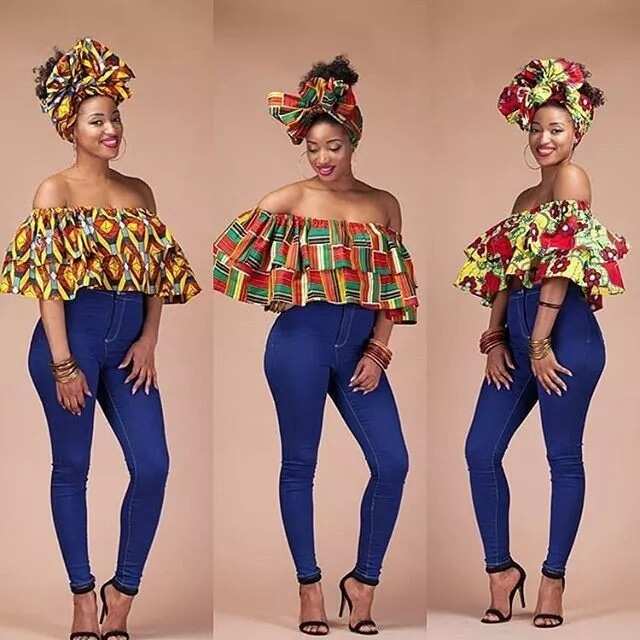 Another kind of outfit that can be combined beautifully with jeans is a crop top. Ankara provides all sorts of colors and shapes for this shorter version.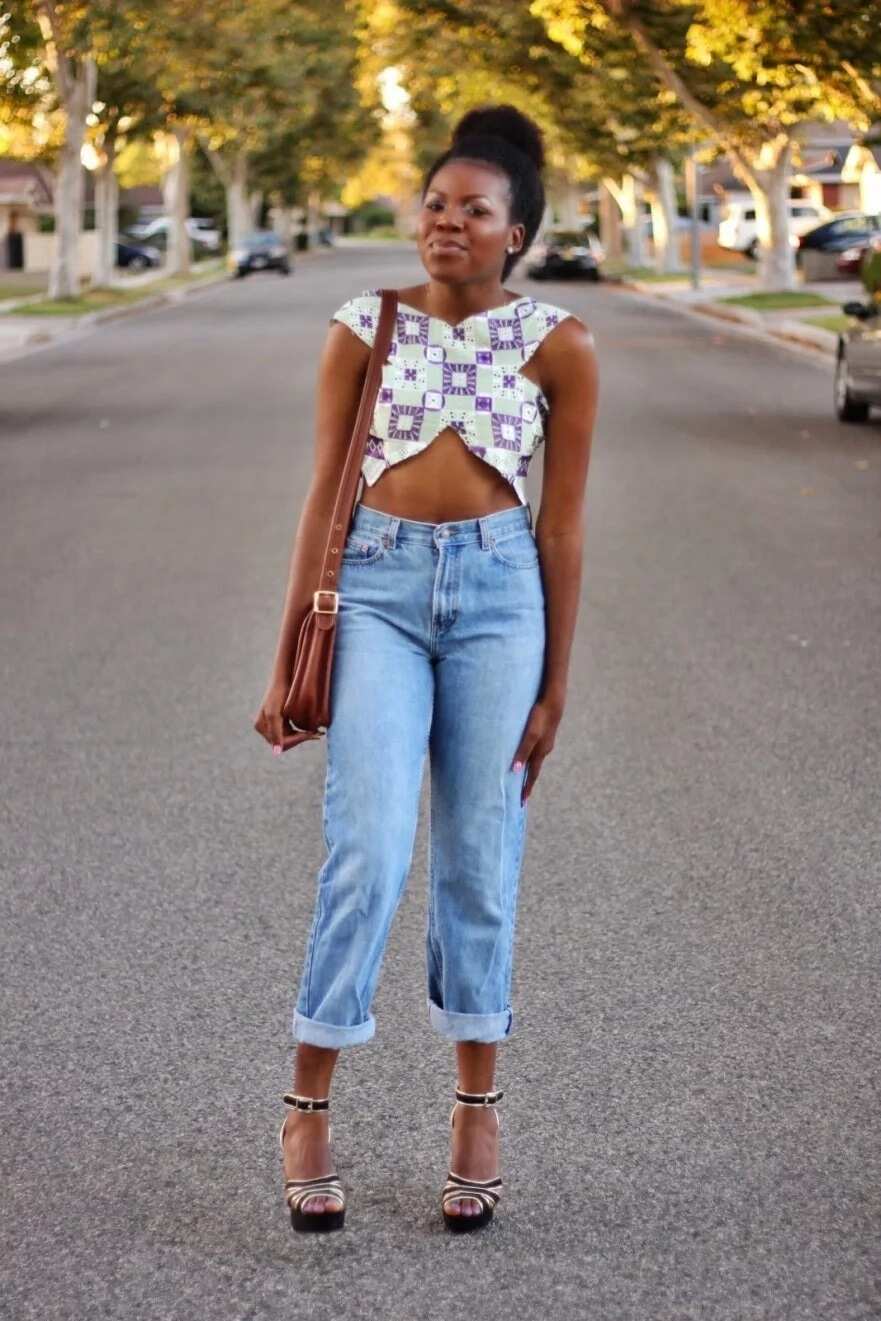 Ankara fashion styles
Chic textiles, magnificent cheerful colors, ornaments, ethnic motifs perfectly convey the spirit of the African continent. Unique Ankara styles of clothes will suit any woman. Each fashionista will find her favorite wardrobe item in Ankara prints. Any woman and girl will look great in these clothes. Ankara top styles have extensive lineups. That's why you can always find suitable clothes for you: whether is going for a walk, going to the office or going on a date..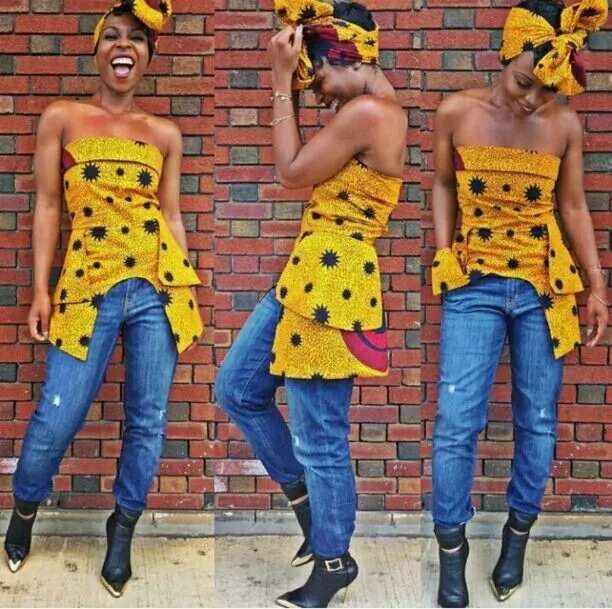 Latest Ankara tops have some fashionable and sometimes unusual cutout, so combining them with stylish jeans will make you the center of attention. Find your unique style and look gorgeous!
READ ALSO: ANKARA TOP AND PANTS