- The governor of Ondo state Rotimi Akeredolu has called on all civil servants in the state to sacrifice the outstanding salaries owed to them by the immediate past government
- Akeredolu while speaking with the committee on arrears of salaries of state public servants submitted its report in Akure
- The Ondo state governor has paid three months salaries of February, March and April
The governor of Ondo state Rotimi Akeredolu has called on all civil servants in the state to sacrifice the outstanding salaries owed to them by the immediate past government.
Akeredolu while speaking with the committee on arrears of salaries of state public servants submitted its report in Akure.
The committee headed by the deputy governor Agboola Ajayi was inaugurated on March 7.
But reacting to the backlog of salaries and arrears, the governor lamented the difficulty in using state funds to offset salaries.
READ ALSO: Buhari is alive in London - Presidency debunks death rumourBuhari is alive in London - Presidency debunks death rumour
He said government workers must be prepared to "pay the sacrifices" of waiving their salaries as part of their own contributions to the economic development of the state.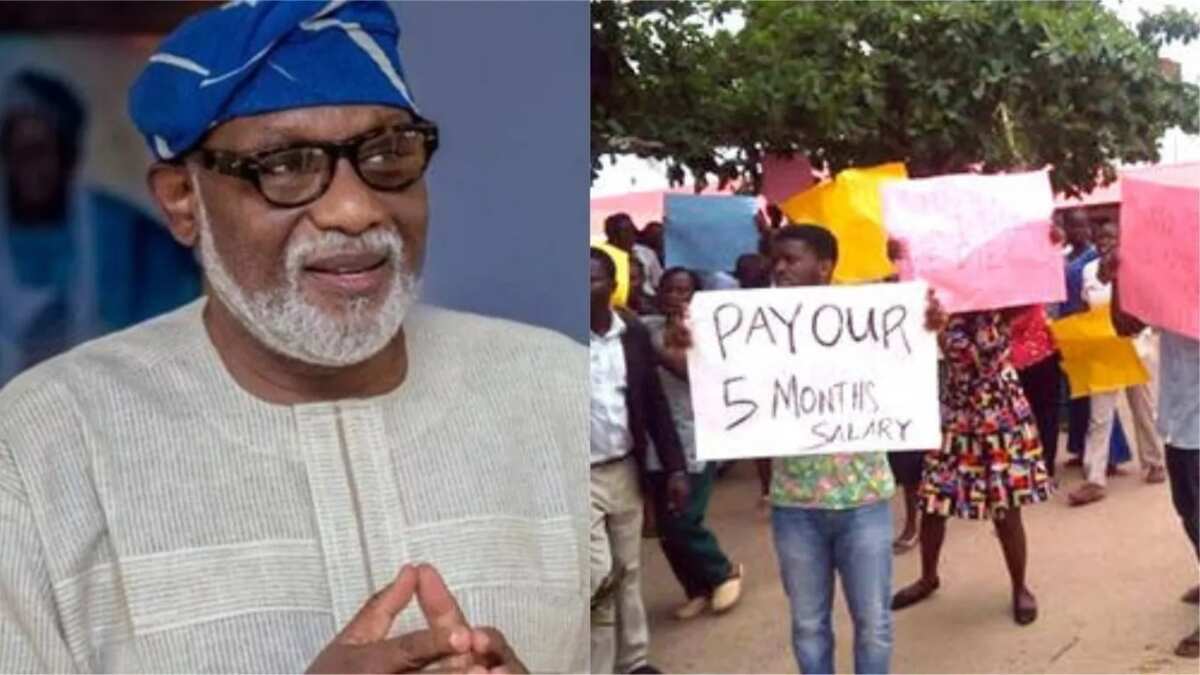 "We have said this many times, we must be prepared to pay sacrifices because we don't borrow money to pay salaries. If they (workers) meet and say they waive two months, we will be glad, but if they insist on having the full arrears, we will look for ways of paying," Akeredolu said.
"I will have to address the workers to let them know that it's not possible to use all our money to pay salaries," he said.
Akeredolu further promised that the All Progressives Congress-led government in the Ondo would endeavor to not owe civil servants' salaries accruing from his assumption of office in February 2017.
READ ALSO: After spending N5.8 billion to renovate Abuja airport, see how flood took over the runway (Video)
"I know it is not easy but it is also getting increasingly difficult for the government, too, but whatever we do, we will try not to owe salaries," he said.
Legit.ng gathered that the Ondo state governor has paid three months salaries of February, March and April.
It was also gathered that the fresh government has paid one out of the six months arrears owed the workers by the past governor of the state Olusegun Mimiko.
Also, the committee in their report said, the total salaries owed to civil servants in the state is N38.57 billion.
The deputy governor said the figure excludes an additional N41.5 billion which represents outstanding gratuities.
"What the government is owing now is N34.5 billion, representing five months' salaries as against the six months we met on board and it is outside the N41.5 billion representing outstanding gratuities," the deputy governor said.
Watch this Legit.ng video of Emir of Kano Muhammad Sanusi blasting Nigerian leaders:
Source: Legit.ng