I don't want to be Biafra president — Nnamdi Kanu
- Leader of the Indigenous People of Biafra (IPOB), Mazi Nnamdi Kanu, has revealed why he won't be Biafra president
- He says he is in the struggle for secession to ensure that the rights of the people of Biafra were restored
- Kanu says he is not interested in money but wants to ensure that justice and equity reign
Leader of the Indigenous People of Biafra (IPOB), Mazi Nnamdi Kanu, has said that contrary to insinuations in some quarters, he does not intend to be president when the Republic of Biafra was eventually actualized, Vanguard reports.
Kanu always preferred to operate from the background, pointing out that if the pioneer leader of the Movement for the Actualization of the Sovereign State of Biafra (MASSOB), Chief Ralph Uwazurike, had remained consistent with the struggle, he would not be doing what he is doing with IPOB.
Legit.ng previously reported that Nnamdi Kanu, was granted bail by the Federal High Court sitting in Abuja after spending almost two years in detention.
READ ALSO: Buhari's top aide in trouble as plot to stop Osinbajo from acting revealed
Legit.ng gathered that while insisting that the actualization of a Republic of Biafra was a foregone conclusion, the IPOB leader said he also sympathized with the South East governors and some other political office holders' position on Biafra, attributing it to their fear of losing their positions and political relevance in Nigeria.
He, however, said the fear being entertained by such Igbo leaders was neither here nor there because the Biafra Republic would be founded on the principle of justice, equity and fairness.
He was also happy that some Igbo leaders were already identifying with the struggle and encouraged them to remain steadfast.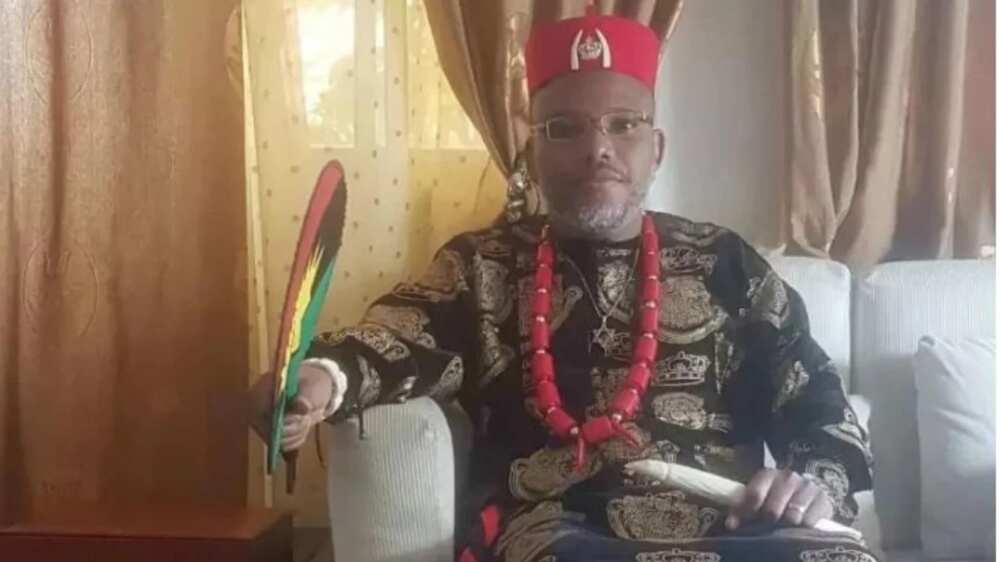 He said: "I am into this struggle because of leadership vacuum. I am into this struggle because my people are suffering; they are being denied their rights and privileges and nothing will stop this fight. I want to assure our people that we are almost there.
"The Biafra Republic is almost here with us. Even if one is from Sokoto, he can be a Biafran once he believes in our value system of equity, justice and fairness.
"Biafra will be a home for all people who agree with our values, whether you are from Kano or Sokoto.
"It will be a place for good things for good people. Therefore, those who are distancing themselves from the Biafra struggle will regret it. If you don't join the struggle, you will be irrelevant in the end because Biafra Republic is sure."
Legit.ng had previously reported that IPOB gave Nnamdi Kanu beautiful gifts.
Kanu described Afaraukwu-Umuahia, where his father is the traditional ruler as being part of the headquarters of Biafra.
Afaraukwu-Umuahia was where late Chukwuemeka Odumegwu Ojukwu had the popular Ojukwu bunker, and operated from till the end of the Biafra war, adding that there was therefore no way he would abandon his father's land which served Biafra in time of need.
He stated that, the same politicians who called them noise makers, internet warriors, miscreants and so many names today sneak in to come and lobby him for support.
"They will always ask me to support them to get into office, that while they are in office, they will help push the cause, but I know that what they are after is the four or eight years they will stay so that they can make money," he said.
READ ALSO: UPDATED: Ex-PDP BoT chairman, Anenih's son slumps, dies at Lagos club
Asked whether he agreed with the late Igbo leader, Dim Chukwuemeka Odumegwu Ojukwu that Biafra should now be a thing of the mind and not a geographical space, Kanu said Biafra had a geographical location and that the people of Biafra were known and defined.
Meanwhile, watch this video of Nigerians reacting to Buhari's return to London.
Source: Legit.ng