After saying Buhari treats him like a son, FFK takes a swipe at Osinbajo
- Vice President Yemi Osinbajo's comment regarding his relationship with President Buhari, has brought some backlash
- The VP had said that Buhari treats him like a son
- Chief Femi Fani-Kayode has said that the VP's statement is highly disappointing
Chief Femi Fani-Kayode has lashed out at Vice President Yemi Osinbajo, for comments regarding his relationship with the president.
The former minister of aviation and chieftain of the Peoples Democratic Party (PDP), took a swipe at Osinbajo, after the VP said Buhari treats him like his son.
Fani-Kayode said it was disappointing for a 60-year-old to publicly make such statement.
Osinbajo made the now controversial statement during his visit o the palace of the Emir of Katsina, His Royal Highness, Alhaji Abdulmumin Usman.
READ ALSO: Osinbajo is Nigeria's Acting President, Buhari has committed no crime - Senator Gbolahan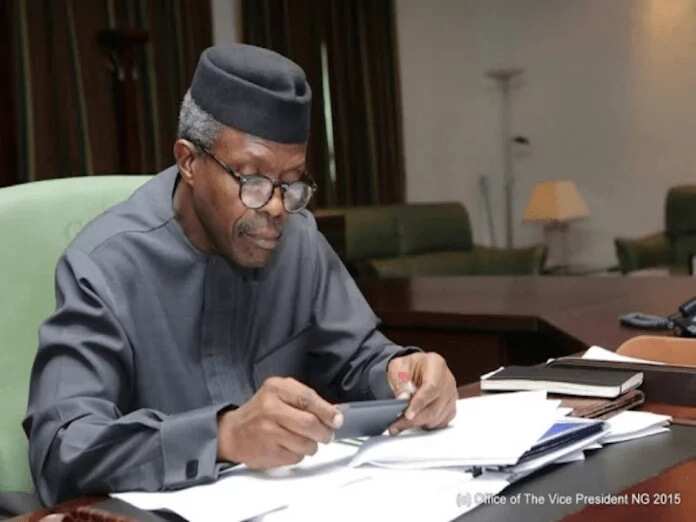 The vice president visited the royal father on Thursday, May 11.
Osinbajo said: "I feel very much at home in Katsina. Moreso, because this is the State of the President who has taken me as a brother; in fact the President has taken me as a son in the way he treats me.
"I pray the Lord will preserve our President to continue to lead, as the nation has voted him to do. He seriously believes in Nigeria unity".
Reacting via a tweet Thursday night, Fani-Kayode said Nigeria was in serious trouble.
"The President treats me like his son and his brother"- VP. A 60 year old man can say this? We are in trouble," he tweeted.
Meanwhile the recent victory of Emmanuel Macron in France, has caused Nigerians to start nursing the thoughts about the nation being led by a youth.
Legit.ng was on the street recently to interact with Nigerians, below is a video of their views on the development.
Source: Legit.ng