Woman advises married women to stay in marriages even if their husbands cheat
A young woman, Aishat Alubankudi, has advised single ladies and married women not to think of leaving their spouse just because he cheated on them.
Most women will frown at the mere thought of sharing their boyfriend or husband with another lady, but this woman has no problem with that.
Alubankudi took to her Facebook account to advice ladies on the need to marry any available guy whether he is married or not.
She said this after news broke that the last daughter of former Nigerian military president Ibrahim Babangida was going to become a third wife.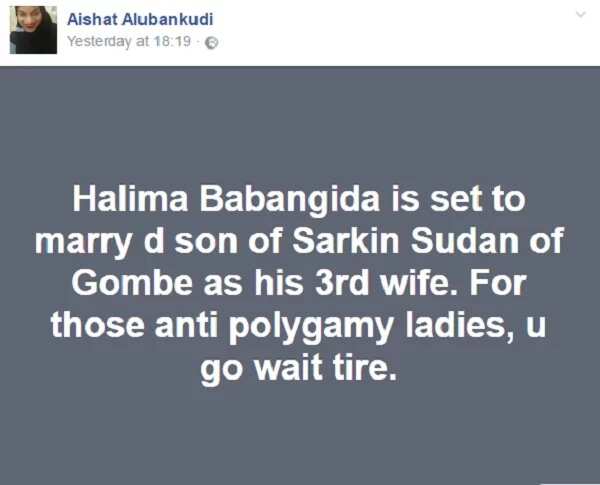 READ ALSO: Outrage as Hausa cross-dresser comes out of his shell (photos)
After her post went viral on social media, a lady identified as Omoye Olayiwola, reacted to it, asking ladies to seduce Aishat's husband since she didn't mind polygamy.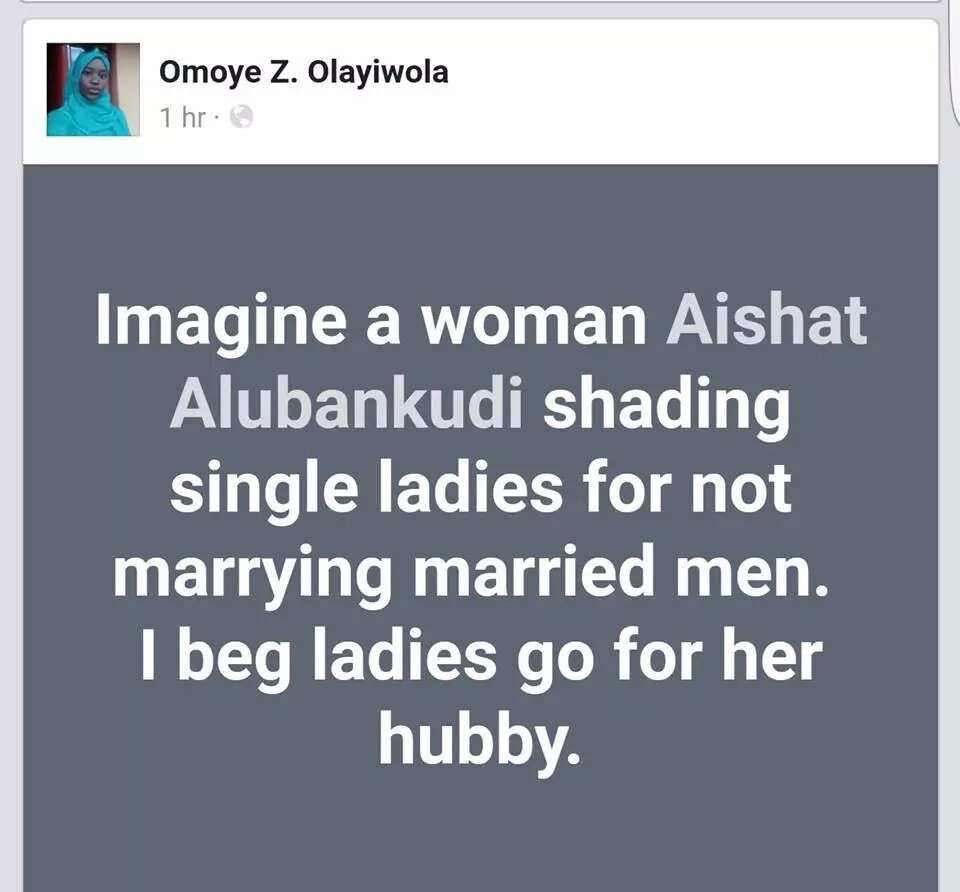 READ ALSO: Young intelligent boy makes this beautiful design in Kano (photos)
Aishat however stuck to what she said earlier and went further to ask ladies not to divorce their husbands just because of an extramarital affair.
She said:
"Truth is bitter, Omoye you will agree with me in future.
Let me use this opportunity to plead with married women, please don't divorce your husbands because of his extramarital affairs, it's now a norm all over the world, most men are polygamists but majority are doing it illegally for peace to reign. You leave him for adultery or for marrying another woman, walahi you will also become another husband's extra marital affair in future. Actually other men's concubine. I'm just being realistic, nothing controversial."
She also shared another post to buttress her point, she said:
READ ALSO: Girls ordered to remove their bras prior admission test
What do you think? Would you leave your husband if he cheats on you?
Meanwhile, see how Nigerians responded when asked if they'll marry someone older or younger than them:
Source: Legit.ng