Wike tells Nigerian women how they can take over power from men
- Governor Nyesom Wike said it is would never be easy for Nigerian women to take over power from men on a platter of gold
- Dame Patience Jonathan thanked Governor Wike for appointing women into sensitive positions in Rivers state
Rivers state governor, Nyesom Ezenwo Wike has advised women to struggle for power, rather than expect that men will bequeath it to them on a platter of gold.
This is as former first lady of Nigeria, Dame Patience Jonathan, declared that Governor Wike has worked hard to empower women in the state.
Also, Justice Eberechi Suzzette Nyesom-Wike, the governor's wife, described her husband as a women-friendly governor who is implementing policies and programmes to uplift the state.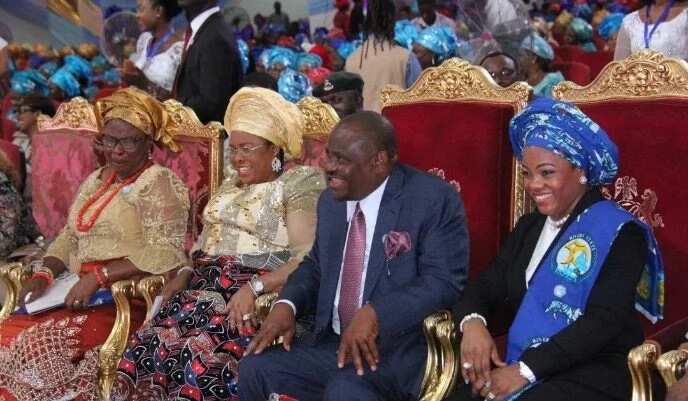 They all spoke at the Women's Day of the Rivers Golden Jubilee celebration in Port Harcourt, the capital of the state on Thursday, May 11.
In a statement from the state government obtained by Legit.ng, Governor Wike said that nobody is stopping women from excelling in the political arena, pointing out that women must work for their political emancipation.
READ ALSO: Osinbajo-led committee makes decision on Lawal, Oke case
He said: "When it comes to power, you have to struggle for it. If you are prepared for politics, you must equipment yourself."
The governor urged women not to beg for positions. He said they should set up structures that would help them get political mileage.
He also assured women in the state that he will continue to work for their development and growth in all spheres of life.
The governor announced that his administration will construct a women development centre with all facilities to empower women.
On her part, Dame Jonathan said Rivers women will remain grateful to Governor Wike for giving them political and professional leverage.
She said that the governor's choice of female deputy governor and the appointment of the first female chief judge and president of Customary Court of Appeal ensured that Rivers women took their pride of place in politics.
Wife of the Rivers State Governor, Justice Eberechi Suzzette Nyesom-Wike said the Women's Day is set aside to honour women for their contributions to the creation and growth of the state.
READ ALSO: Nigerian police officers fight dirty with pedestrians in Abuja
She said that efforts to empower women must be strengthened, noting that they have attained positions of responsibility not envisaged before.
In her lecture, the wife of former president of Nigeria, Professor Uche Nnamdi Azikiwe, said violence can only be reduced across the world when women assume leadership.
Prof Azikiwe said the political marginalisation being suffered by women in the country is man-made.
She urged women to unite and play significant roles in their respective communities. She also called for urgent steps to address the dwindling fortunes of women in Nigerian politics.
The chairman of the Rivers golden jubilee committee, Chief Ferdinand Alabrabra, lauded women in the state for their roles in its development.
Watch this video and see what Nigerians think of the possibility of women becoming the country's president:
Source: Legit.ng