Cassava farming in Nigeria: How to start and succeed?
Are you hoping to start your own business and still haven't decided which field to choose? Have you ever tried cassava farming? It's time to try and see how profitable it can be! Cassava business plan is HERE.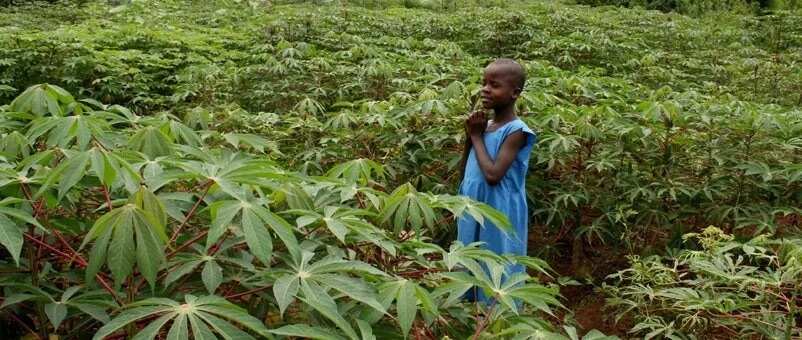 According to the an Indian legend, the gods honoured one of the aboriginal tribes with a tiny sprout of an unknown plant. It struggled to rise toward the sun through the dense undergrowth of tall grass. The little plant won its place under the sun and turned into a flowering bush.
It grew so quickly that the ground was covered with cracks through which ancient tribes could see tender white oblong tubers. In honor of tribe leader's daughter, perfect white Mani, the natives called this miracle plant Manihot. It was edible and very tasty. Different tribe called the plant by various names, one of them is Cassava. Today it is an amazing shrub with rich tasty tubers, which do not require special care and it feeds over 500 million people on Earth.
Simple business ideas for cassava farming in Nigeria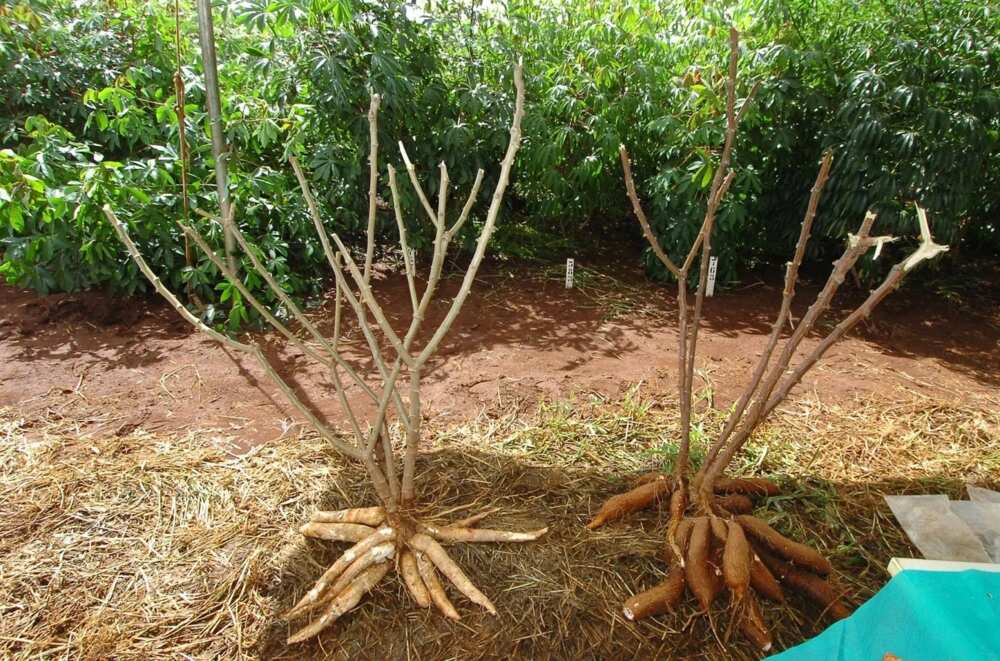 Cassava production in Nigeria is extremely simple. The plant is to be placed in trays filled with soil. This is where you stick the cuttings (stems) of the plant and within six months they will grow and turn into pretty big bushes. When the leaves on the bushes start to turn yellow, this means that the harvest is ripe. You can dig bulbs from the soil for eating or selling.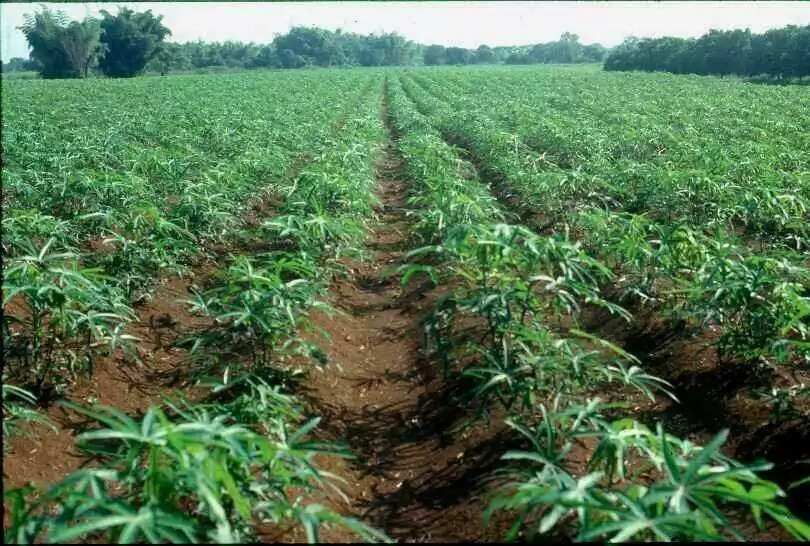 Cassava care is minimal, the plants only need to be watered from time to time. Cassava harvest can reach up to 50 tons per one hectare. The price of root crops in Europe is around 3 dollars per kilo. In addition to cassava tubers, cassava green leaves can be consumed as spices.
Main required conditions for cassava farming:
- Air temperature - not less than +25 — +30 °C;
- Absence of long drought period;
- Abundance of Sunny days;
- Warm weather;
- Loose soil;
- Good drainage;
- Flat or gently sloping land.
Reasons to start growing cassava?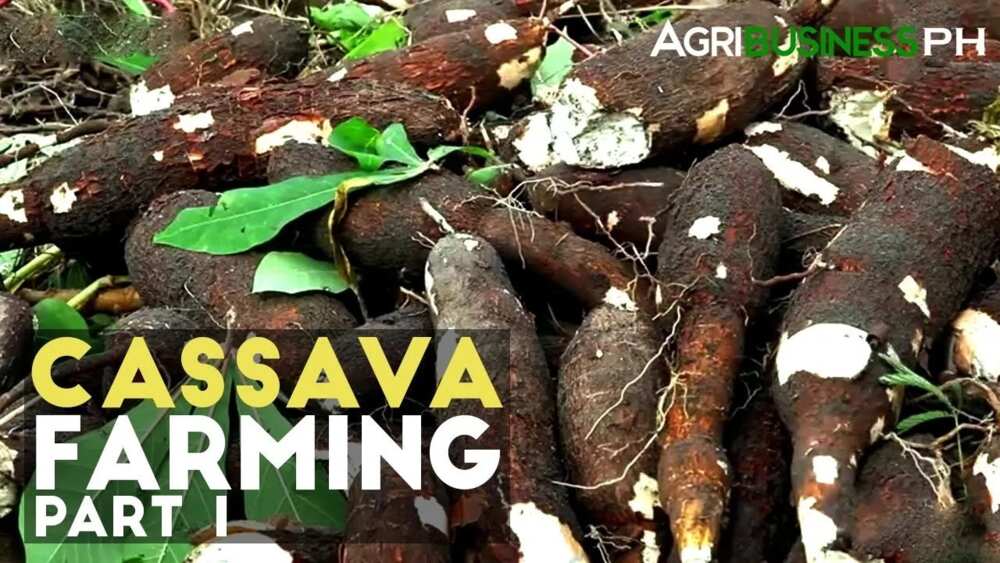 The root system is represented by a long thick root with a length of 1 m and diameter of 8-10 cm. The core of the tuber is rich in starch (20-40% of its weight). After cassava heat treatment or drying, it is completely safe and has the following effect on the body:
- Enhances immunity;
- Has an anti-inflammatory effect;
- Normalizes blood sugar level;
- Removes excess cholesterol from the body;
- Strengthens bones;
- Prevents Alzheimer's disease and other CNS diseases;
- Normalizes blood pressure and heart function;
- Slows down the aging process.
Cassava farming business in Nigeria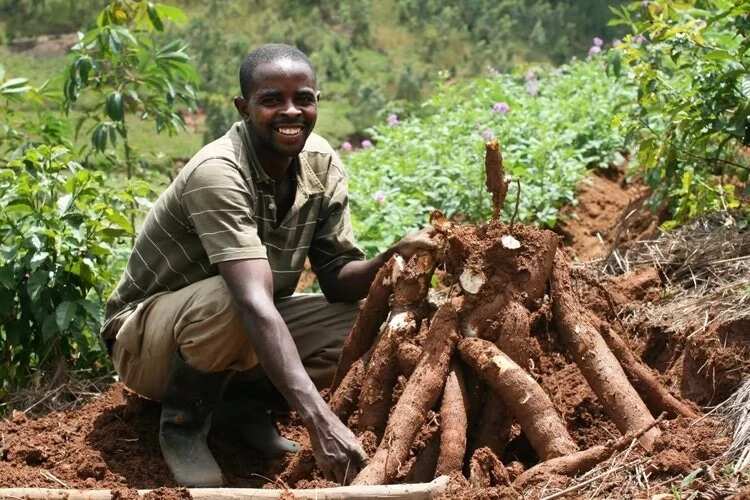 Preparation of planting specimen
Cassava is propagated only vegetatively;
You should use cuttings harvested from the middle part of well-developed stems, aged 6-12 months;
15-20 cm cuttings are stored in a cool place for 2-3 months;
The position of the cutting when planting doesn't play any role (vertical, inclined, horizontal). Main requirement: at least half of the cutting should be in the soil. If you choose horizontal planting, the cutting should be covered with 8-10 cm layer of soil. Otherwise, the planting material will become dry. If it has sufficient moisture, the cutting quickly forms adventitious shoots and tubers.
READ ALSO: Maize farming in Nigeria
Cassava planting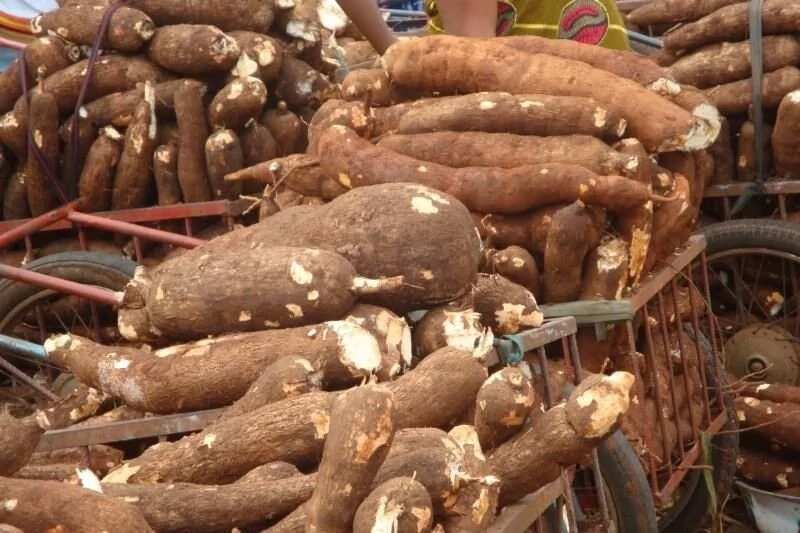 Cassava is quite easy to grow. Beginning from autumn, soil should be enriched with humus and herbicides (4.5 liters per hectare).
In open and protected soil, cassava is better planted on ridges with a width of 40 cm and a height of 40-60 cm in 1 row, which creates the desired porosity of the soil and facilitates plants care.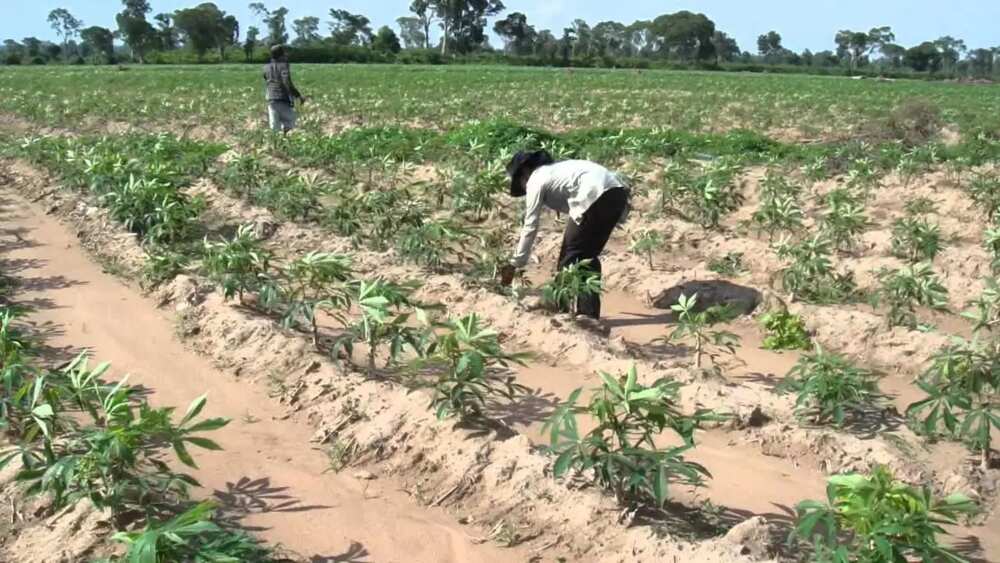 Harvesting
Cassava harvest readiness is determined by the yellowing, falling of leaves and ripening of seeds. If you gather too immature tubers, they will be too tough.
First, cut down the stems of plants, leaving 30-40 cm of the plant. Use the cut down stems for making cuttings. In 2-3 days they need to be planted in a prepared soil. After cutting the stems, underground cassava tubers are to be pulled out completely.
You may sell cassava raw material or already processed cassava.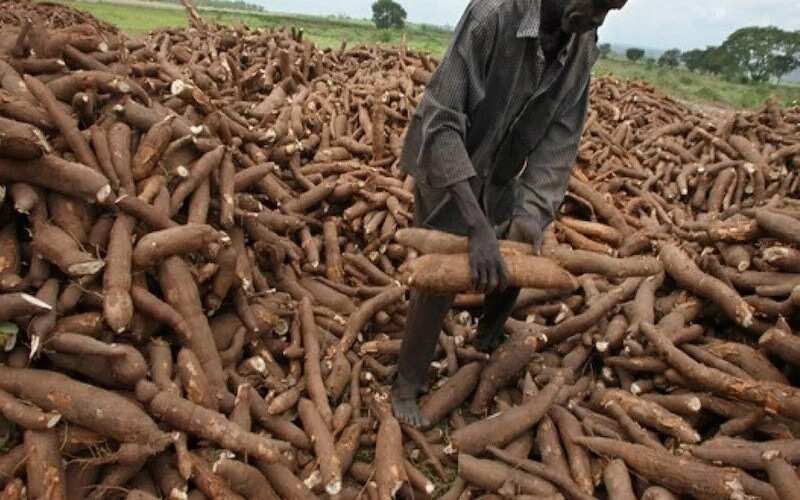 Cassava processing
If you are interested in selling processed cassava, you will need to acquire a cassava processing machine.
Tapioca
You can make tapioca, a starch made from cassava. It is used in the thickening of sauces, soups, porridges, puddings, jellies, cakes, biscuits. Also, cassava is a raw material for starch balls. This is one of the most popular uses of the starch. The small white balls look like pearls or caviar. After they are boiled, their color changes to black. They are usually mixed with powdered sugar and served as dessert. Also, cassava balls can be made into different colors and added to cakes or drinks.
Cassava flour
It can replace flour made of cereals. It is used to bake cakes or bread and is an alternative to traditional bread for people who suffer from allergy to grain.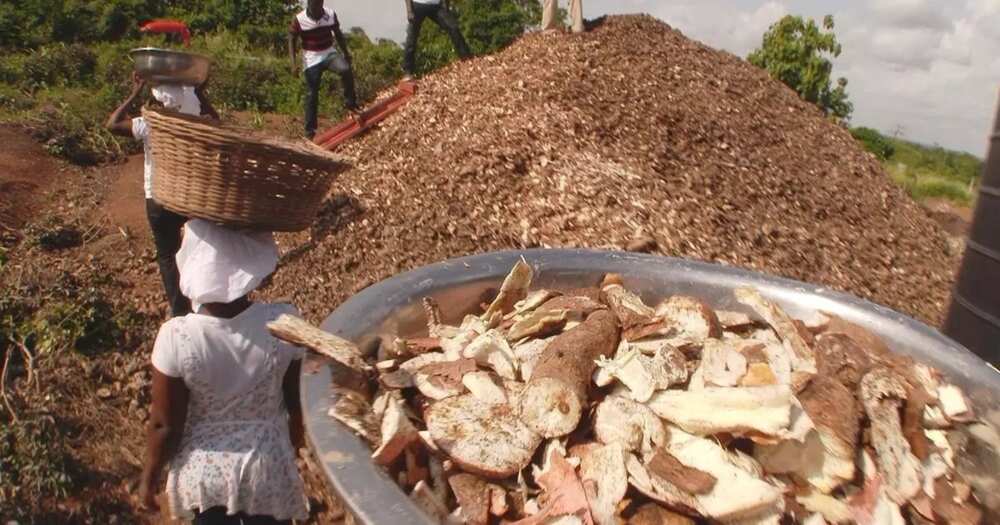 Cassava farming business plan: Main calculations
One acre of farmland will approximately cost you N150,000 – N250,000
Preparation of one hectare of land – N10,000 – N30,000
One liter of herbicide – N1,000 (4.5 liters for 1 ha)
Optimal number of cassava bundles – 60-65 per hectare
Price of one stem – N300 – N500
Wage for workers for planting of one hectare of land – N20,000 (N1,000 a day for one worker, it's better to hire 4 workers)
If everything is done correctly you can get 25 tons of cassava roots per one hectare.
Simple calculations: initial sum, minimum – nearly N350,000 (not including money for workers wages).
So, as you can see, cassava farming business is rather profitable as it doesn't require a lot of expenses and cassava is always in demand in this region.
READ ALSO: Irrigation farming in Nigeria
Source: Legit.ng