- President Donald Trump has fired FBI director, James Comey
- President Donald Trump attributed Comey's dismissal to his handling of the investigation into Democratic nominee Hillary Clinton's email server
- Democrats have reacted to the firing, claiming that the president was scared that the FBI director was getting close in his investigation of the White House with the Russia probe
President Donald Trump has fired America's FBI director, James Comey over his poor handling of Hillary Clinton's e-mail scandal during the last presidential election in the country.
READ ALSO: US endorses President Buhari's government
CNN reported that the announcement sent shock waves through Washington as the sack ends the career of the man who was once seen as the unimpeachable and nonpartisan ideal of how a law enforcement officer should behave.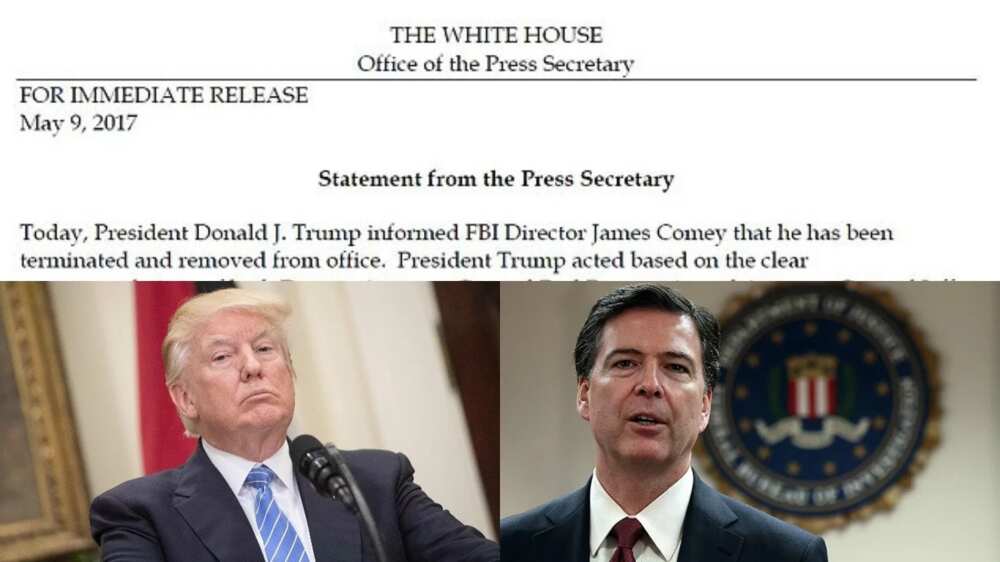 Legit.ng learnt that President Donald Trump attributed Comey's dismissal to his handling of the investigation into Democratic nominee Hillary Clinton's email server.
Daily Mail also reported that the FBI director firing happened in the late afternoon.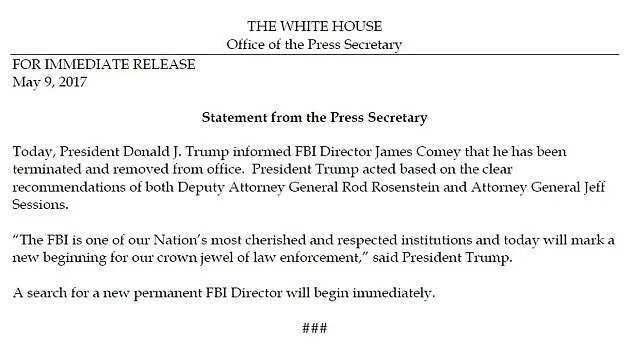 According to Sean Spicer, White House press secretary: "The president has accepted the recommendation of the deputy attorney general and the attorney general regarding the dismissal of the director of the Federal Bureau of Investigation."
READ ALSO:
Daily Mail also reported that a statement from Spicer confirmed that Trump 'acted based on the clear recommendations of both Deputy Attorney General Rod Rosenstein and Attorney General Jeff Sessions.'
Trump was quoted to have said: "The FBI is one of our nation's most cherished and respected institutions and today will mark a new beginning for our crown jewel of law enforcement."
However, Democrats have reacted to the firing, claiming that the president was scared that the FBI director was getting close in his investigation of the White House with the Russia probe.
In this video, Legit.ng brings you the family of boxing legend Anthony Oluwafemi Joshua.
Watch the video: