SEE the list of 'Big men' arrested for alleged fraud under Buhari
- President Muhammadu Buhari's anti-corruption war has yielded positive results
- Since he assumed office on May 29, 2015, many top Nigerian politicians have been docked for alleged fraud
- Some of the accused have allegedly returned part of the monies they stole while in power
President Muhammadu Buhari's fight against corruption, which has been borrowed by many state governors using federal security apparatus, has shoved many politicians, senior military officers and technocrats into various cells.
Daily Trust reports that though most of the accused are now out of incarceration on bail, it analysed some of the 'big men' who have experienced life in detention, at a time when lawyers and security experts are calling for new laws that would reduce encumbrances hampering prosecuting of corruption cases in Nigeria.
READ ALSO: Pastor T.B Joshua drops shocking revelation about source of his power
Legit.ng also reports that President Muhammadu Buhari's ascension to power will mark two years on May 29, 2017.
These are the 'Big- men who have been docked by Economic and Financial Crime Commission as reported by Daily Trust:
1. Former governor of Adamawa State, James Bala Ngilari
The anti-graft crusade of President Muhammadu Buhari scored a major goal in March, this year when Mr. Ngilari was surreptitiously investigated, taken to court where he was found guilty and sentenced for five years by a Federal High Court.
The prosecution had proved beyond reasonable doubt that Ngilari violated the Public Procurement Act of the state by awarding contracts for the procurement of 25 vehicles for his commissioners at the cost of N167 million without following due process.
2. Ex- Sule Gov Lamido
The former governor of Jigawa State, Alhaji Sule Lamido was earlier this week remanded at the Kiyawa Prison over alleged "inciting statements" ahead of local government elections in Jigawa.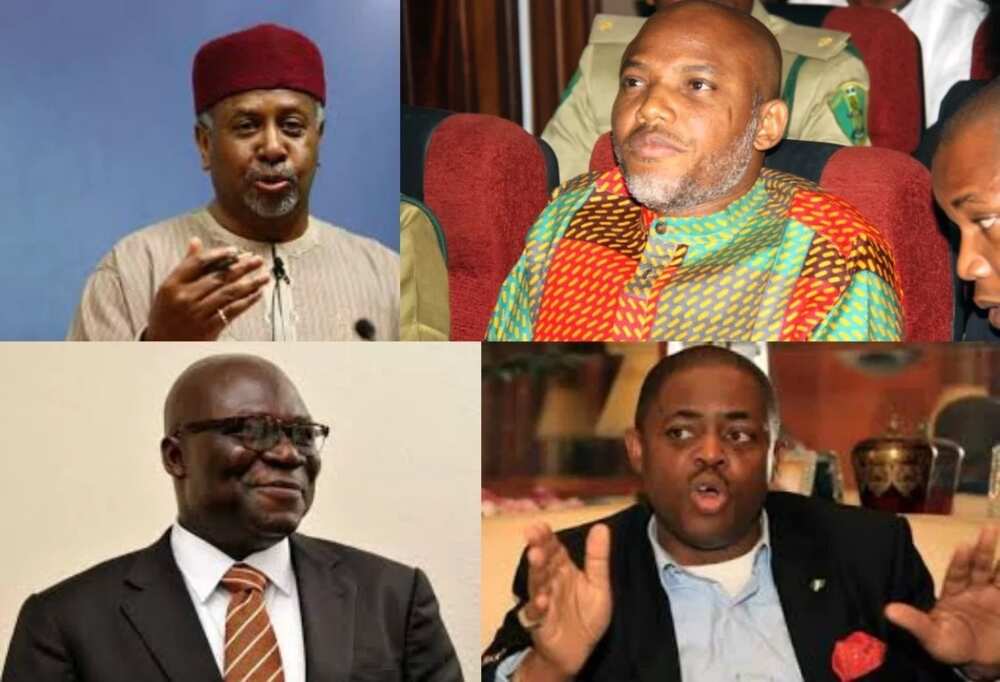 In July, 2015, the former Jigawa governor and his two sons, Aminu and Mustapha, were before a federal high court, for allegedly receiving N1.35 billion kickback from a government contractor. They were remanded in prison custody but later granted bail.
Like many other politicians, Lamido's handlers attributed his arrests to his rising profile. Around this time in 2016, the former Jigawa State governor said he will vie for the presidency in 2019. "If my party (PDP) finds me worthy of the party's presidential ticket to serve Nigeria, I will thank God and oblige," he said.
3. Gabriel Suswam
A former governor of Benue State, Gabriel Suswam, has been in detention of the Department of Security Services (DSS) since February 27, this year on alleged possession of some unlawful items said to be found at his property in Abuja. The items included firearms, several Certificates of Occupancy (C of Os), 23 luxury watches and 45 keys of various cars among others.
4. Babangida Aliyu
A Minna High Court on Wednesday, March 3 granted bail in the sum of N150 million to former Governor Babangida Aliyu of Niger who was also remanded in Minna prison for some days. He was charged alongside Umar Nasko, the Chief of Staff under his administration on a six-count charge of misappropriating N4.568 billion.
5. Sambo Dasuki
Ex-National Security Adviser (NSA) Sambo Dasuki has served the longest time in detention by any a Politically Exposed Person (PEP) held by the Buhari government. He was arrested in in November 2015 and for nineteen months now, has been held at the detention facility of the DSS headquarters in Abuja.
READ ALSO: Revealed! How prominent Nigerians are plotting 'civil coup' against Buhari
6. Alex Badeh
On March 2016 , a former Chief of Defence Staff, Air Marshal Alex Badeh was arrested and thereafter paraded at the Federal High Court in Abuja. He was arraigned for allegedly corruptly enriching himself with N3.9 billion.
Operatives of the EFCC had claimed they found over 1 million dollars in hidden safes during a search at the house and he was later sent to Kuje prison.
7. El-Zakzaky
The Leader of the Islamic Movement in Nigeria (IMN), Sheikh Ibrahim El-Zakzaky, has been in detention since 14th December, 2015 when men of the Nigerian Army raided his house in Gyellesu following his members' altercation with the convoy of the Chief of Army Staff (COAS), Lt. Gen. Tukur Buratai.
8. Nnamdi Kanu
The self-styled leader of the Indigenous People of Biafra, IPOB, Nnamdi Kanu, who is facing charges bordering on treasonable felony, equally got a taste of jail time before he was granted bail just over a week ago. He was arrested on 14th October, 2015 over alleged treasonable felony.
9. Musiliu Obanikoro
A former minister of state for defence, were taken into custody by the EFCC and DSS but later released
Others are:
10. Ex-ministers Bala Mohammed
Bala Mohammed was invited by the EFCC but later released for alleged land racketeering. His son was also arrested by the EFCC, paraded before a Federal High Court in Abuja and later remanded at Kuje Prison on a 15-count charge bordering on money laundering to the tune of N1.1billion.
11. Fani Kayode
Separately, Justice Suleiman Hassan of the Federal High Court in Lagos in June remanded Femi Fani-Kayode, Nenadi Usman (a former minister of finance) and Danjuma Yusuf, who were arraigned before him by the EFCC over an alleged fraud of N4.9bn. The case is still lingering in court.
12. Nenadi Usman
READ ALSO: Popular Nigerian pastor drops bombshell about Buhari
13. Reuben Abati
Abati was invited by the EFCC for allegedly receiving N50 million from ex-NSA Dasuki which was reportedly spent on media activities ahead of 2015 elections.
Watch celebration that occurred in Daura, Buhari's home town in Katsina, after he returned from his mdeical leave in London after 51 days.
Source: Legit.ng