This is how much most graduates earn in Nigeria as starting salary
Stutern, a Lagos-based online platform has published the salary distribution of employed graduates in Nigeria.
Stutern carries out studies on employment in Nigeria and Nigerian universities and this year, they created something called the Nigerian Graduate report.
According to the report released, statistics were obtained between 2010-2016.
Stutern embarked on a study into the salary distribution of employed graduates and below is what was found out.
READ ALSO: Photos of Ooni of Ife as a young man have surfaced online
1. More than 50% of Nigerians currently earn N50,000 or less on a monthly basis.
2. 1 in 4 new graduates earn less than N20,000 monthly as starting salary.
3. Over 80% of employed graduates currently earn not more than N150,000 per month.
4. Most graduates earn between N20,000 - N50,000 monthly both as starting salary and current salary.
5. Only about 1.92% earn above N150,000 monthly.
READ ALSO: Ex-President Jonathan prepares to spill more beans in new book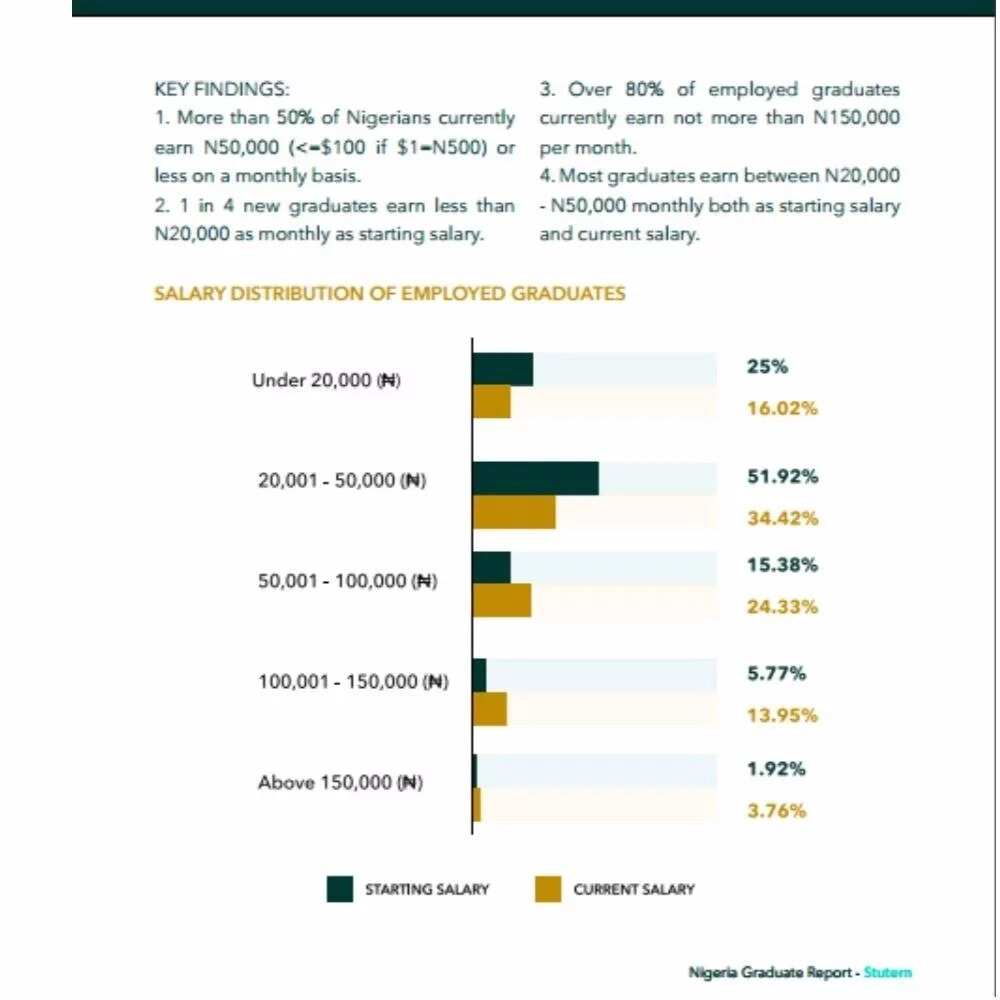 Earlier, Legit.ng compiled a list of universities with the most employable graduates in Nigeria as released by Stutern.
Covenant University located in Ota, Ogun state was at the top of the list with a 90% employability rate.
Many are finding it hard to get good jobs. While some are out there still searching, others have decided to become self-employed. A Nigerian lady who chose an unusual profession of becoming a vulcanizer tells her story in the Legit.ng video below:
Source: Legit.ng