Meet woman-vulcanizer who works with her husband in Enugu (Photos)
Photos of a woman, Mrs. Chinelo Ogbonna, who helps her vulcanizer husband in Nsukka, Enugu state, has hit the internet.
According to Facebook user Jeff Unaegbu who posted the pictures, the woman has learnt a lot in the vulcanizing business and she is ever ready to attend to her husband's customers whenever they arrive their workshop.
Read as posted on Facebook below:
"FEMALE VULCANIZER WORKS WITH HUSBAND IN NSUKKA
"Every day, except on Sundays, the energetic Mrs. Chinelo Ogbonna comes to work at Mechanic Village, dons her work wear and sets out many types and sizes of vehicle tyres one atop the other in front of her husband's vulcanizing workshop. She rushes at stopping vehicles, wheel spanner in one hand, ever ready to begin the loosening of a deflated tyre for repair. Her husband, a wiry fair youth, does not stand akimbo watching in front of his number 40, New Parts Section shop. He does not assume the pride of a man whose wife is at work with him.
READ ALSO: Revealed: Bilkis Rafiu, a 35-year-old female vulcanizer in Kwara state
"No, Mr. Ifeanyi Ogbonna is busy already working on a flat tyre, determined to patch it by fire, not with a cold sealant. He makes as if it is a common virtue in women, to behave like his wife. Don't be fooled. He knows he has a unique wife, and he asks me to soften my wonder at this rare form of feminism, and to make-belief she were an ordinary apprentice, else it will get into her gait and slow the turn of work!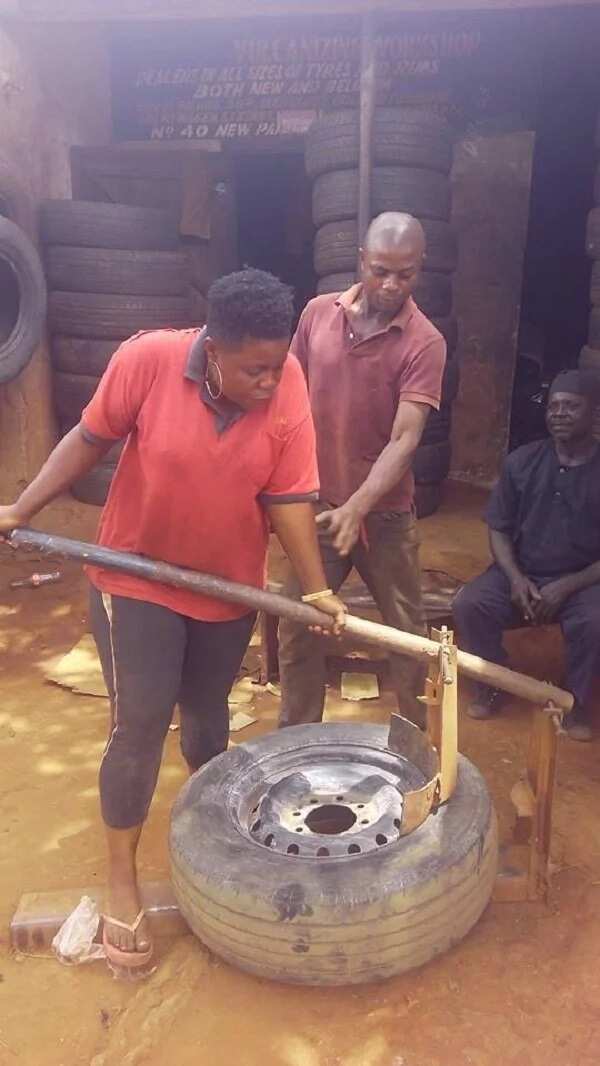 "But not me. I step out of my SUV, looking to quietly observe the whole drama, scratching my eyebrows in measured curiosity. I buy a fairly-used tyre and sit like other clients to await my turn for service, if only to catch this out-of-the-box situation.
"A big tyre rolls at her command of hand. She stops it beside the press. And I think the man of the shop will take over to excavate the wheel from the tyre. My eyes almost bulge to see her sit the large ring on the tyre flange and jump upon the big handle of the press to free the wheel. I want to remonstrate by reflex. But something stops me. It is her deftness, like one just tearing apart a paper. She does not care that men are watching. The reflexive but pretentious effeminacy that shows up in some ladies whenever they are in the presence of men, knows no place in her life.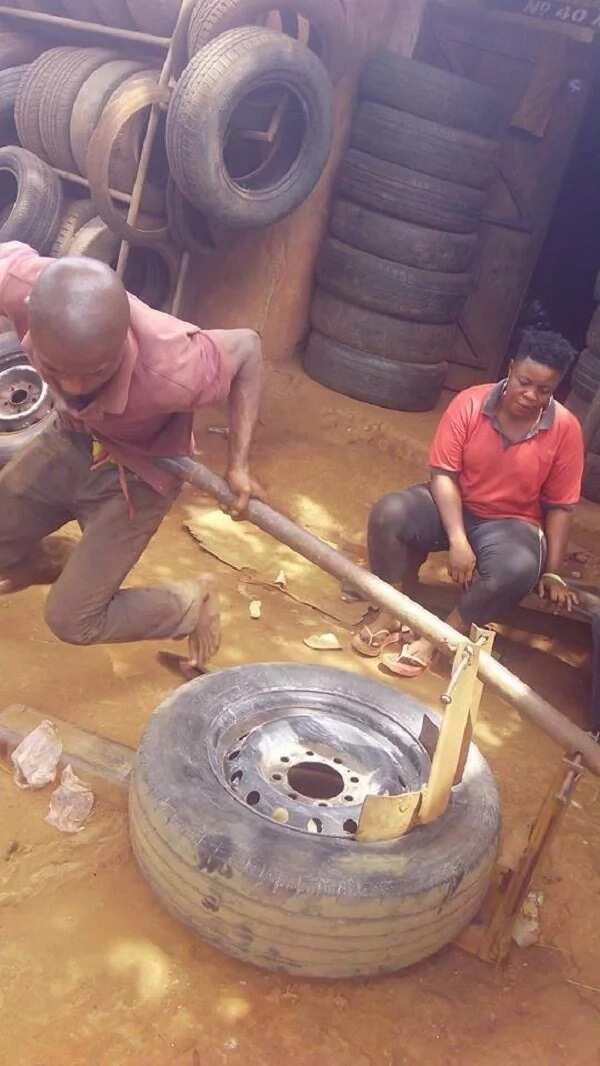 "It is not that she is not well-endowed as to mesmerize the world if she wants. But she has packaged all the voluptuousness of her body into that work wear. The matter at hand is money. The money to feed her family of a hardworking husband and four children must be fought for. Yes, she has four children and she is still in the side of youth. But here she is, vulcanizing, for the good of the society.
READ ALSO: Meet 20-year-old Adeola Alonge who can twist and turn her body into strange positions
"Her way of life is a decision she made herself. She is not forced by her husband. There are moments of disagreements between the two. But the quickness with which they settle their differences is beyond public comprehension.
"I go on in my mind about the standing values we peddle around and which of them affects us negatively or positively, until she calls my attention to tell me she is through…
"I reveal to them that they are news. I educate them how this is so. They consent to a public view such as this you see. It may bring more clients, who knows. Welcome, again, to Nigeria….
"(c) Jeff Unaegbu, May 3, 2017.
"NB: This is a true story. The address and all names are real. Patronize them if you are in Nsukka."
Source: Legit.ng