Niger Delta community warns of fresh tension, demands for N100b
- The relative peace in the usually restive Niger Delta region of Nigeria is currently being threatened
- Leaders in the Gbaramatu kingdom are asking President Muhammadu Buhari to implementation of a court order which granted them N100 billion
A fresh tension could spring up in the Niger Delta region of Nigeria, the Gbaramatu kingdom in Warri, Delta state has warned the federal government.
The latest tension emanates from the alleged refusal of the government to honour a court ruling in 2013 that ordered that N99.99 billion be paid to the kingdom as damages for its military invasion.
The Nation reports that community leaders in Gbaramatu have written a letter to President Muhammadu Buhari expressing concerns that their youths are getting agitated because of the effect of the invasions on their Iives and future.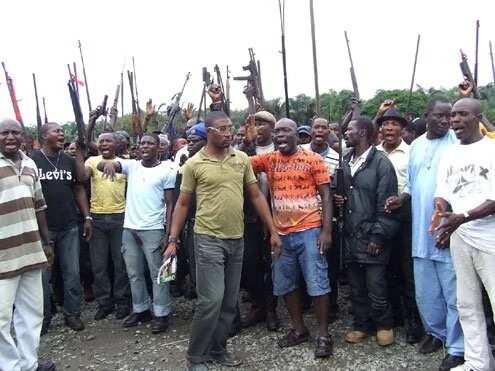 In the letter, the leaders noted that the federal government did not appeal the December 5, 2013 judgment, which ordered it to pay the 53 communities N99, 999,999,999.30. They then wondered why the money had not been paid.
READ ALSO: BREAKING: Again, President Buhari fails to attend FEC meeting (Photos, Video)
The report said the judgment was delivered in a suit the communities filed against the federal government after the bloody face-off with the Movement for the Emancipation of the Niger Delta and the search for its leader, Chief Government Ekpemupolo from May to June 2013.
According to the letter dated April 25, the invasion led to many deaths, maimings, displacements and wanton destruction of properties and means of livelihood.
"Some of the children who were victims of the 2009 bombardment are now young men and women who can tacitly relate their economic and social woes of today to what befell them and their parents in 2009.
"The result is that there is serious dissatisfaction, grumbling, disharmony and rumbling in Gbaramatu because of the non-payment of the judgment debt, which ought to operate as fine closure to the issue," the letter, signed by Chiefs Jonathan Ari, Clark Gbenewei and former regent of the kingdom, Elder Oyagha PT Heavens, said.
READ ALSO: Obasanjo's wife to scuttle son's wedding, plans massive protest at event venue
They said their inability to get the money is because the machinery for the enforcement of the judgment is in the hands of the federal government.
They urged the government to maintain the rule of law.
Meanwhile, watch the video below and give your own opinion:
Source: Legit.ng