- Minister of Communication said Nigeria needs the father figure status of President Muhammadu Buhari to get its act right
- The minister said he and some others will urge Buhari to run for second term in officein 2019
- He also said Buhari is one President you can trust to not steal Nigeria's money
The Minister of Communications, Adebayo Shittu said President Muhammadu Buhari would be urged to contest for second term in office in 2019 presidential election.
Legit.ng gathered that Shittu said President Buhari's body language is enough to instill fear and uprightness in Nigerians and Buhari is a father figure that must not be overlooked.
In an interview with Tribune, Shittu blamed the current economic situation on the administration of former president, Goodluck Jonathan.
He said: "We have had 16 years period of PDP in government. We have had the highest income coming into government coffers during the PDP years. How was the funds managed and how was the economy run?
:The economy cannot run where corruption was at its highest. We have had 16 years of mismanagement and corruption in the country under the PDP.
READ ALSO: PDP member imitates Obasanjo, tears membership card as over 500 defect to APC in A'Ibom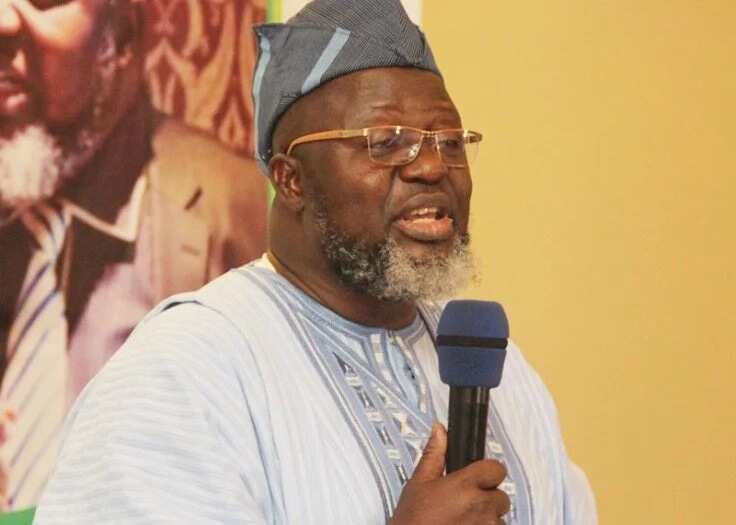 "One thing everybody will bear witness to is that today, we have a president who we can guarantee will not steal Nigeria's money and who will not tolerate any of his aides messing up the resources of the country."
Shittu, while commenting on the suspension of the Secretary to the Government of the Federation said: "That is to show goodwill on the part of the president. President Buhari has shown that in this war against corruption, no sacred cows will be allowed to remain. I am not saying that the official suspended is guilty.
"He is still going through a process. But the fact that the president has suspended him means that he means business. This will shut the mouths of those who wrongly accuse the president of discriminatory prosecutions.
"There cannot be any better way of showing seriousness on the part of government which believes that corruption must be attacked wherever and whoever is involved."
On why Buhari has been absent in the public since his return from medical vacation in UK, shittu said: "You don't have to see him since his government is running smoothly.
"The president will not be on exhibition because you need to see him. The president is a very busy man and attends to state matters. Most of these state matters will not be made at the market place.
READ ALSO: Obasanjo says he has no apology for stepping on toes
"He has an office which is the Presidential Villa. He has a vice president, who has been very diligent, hardworking and intelligent. I remember that in one of our last sessions, the president said he would continue to benefit government with his age of wisdom and his strong military background, while the vice president has to his advantage, scholarship and youthfulness. When you combine these two, you get things running seamlessly.
"The president is not an actor or a dramatist. He is a serious-minded person who does not want any ears around him.
"We still have two years. But I want to assure you that by the grace of God, we would urge him to seek re-election because it is only once in a while that you get a father figure for a nation to move forward and attain greatness.
"He is unlike former President Goodluck Jonathan, who never, with due respect, symbolised anything for the country. Buhari's body language is enough to compel people to do things rightly. In the area of finances, electricity and others. A lot of people have had to sit up even before he speaks. So, we need the Buhari father figure for a length of time for the country to get its act right to attain greatness under his leadership.
In the Legit.ng video below, Nigerians weighed in on the economy situation in Nigeria.
Source: Legit.ng