Buhari is an elder statesman who needs adequate rest - PDP
- Makarfi's PDP faction says Buhari needs adequate rest and continuous medical attention
- The opposition party says there is no synergy between the offices in the villa
The Ahmed Makarfi faction of the Peoples Democratic Party (PDP) has described President Muhammadu Buhari as an elder statesman, who needs adequate rest and continuous medical attention, The Cable reports.
The PDP faction made this known while reacting to the expulsion of Olalekan Adetayo, state house correspondent of The Punch, from the presidential villa in Abuja,
Legit.ng had reported on Monday, April 24, that Bashir Abubakar, chief security officer (CSO) to Buhari, ordered Adetayo out of the villa for writing stories said to be uncomplimentary of the Buhari administration.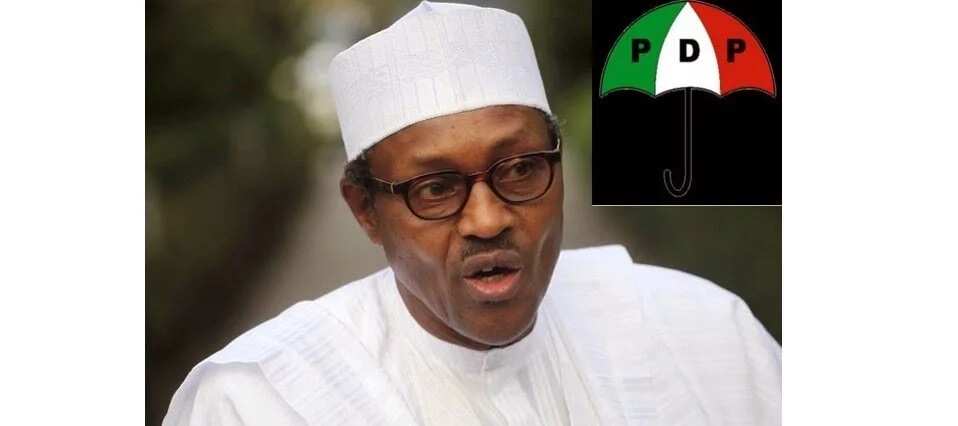 READ ALSO: UPDATED: Kanu denies rejecting bail as lawyer pledges to meet conditions in 48 hours
Before the reporter was expelled, he was questioned by the CSO on two reports – titled "Seat of power's event centres going into extinction" and "Fresh anxiety in Aso Rock over Buhari's poor health" published on Saturday and Sunday respectively.
But hours later, President Muhammadu Buhari recalled The Punch reporter.
However, PDP has said that the development shows there is no synergy between the offices in the villa.
This was disclosed by Dayo Adeyeye, spokesman of the Markafi group.
He said the reports from Olalekan Adetayo should not have elicited such action from the CSO.
According to Adeyeye, any attempt to gag the media in whatever form, is an assault on the country's democracy.
READ ALSO: Amechi, Ikedife condemn Kanu's bail conditions
He said: "The PDP acknowledges Mr. President's health challenges; and as a human being and an elder statesman, we quite understand the need for him to have adequate rest and continuous medical attention.
"We are therefore not too surprised that the president has not in recent times been able to fully face the rigours of government and has to make very rare public appearances.
"This is pretty obvious to all Nigerians. The PUNCH story is therefore nothing extraordinary. It merely reflects what Nigerians already know with perhaps a little bit of speculative license. It therefore should not have elicited the extreme reaction from the president's chief security officer.
"The media as the fourth estate of the realm is an important pillar of any democracy. Any attempt to gag the press in whatever guise is an abridgment of the rights of the people and a direct assault on our hard earned democracy."
He added: "We therefore totally condemn the action of the president's CSO. He must realise that we are in a democracy and not military dictatorship.
"For the umpteenth time, we want to reiterate that Nigerians deserve to know the health condition of their president. No one has the right or power to hide the president behind the curtain while dishing out instructions to Nigerians in the name of the president," it read.
"We join all well-meaning Nigerians to wish the president a speedy recovery and pray that the Lord Almighty will grant all that is required for him to fulfill his responsibilities to our dear country."
Recently, Legit.ng took to the streets of Lagos to ask Nigerians if President Buhari has truly taken the country out of recession. Watch below
Source: Legit.ng