Former Osun governor and current APC senator, Isiaka Adeleke, allegedly poisoned to death, body returned back to hospital
Body of Former Osun governor and current APC senator, Isiaka Adeleke has been returned back to hospital for autopsy amidst poison rumour
Legit.ng earlier reported his death today April 23
Legit.ng also reported reactions to the death of the formal on social media, including Facebook and Twitter, below are some of the reactions, which range from praise and questions to criticisms
Legit.ng learnt that the late lawmaker, Senator Isiaka Adetunji Adeleke's corpse has been returned to Ladoke Akontola University Teaching Hospital, Osogbo, for an autopsy over alleged poisoning.
READ ALSO: REVEALED: How CBN emptied its vaults like Abacha's days to finance Jonathan's campaign
The autopsy option, Premium Times sources say, is being taken following rumours that he was poisoned at a political meeting on Saturday.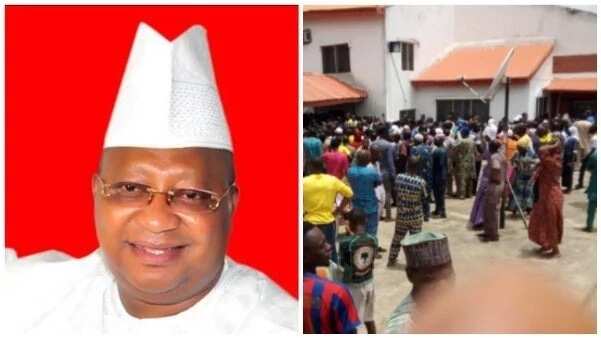 The development has resulted in a traffic gridlock across the streets of the town.
Supporters are said to be also lighting bonfires across the town to register their anger, raising fears of possible violence.
Recall that Legit.ng reported that Adeleke who is a serving senator died today, Sunday, April 23.
Adeleke who is a three-term senator was elected on the platform of the All Progressives Congress (APC) in 2015.
According to family sources, Adeleke suffered a heart attack and was rushed to Bikets Hospital where he passed away.
READ ALSO: Badagry: Beyond beautiful beaches and sweet coconut
The senator who represented Osun West Senatorial district and is an uncle to popular singer, Davido, died at the age of 62.
The death of the Senator sparked a riot in his hometown as irate youths protested his demise claiming he was murdered by his political opponents.
The youth attacked some journalists at his home although some of them tried to calm the enraged youths.
The senator's body was brought back in a Sianna car dressed like a living being and was greeted with tears from mourners.
Legit.ng also reported that the senator was last seen at a function in Iwo, Osun state where he looked hale and hearty without any sign that he was ill.
In the video below, Legit.ng asks Nigerians the question, 'for what reason would you take your life?' Here are their responses.
Watch the video:
Source: Legit.ng