- Pro-Biafra groups have been advised by the United Progressives Party (UPP) to participate in politics
- UPP urged the pro-Biafra groups to stop embarking on street agitations that has exposed youths to avoidable deaths
- The Anambra state chairman of UPP, Dr Sylvester Igwilo urged the groups to check the political alienation of their members by registering and participating elections
Pro-Biafra groups have been advised by the United Progressives Party (UPP) to participate in politics and stop embarking on street agitations that has exposed youths to avoidable deaths.
Dr Sylvester Igwilo, the Anambra state chairman of UPP gave the advice while addressing some pro-Biafra agitators who met with the State Working Committee of the party in Awka.
READ ALSO: Sad story of how Nigerian female graduate Fatimah Funmike Oyawoye died while hunting for job
The groups included the Movement of Biafrans in Nigeria, Bilie Initiative and the Customary Government of Biafra.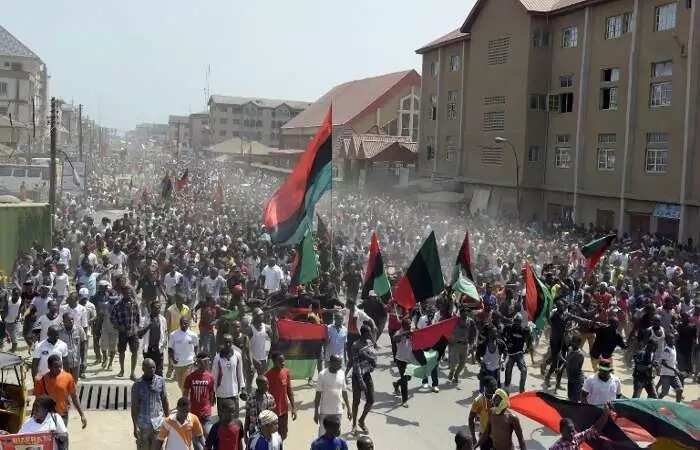 Legit.ng gathered that Igwilo urged them to check the political alienation of their members by registering and participating elections.
UPP chairman said the lives of several young people had been lost due to the wrong approach adopted by some pro-Biafra groups.
He added that such groups had denied the South-East of favour from the national government because they did not encourage their members to participate during headcounts and elections.
The chairman noted that though the UPP shared some of the concerns of the pro-Biafra groups, it would not encourage violence or unconstitutional means of expressing grievances.
He said: "Political participation is the surest way to freedom and not violence. You must get your members registered to be able to vote, so that through the ballot you can speak.
"The UPP believes in ideas and democracy. We don't support the death of young people on the streets and we are saying no more to that. That is why we want you to be part of this process.
"The UPP will hold a credible primary that will produce the best candidate but it can only win with your votes, so, the strategy is to mobilise your members to be part of us and vote."
Rita Anigbogu, the National Coordinator of MOBIN, a pro-Biafra group, in her remarks, said they had come to activate a relationship with the UPP in the state.
Anigbogu said MOBIN adopted the UPP because it was convinced that the party meant well for the politically marginalized.
Watch Nnamdi Kanu speak in court below: