Agboyi town, a community neglected by Lagos government for 18 years
Lagos is a model city to many in Nigeria and is fast becoming a modern one with the different projects that the state in carrying out.
However, there are still some parts of Lagos that seems to be left behind in the city's development.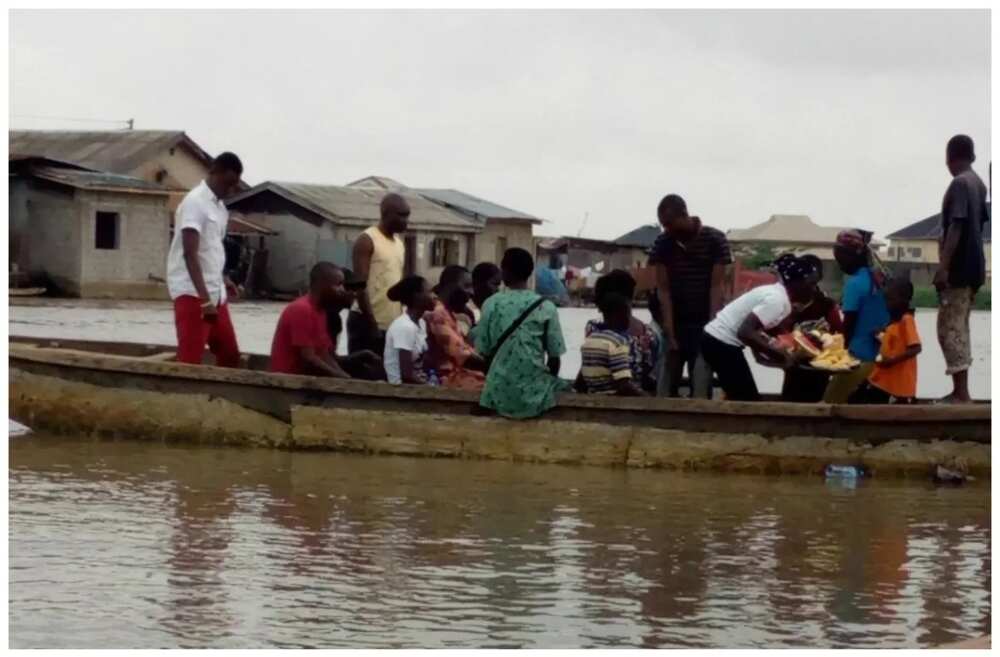 Legit.ng visit to the community provides an extensive insight with interviews that chronicles the life of residents in Agboyiland who have to defecate in rivers and risk their lives using wooden bridges because the state has neglected them.
The life in Agboyiland
"We have been neglected for many years despite our voting strength. We don't have good drinking water, we don't have toilets, we defecate in the river, we don't have roads. We have only one government primary school that caters for the population of almost one million people.
READ ALSO: Reno Omokri releases Jonathan's SSCE result, blasts ex-president's critics (photo)
"We don't have any secondary school. Water wastes from factories in Ikeja, Ogba and Agege are diverted to our community and this has crippled our fishing business.
"Worse still, we pass through hell to go and come out from Agboyi everyday because there is no bridge that links us with Alapere and other neighbouring communities.
"We voyage through river by canoes everyday and our children who attend secondary schools in Alapere, Ojota and Ketu always encounter difficulty while going and coming through the rivers. We need urgent government intervention to salvage our situation."
These were the words of the Osolomade of Agboyi land, High Chief Abdul-Jeleel Salawudeen during a chat with Legit.ng. Agboyi land is a community of almost 1.5 people in Agboyi-Ketu Local Council Development Area.
The community comprises Agboyi 1, 2 and 3 which scatter between Alapare in the west and Ogudu in the south of the local government. Agboyi is surrounded by water and the residents go and come out of the community through canoes.
Legit.ng also gathered that despite the population of people living there, the community lacks basic amenities/facilities ranging from good drinking water, secondary school, roads, hospitals, and a bridge that should link it with other communities.
In his comments, High Chief Salawudeen lamented that in the previous years, politicians came to the community when elections were approaching and resurfaced again when they wanted to seek their votes for another term in office.
He said they had made several promises to give them a bridge but to no avail, adding that each time it rains the community is usually flooded making it extremely difficult for people to go for their businesses.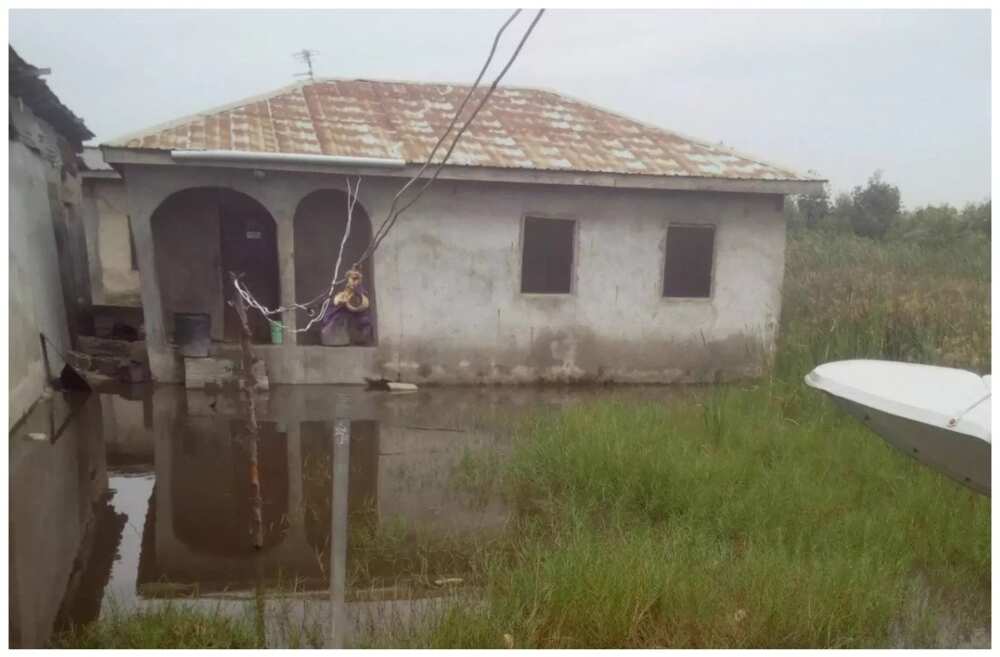 He said: "We lack basic amenities in this community and because we don't have a bridge that links Agboyi to other communities in Agoyi-Ketu Local Council Development, virtually all social amenities elude us.
"We don't have good water to drink, we don't have toilets, each time there is heavy rain, this community is flooded and we usually find it extremely difficult to come out of our various houses, and there instances when our children could not go to school for days even for weeks. "Agboyi community is in the centre of Lagos state and despite that we have not enjoyed governments' presence here.
"They only come here during election period to canvass for our votes and after the election, they don't come here again until when the next election is approaching. The voting population here in Agboyi community is up to one million and we always vote en-masse for the ruling party since 1999 but we have not enjoyed any dividends of democracy.
READ ALSO: IPOB vows to lockdown Biafra land on May 30 to honour fallen heroes
"The previous governments had come and promised to give us a bridge which they couldn't. The current Governor of the state, Akinwunmi Ambode recently sent some delegations here to inspect and evaluate the cost of the bride but I don't want to doubt that it will go the way of past government. I believe Ambode's government will soon make our dream of having the bridge a reality.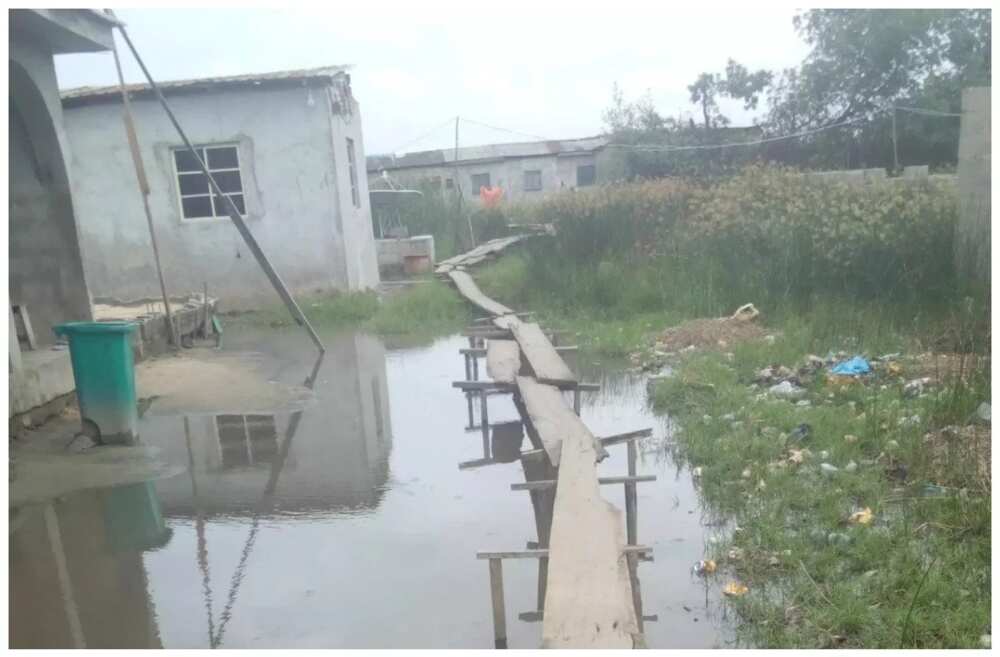 "We have met with government on several occasions, we have also made our plight known to them through the media.
"I think that is what made Governor Ambode to make bold that he willngive us the bridge as soon as possible. If this is done, some residents who have cars will be able to access our communities with their cars.
"Governor Akinwunmi Ambode has promised to give us bridge in Agboyi land after several appeals to past governments. And I want to believe that to show he is ready to walk his talk that is why he recently sent his commissioners to come and inspect the river from Agboyi 1 to Agboyi 3 and promised that the construction will start very soon.
"And we also believe that it will be done as promised despite that we have had such promise in the past since 1999 when the current political dispensation started. We are hopeful that the time has come when we will have a bridge in this community."
Asked about efforts made by the previous chairmen of the local government and members who have represented them at the State House of Assembly, High Chief Salawudeen said that tried their best but quick to add that their current representative at the Lagos State House of Assembly, Hon. Tunde Buraimoh has done wonderfully well to ensure the promises don't go the way of past government.
He noted: "Our representative at the Lagos Assembly, Hon Tunde Buraimoh ensured that governor delegation visited this community as regards the bridge. The immediate past local government Executive secretary erected some plank bridges for us within the community and I believed you would have seen them when you were coming here.
"If the government can do this bridge for us, a lot of social amenities will be brought here and our business activities will be boosted. Our major occupation is fishing and mat weaving. But in recent time, water pollution has made fishing difficult for us.
"All the water from factories in Ikeja, Ogba and Agege are diverted to Agboyi and this is making life unbearable for us. If our water has not been polluted, you wouldn't have met any of us, we would have gone fishing. "And to buy a keg of drinking water in Agboyi is N100.
"The sellers buy kegs of water in Alapere and other neighbouring communities, transport them here through canoes and sell a keg at the rate of N100 because we don't have any other water to drink.
Each time it rains we are happy because we will have opportunity to get good water to drink and cook and we will also fill our drums and kegs so that the water will sustain us till when it rains again.
"We believe that if the bridge is constructed, everything will become easier for us and life will become bearable as well because pipes will be layed under the bridge to give us pipe-borne water from Alapere.
We have only one primary school, Agboyi primary school but we don't have secondary school, we have one health centre. In Agboyi 1, we have primary 4-6 while we have primary 1-3 in Agboyi 2.
"Agboyi is as old as Lagos State itself. Adeniran Ogunsanya attended his primary education, Standard six here in Agboyi.
Our fathers have been clamouring for this bride since 1960s. It was the former governor of the state, Alhaji Latest Jakande, who gave us electricity when he was the governor between 1979 and 1983.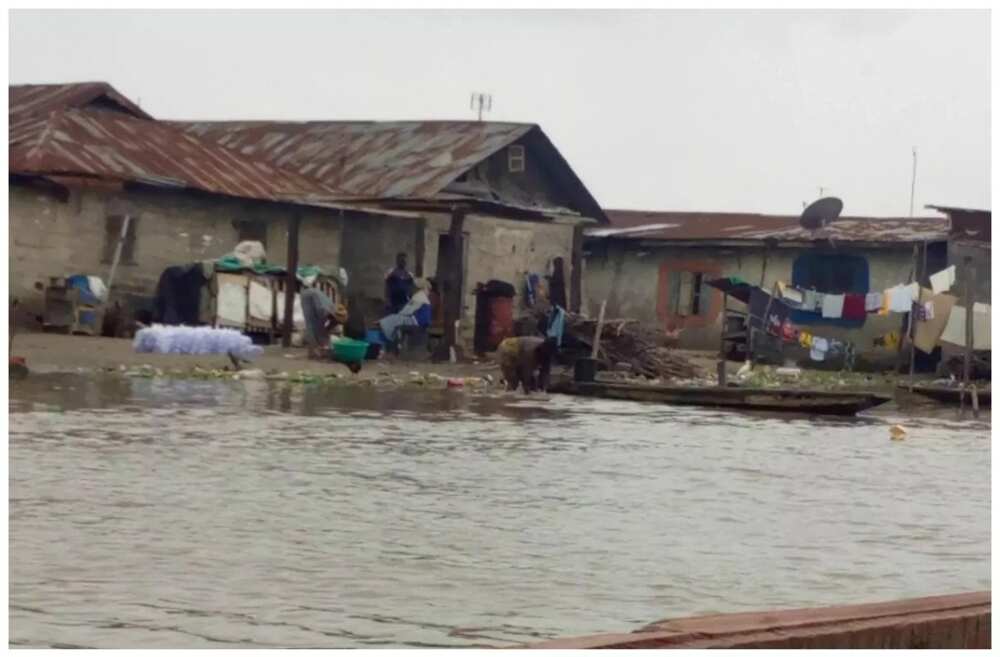 "He also promised to construct the bridge but unfortunately he couldn't fulfill his pledge before his government was toppled by the Military coup led by General Muhammadu Buhari, now the President of the Federal Republic of Nigeria."
Also speaking with Legit.ng, the Chief Apena of Agboyi 1, Chief Tajudeen Akinyele, appealed to the government to hasten its promise so that the community would not be left out in the development of the state.
He said: "We need serious intervention from the government because we can't sink bore holes let alone dig toilets since we are in swampy area. We defecate on the river because we have no alternative.
We want to urge Governor Akinwunmi Ambode to fulfil his promise so that we can also enjoy the dividends of democracy."
READ ALSO: Lawyer caught in courtroom watching video of a lady twerking (video)
A representative of Kosofe Constituency 2 at Lagos State House of Assembly, Hon. Tunde Buraimoh, who told Legit.ng at Assembly Complex, Alausa Ikeja that part of his electioneering promises was to lobby the executive to construct a bridge for the people of community, said that he has not reneged from his pledge of bringing dividends of democracy to the grassroots.
Buraimoh, who was the Chairman, Kosofe Local Government between 1999 and 2002, said that Governor Ambode has given him his words that the construction of the bridge would start very soon, emphasised that nobody would be left out in the development of the state by Governor Ambode led administration.
Source: Legit.ng