Prophet Jeremiah Omoto Fufeyin says God revealed Apostle Suleman's scandal to him before it happened (photos)
Founder and General Overseer of Christ Mercyland Deliverance Ministry, Prophet Jeremiah Omoto Fufeyin, has expressed that God revealed to him that Apostle Johnson Suleman would be involved in a scandal before he was accused of having extramarital affairs.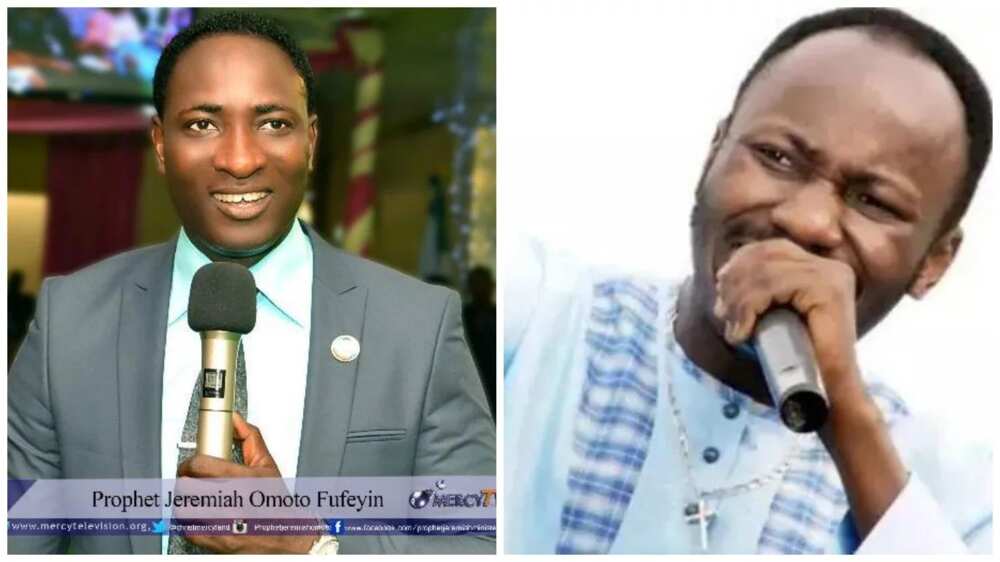 Legit.ng had recently reported various allegations against the General Overseer of Omega Fire Ministries, Johnson Suleman, who has been stuck in a loop of accusations by Nigerian-Canadian singer, Stephanie Otobo, who claimed Suleman had extramarital affair with her and a host of other women.
READ ALSO: You are just an ordinary man - Stephanie Otobo curses Apostle Suleman
In an interview with Golden Pearl Media, Fufeyin, claimed he was told by God that a scandal was coming for Suleman but he never revealed the prophecy to the fellow man of God.
According to him, God had revealed the prophecy to him along with other prophecies.
READ ALSO: Forget scandal, see what apostle Suleman was seen doing with his wife
Fufeyin who made this known while speaking about a forthcoming programme in May when he will be hosting top South African cleric, Prophet Shepherd Bushiri, expressed that the allegations against his colleague are false.
Read what he said below:
What do you make of the challenges Apostle Suleiman is going through?
"Jesus told his followers that whatever thing that he is passing through, his followers will also pass through same situation. They called Jesus our father names. Some said He was using Beelzebub spirit to cast out demons. It is not today that all these things started. These things started in the days of old. It is one of those things. If we are followers of Christ, these things must surely come to us. Not only him but every Christian that is growing; you would have to prepare for these things."
"I will still tell you that those allegations are not true. A man of God is a man of God. Though there are stories coming from different places. Till tomorrow I will still say that it is not true. God is still backing him up. But did you hear the one that the mother went to his church to plead for forgiveness? The body of Christ is one. This is a battle between Satan and God. Any Christian that doesn't know this thing should go and learn more. We have to pray and fast for our Apostle."
Have you spoken with him one on one ever since these things started?
"Yes. I met him today when we boarded the same flight from Benin to Lagos. I encouraged him. He is not even bothered. I asked him how he feels with this kind of persecution. He said that these things must follow us because we are people that are working in the body of Christ. As far as you are coming up and you are destroying the kingdom of satan through the name, Jesus Christ.
"I saw this persecution and I told people that such a thing is coming last year December cross over. I said this thing is coming up and we have to be prayerful. Like my own case, there was an accident. I sent my boys to my village to encourage secondary school students for inter house sports two weeks ago. They went with my Hillux vehicle and on their way back, the vehicle somersaulted thrice and it was raining but glory be to God that nobody was injured."
"Now, if something bad had happened to them, I would have been called names. People would say I sent them to my village, Ojobo to use them to get more power or worse things because of the rapid growth of the ministry. If you are a man of God and in the body of Christ you have to pray for other men of God who are victims of situations as this."
What has happened to the pool of Bethesda, is it now functioning?
"The contractors are the problem. They have never met up with the target. I have spent a lot. But regardless of so much money that have been spent, it is almost done."
"You spoke about the prediction that some pastors will go through persecution, can you throw more light on it?"
"Yes, I said scandals are coming that we should pray. I have even told my church to pray for me and I know God is in control. I said it will happen, and everybody will hear it but God is in control. That is what I told them. It is a scandal. I told them that. You can watch it. It is there. I said it in November, December. After the Sunday I said it, on Monday, they accused Suleman."
We learnt you are bringing a South African pastor to your forthcoming programe in Mercyland. Why?
"Prophet Shepherd Bushiri would be coming to Mercy City in May. He is a friend in the vineyard of God. And he had been with us when I was coming up. He started with me and commissioned Mercy City you have seen and heard. He came last here three years ago. I have even visited him and it is now time for him to come to Nigeria again."
"It is not going to be any different from what it has been because we are both called to work in one body of Christ in order to win souls for God. We are going to win souls for God. The people that are in captivity would be set free through the name Jesus Christ."
Did you tell Apostle Suleiman about the prediction?
"I did not at that time, it was only now that we met that I told him. When the thing started I did not because many at times, we don't talk every second, every hour. We are always busy. Also, it is not everything you see that you talk about. We Apostles, prophets and pastors cancel them ourselves."
Based on what has happened to Apostle Suleman, what have you learnt from it? How have you been able to guild your own territory to avoid such situation?
"The experience and what I have learnt from it is the same. We cannot dodge it. No man of God can dodge it except you are not called. Look at the histories of great men of God in Nigeria, you must hear these stories. It is by prayer and God's mercy. As you are growing, you should prepare yourself for that. Anything can happen. That is why I advise our colleagues in the vineyard of God to pray for our other colleagues. I have read about many of these men of God. They have been accused of different things. Those things are from the kingdom of darkness. We live by God's grace."
Should apostle Suleiman forgive Stephanie Otobo?
"I told him and he said that he is a human being that if God can forgive, then who is he not to.
That is what I told my people one day that it is not by deliverance that this Stephanie needs to go through. It is by going to the man of God to plead for forgiveness before any man of God will now pray for her and everything will go well."
PAY ATTENTION: Get the latest news and updates on Apostle Suleman here
Watch Legit.ng's scoop on Apostle Suleman saga below:
Source: Legit