- Power generation in Nigeria has climbed despite various problems with gas
- The power generation rose to above 4,000 Mega Watts (MW)
- Also the power company is set to install some power equipment at the 330kV Transmission Substation in Ayobo, Lagos
In their daily electricity generation chart, the Transmission Company of Nigeria (TCN), said that last week power generation rose to 4,232.6MW from 3,500MW recorded in the last two months.
This is partly unexpected because according to the Nigerian Electricity Supply Industry (NESI) Statistics, the power sector lost about N1.2 billion on March 20, 2017, due to gas constraints.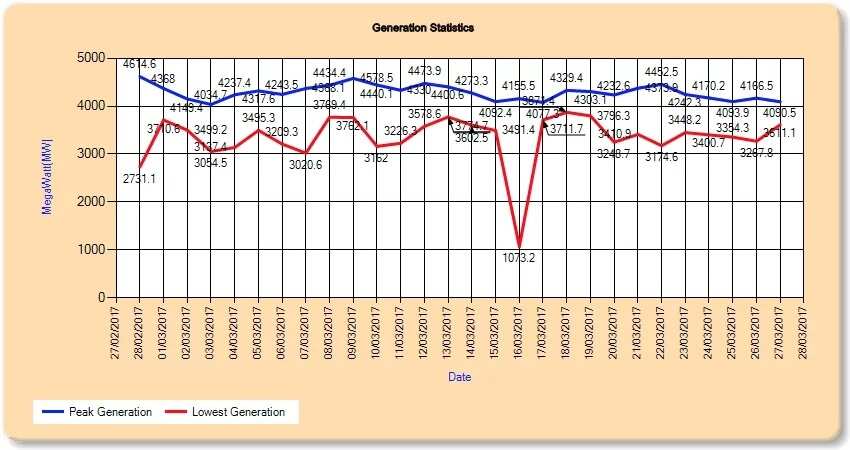 NESI released the following statement: "The power sector is plagued with structural issues in all key areas – generation, gas supply, transmission and distribution. To name a few of these challenges, the operational capacity of the country's power plants is less than a third of their installed capacity.
"Chronic vandalism has crippled oil and gas pipelines, creating gas shortages at power plants.
"Under-investment in maintenance and infrastructure has constrained our transmission grid. Finally, high collection and commercial losses have impacted the financial viability of the privatised distribution companies."
READ ALSO: 7 days of Buhari's return: See how PHCN has improved (Chart)
Despite this increase however, many customers are unhappy with power supply. Olusola Ayeni the spokesperson for the company, said: "The current outage is due to the destruction of our Abule Tailor 33kv line, Ipaja 11kv line and Amikanle 11kv line by the heavy rain last night (March 26)."
"The affected areas include Ikola, Amikanle, Command Road Ipaja, Olota, Ekoro Road, Abule Tailor and environs. Power supply to the affected areas will be restored shortly as maintenance teams are already affecting repairs."
In an effort to boost power supply, Seun Olagunju, TCN's general manager, public affairs, said they are set to install some power equipment at the 330kV Transmission Substation in Ayobo, Lagos State.
Olagunju said: "The power transmission equipment to be installed include transformers, protective devices, metering circuits as well as state-of- the- art control panels, which will facilitate the wheeling of more reliable power to the distribution companies and the people.
READ ALSO: Osinbajo activates $20bn Ogidigben gas industrial project in Niger Delta
"As a result of the volume of connections to be done, and the need to reduce attendant customer discomfort, the installation has been spread to take effect from 6 March to 3rd April 2017 and only between 9:00am and 3:00pm daily."
Meanwhile, the minister of power, works and housing Babatunde Fashola has received an ultimatum to fix the epileptic power supply in Nigeria.
A civil society group, Campaign for Democracy said the minister has 30-days to improve power supply in Nigeria, especially in the South-East region or resign.
The group in a statement by its national publicity secretary Dede Uzor said Fashola has failed woefully by being unable to increase the megawatt from 4,320 where he met it two years ago.
Legit.ng recently made a video of the transportation minister Rotimi Amaechi speaking about his works. Watch the video below: