Nigerians are angry because they are hungry - Okechukwu
- Director General of Voice of Nigeria, Osita Okechukwu explained President Buhari's strategy to win in 2019
- Okechukwu said Nigerians are angry because they are hungry
- The DG believes projects like the Abuja-Kaduna railway will create employments and lessen the people's anger
-For more news on President Buhari, click here: https://www.legit.ng/tag/buhari-news.html
The Director General of Voice of Nigeria, Osita Okechukwu has said President Buhari will win his second term election because he is already addressing important issues affecting the country.
Okechukwu said the president has strategies to win in 2019 and most of the strategies is to provide food and job as Nigerians are most angry because they are hungry.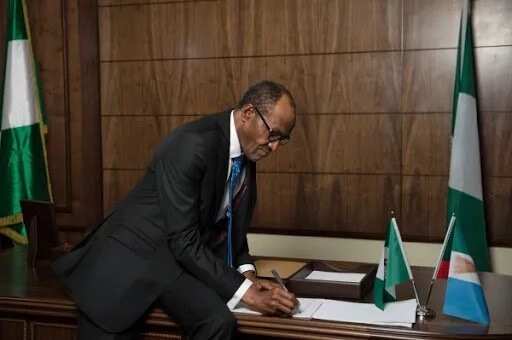 Legit.ng gathered that he made this statement during an interview with Premium Times where he was asked why he is more focused on supporting President Buhari's government rather than facing his job as the Director General of Voice of Nigeria.
READ ALSO: BREAKING: London terror attacker has a Nigerian father
Okechukwu while defending his support for the president said: "No, it's not about focusing on my job, if there is no Nigeria, no job. What I am saying is that Nigerian people gave us trust and their votes. It is not about Buhari alone. It is a movement. We have confidence in this movement and along the line we have our own bridges.
"We are aware that the PDP government was highly corrupt but we didn't know the level of the corruption. So much so that somebody will pocket and buy a warehouse in what is called the 'Southern Kaduna Bank' and stashed away $9.7 million there; that a first lady will build a hotel in Bayelsa that runs into billions while the hospitals in Bayelsa cannot accommodate herself. We never knew it was that bad even when they were not implementing the budgets."
When he was asked how President Buhari will turn the tide around for himself since it seems Nigerians are disappointed in his government and are beginning to regret voting for him, Okechukwu said the president has planned to lure the masses back.
He said: "What we have is a four-year plan. Before the four-year tenure is over you will see the fruit. We are limited because if you tell President Muhammad Buhari tomorrow that you want to retrench anybody, he will not agree because for him government is about the people."
READ ALSO: Police rescues woman who allegedly tried jumping into the lagoon from the Third Mainland Bridge
On whether he think President Buhari will win in 2019, he said: "Yes, of course. Ask me why. Unless there is any other volcano that will kill all of us but if it did not happen and Mr. President remains alive then he will win. What you are seeing today are solid foundations and it will definitely germinate.
"The National Assembly has seen reasons with him. The $500 million awarded for the East-West Road will be completed. Mr. President will not allow it to enter anybody's pocket, no matter who you are. The over $11 million for the coastal rail line, Mr. President will not allow it to enter anybody's pocket.
"Let me tell you, our members in government who are accused if they are able to prove themselves I thank God for them. But if anyone thinks that President Buhari will cover up for him then it is a lie. So what I am telling you is that before the fourth year of this government, most of the seeds we planted will germinate.
READ ALSO: FEC approves N80bn for road projects in 12 states (see list)
"From the analysis we did, the Lagos – Kano rail line will cost $1.5 billion to standardise and it will employ over 5000 Nigerians directly and indirectly. The little that came, we gave the contractors to start work. What I am saying is, why are the people angry? It is because they are hungry and I am saying that hunger won't continue till fourth year."
Meanwhile, Legit.ng gathered that the presidency has warned that the unwarranted attacks on President Muhammadu Buhari should stop.
This was the position of the president's personal assistant on social media, Lauretta Onochie, who made the declaration on her Facebook page.
The video below is a rally organised in honour of President Buhari.
Source: Legit