Two officers of the Nigeria Security And Civil Defence Corps (NSCDC) have been arrested by the Nigeria Police Force for dealing illegally refined petroleum product in Bayelsa state.
The two officers were caught with diesel loaded into a patrol van belonging to organisation.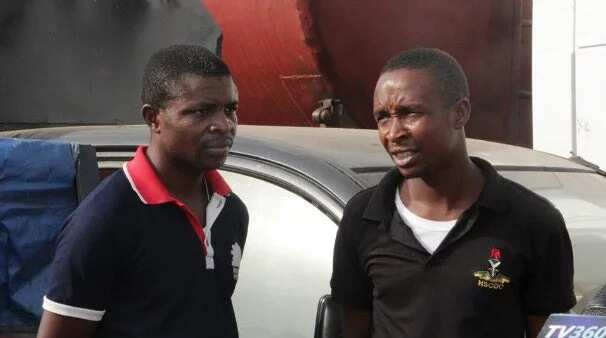 Agah Ovie and Angel Kilosomewo, both assistant superintendents, were reportedly arrested through the coordinated effort of the special task force on petroleum/illegal bunkering in Bayelsa state set up by the Inspector-general of Police (IGP).
According to Moshood Jimoh, the force public relations officer, said investigations and tests conducted on the product showed that it was below quality.
READ ALSO: ABU management confirms Dino Melaye as a bonifide graduate
The 350 litres of diesel was loaded in a Mitsubushi patrol van belonging to the NSCDC.
"The IGP'S Special Task Force on Petroleum and Illegal Bunkering on 07/03/2017 at about 2100hrs while on patrol intercepted a patrol van belonging to the Nigeria Security and Civil Defence Corps (NSCDC) loaded with suspected Illegally refined petroleum product AGO (diesel) along Otuasegha area of Yenagoa and arrested the two suspects mentioned above.
"The suspects volunteered confessional statements admitting to be personnel of the Nigeria Security and Civil Defence Corps (NSCDC) attached to Critical Infrastructure Department, Bayelsa state command, and that the van belongs to their HOD ACC Lawrence Ndubushi.
"The office of the suspects has been informed and the police investigation team is awaiting their response to conclude investigation into the case.
"They will be charged to court on completion of investigation for dealing in suspected illegally refined petroleum products AGO (Diesel) under the petroleum and miscellaneous offences acts.
READ ALSO: Dino Melaye files N5 billion law suit against Sahara Reporters
"The IGP is hereby assuring every Nigerian of the renewed commitment of the force to continue to work assiduously to protect the nation's oil and gas investments and other critical infrastructures," the police said.