- The Biafran struggle has been expanded to America by the Indigenous People of Biafra (IPOB), through radio broadcast
- Leonard Anemene, a leader of the organization, discloses that the maiden edition of its broadcast will be aired on Sunday, March 19, 2017
- The expansion seem to be without the blessing of Nnamdi Kanu
- The embattled leader of the IPOB says he knows nothing of the development
Mazi Nnamdi Kanu, the leader of the Indigenous People of Biafra (IPOB), has dissociated himself and his deputy, Uche Mefor, from a live broadcast of Radio Biafra slated for this Sunday, March 19, in the Unites States of America.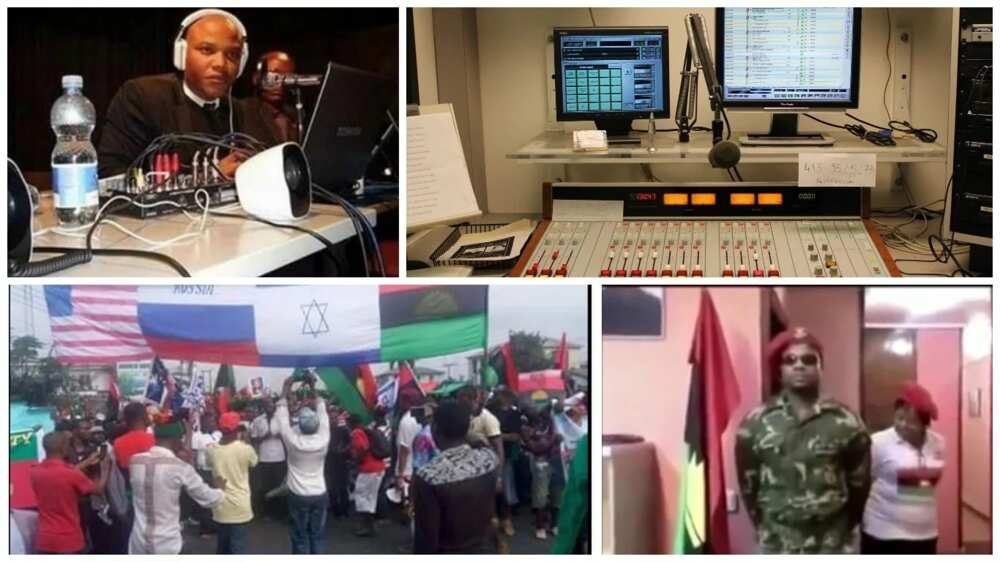 Premium Times reports that the IPOB leader who spoke through his lawyer, Ifeanyi Ejiofor, in a telephone conversation with newsmen on Sunday, said he was aware but did not give permission for the launch.
Radio Biafra was slated to go on air live in the USon Sunday. This was disclosed by Leonard Anemene, a leader of the organisation, in a statement issued on Friday, March 17.
Mr. Anemene noted that if not for some challenges, the project would have been out earlier.
He however, failed to disclose the exact location where the station will be operating from.
PAY ATTENTION: Get the latest news on Legit.ng News App
"Radio Biafra has approval and authorization to set up in America according to the U.S. laws," Mr. Kanu said on Sunday.
"But neither me nor my deputy, Uche Mefor, gave approval for it to go on air today in America," the IPOB leader stressed.
Kanu is currently being tried by the federal government for treason based on his formation of IPOB, establishment of Radio Biafra, and his call for a sovereign Biafran state.
Meawhile, IPOB through its spokesperson, Emma Powerful, say it is positive that their embattled leader will be set free on Monday, March 20.
In a statement by the scribe, the IPOB says it expects the Justice Binta Nyako-led court to quash the remaining charges against Kanu and others because they are innocent.
IPOB also urged Igbos from all section of life to show solidarity by storming the Federal High court to witness the likely release of Kanu and others.
The statement reads: "The court case that is coming up this Monday in the Federal High Court, Abuja is between our leader Mazi Nnamdi Kanu and federal government of Nigeria on the concocted charge of treasonable felony without proof or evidence.
"Nigeria has the dubious distinction of being the only contraption on earth where those that hold opposing views to that of the government are locked up on the grounds of being treasonous yet no single evidence to back up the claim."