- A woman in Lagos has begged the Agege Customary Court to dissolve her marriage
- Yemisi Akinwunmi cited domestic violence by her husband as one reason she wanted out
- Her husband however urged the court not to dissolve the marriage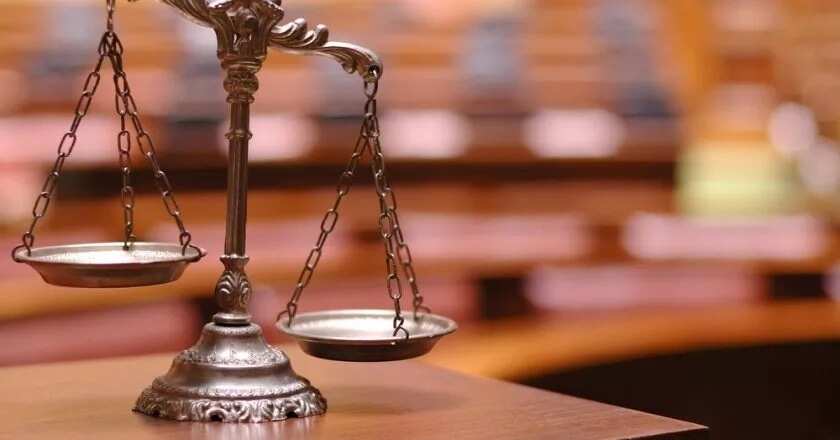 Yemisi Akinwunmi, a 39-year-old trader living in Lagos begged the Agege Customary Court to end her loveless marriage of 20 years.
On Friday, March 17, she pleaded with the court to free her from daily corporal punishment meted out to her by her husband.
READ ALSO: Man blames wife battering on economic hardship as marriage crashes
She told the court: "My husband constantly beats me and whenever he wants to do so, he tells me to kneel down and stretch my hands like a pupil before caning me.
"He often threatened to kill me."
She went on to describe her husband as an irresponsible man, who has refused to take proper care of her and the children.
Testifying before Phillips Williams, the court's president, She said the 20-year marriage should end as she had been solely responsible for the feeding and upkeep of the children since her husband lost his job.
"I made effort to secure a loan for my husband from a cooperative bank to start a small business with a promise by him to pay back in installments.
"But after a few months, he refused to pay and attempt to get him to refund the money was unsuccessful.
"My husband started threatening to kill me and dispose of my corpse without anybody knowing.
"I am fed up with the marriage; there is no love between us again. I can no longer bear the pains and humiliations," she said.
On the matter of the children in the union, she, urged the court to compel her husband to be responsible for the welfare and education of the children.
49-year-old Mr Wasiu, her husband however died the allegation and pleaded with the court not to end the marriage.
Giving his own side of the tale, his wife became promiscuous after he lost his job. He also said he caught her in her adultery, saying: "My wife later told me that she was fed up with the union and she moved out of the house with the children sometime in 2015.
"However, after much pleading, she returned home later in 2016 only to start engaging in adultery; I have caught her on several occasions.
"My wife stopped cooking for me since July 2016 and finally moved out of the house."
READ ALSO: My 75-year-old husband endorsed me our farm labourer, now I am accused of adultery - Wife tells court
According to NAN, he said he also tried to settle their differences. The president of the court invited the estranged couple to his chambers for a possible resolution of the crisis and the case was adjourned to April 11, 2017.
Meanwhile, a 53-year-old woman, Christy Adejo, on Friday in Abuja asked an FCT High Court to dissolve her seven-year-old marriage due to husband's inability to impregnate her.
Christy Adejo a 53-year-old woman is seeking divorce over her husband's inability to impregnate her.
Adejo made the request during her testimony in her petition against her husband, Emmanuel Oluseye.
Watch a video of Nigerians speaking on marriage here: