- The Enugu state chapter of the All Progressives Congress (APC) says the immediate-past governor of the Enugu state, Sullivan Chime, is not a registered member of the party
- The state party chairman, Ben Nwonye, states that the APC does not register members of social media, noting that there are procedures for registration of members into the party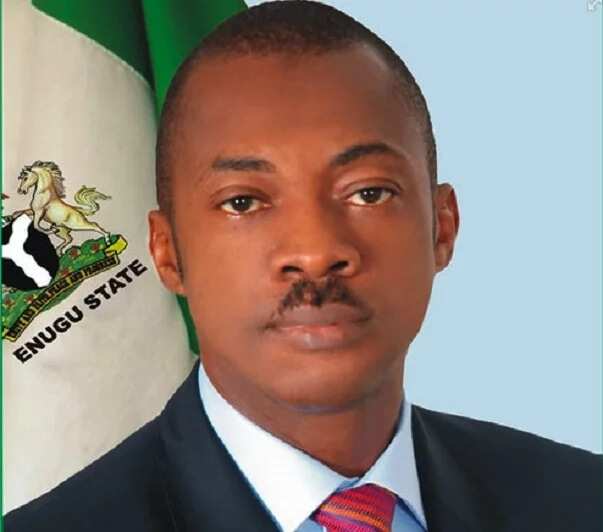 The Enugu state chapter of the All Progressives Congress (APC) has described media reports that the immediate-past governor of the state, Sullivan Chime, has dumped the Peoples Democratic Party (PDP) to its fold as in inaccurate.
The party in told the Tribune in a telephone interview Friday, March 17, that though Chime was making moves to join the APC, but he was not yet a registered member of the party.
READ ALSO: Enugu state deputy governor called out for allegedly chasing gym users out
Chairman of the Enugu state chapter of the APC, Dr Ben Nwonye, said there are procedures for registration of members into APC.
He added that Chime is a big fish whose entry into APC will not be done behind close doors, stressing that as at now, the former governor has not joined APC.
"We will be happy if Ex-Governor Chime joins us in APC but for now he is not our member. APC is open to all and the whole world will know when a notable figure like Chime is registered in the party. We do not register members on social media", he said.
READ ALSO: Igbo presidency: Don't be deceived by Obasanjo - South-East leaders
Meanwhile, reactions have continued to trail the decision of Sullivan Chime, to defect to APC from the PDP.
Chime reportedly took the decision late Thursday, March 16, 2017 to leave the PDP under which he governed Enugu state.
A former national chairman of the All Progressive Grand Alliance (APGA), Maxi Okwu, suggested that Chime's recent action is to enable him beat prosecution for alleged corrupt acts while he governed Enugu state.
On his part, Chukwuemeka Eze, an executive director at West Africa Network of Peacebuilding (WANEP), exclaimed: "Nsogbu Di! We really need a strong opposition in our politics otherwise we drift into a one party system and repeat the mistake of PDP that wallowed in their comfort zone for 16 years!"