- Militants terrorising Isawo area of ikorodu, Lagos state are reportedly back in the area
- Residents of the area are calling of the government to help save them
After several attacks in 2016 that led to casualties on both sides of militants and residents of Isawo in Ikorodu, Lagos, the militants are reportedly back with a vengeance.
NAN reports that the residents say they now live in fear following the return of militants who have been terrorising them in the area.
A female resident of the area who preferred to remain anonymous said: "They brandish guns openly during the daytime and rob people at night; many residents are now living in fear. The men are boasting that they are back to revenge the killings of their people in Isawo last year.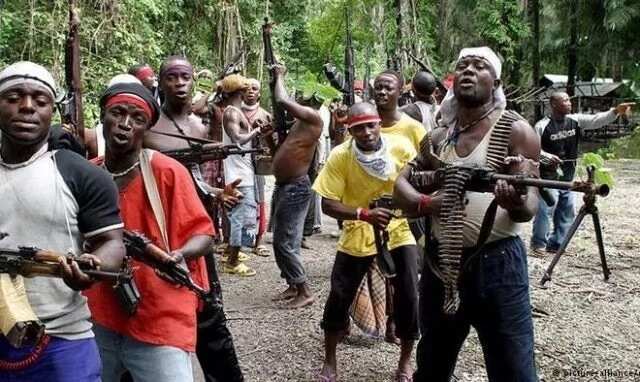 READ ALSO: Ex - militants express happiness over the return of Buhari
"Olusola Oke street, near Majidun, is one of the militants' meeting points where they smoke Indian hemp openly.
"Residents don't go out until 7 a.m. every day, and before 6 p.m., everyone is back home."
She added that some residents had relocated from the area for their safety since the return of the hoodlums.
Another resident called on the military and the police to come to the aid of the residents before the militants will unleash more terror in the communities.
Lagos state police spokesperson, ASP Olarinde Famous-Cole, said the command was re-strategising the security arrangements in the state, including the Ikorodu area.
He added that more police patrol teams would be deployed in the area, urging residents to provide useful information on the activities of the hoodlums.
PAY ATTENTION: Get the latest News on Legit.ng News App
The Flag Officer Commanding, Western Naval Command, Rear Admiral Fergusson Bobai, said: "I don't have any report yet to suggest that militants are back in the area.
"But the Lagos State Governor has approved the return of swamp buggies to open up the creeks in the area to enable us to carry out in-depth patrols."
Meanwhile, the militants from four groups in Niger Delta region have demanded that oil production ceases until the conclusion of dialogue with the federal government.
The threat was issued in a statement released on Sunday, March 12 by the quartet of Adaka Boro Avengers, Niger Delta Creek Warriors, Ogunuma Camp of Niger Delta and Niger Delta Revolutionary Crusaders.