Currently you can find not only light shades of foundation but also various dark ones for Nigerian bridal makeup in different stores. There are eyes shadows and lipsticks you can buy them through the Internet and in the stores. Some even professional make-up artists ask the question: 'How to do makeup for a bride?'
Let's find out together.
Nigerian bridal makeup tutorial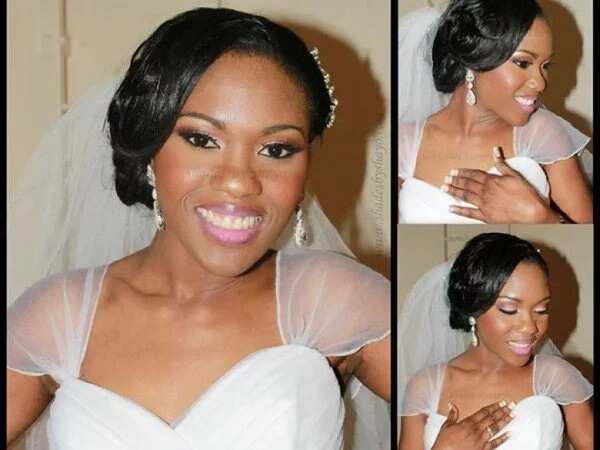 Makeup for Nigerian brides may be difficult, but still possible. The basic shades of the means used in make-up, must certainly look natural and only emphasize your femininity. If you pick the wrong colors, then the makeup will look sloppy and you'll look older.
Avoid pink, as well as peach shades. If we are talking about girls who have a skin with a golden tint, then they will look beautiful with orange, yellow, as well as red tones of makeup. Young ladies with a fairly tanned skin of a yellowish hue should pay attention to brown, golden, and also violet shades. They will allow you to maximize the beauty and make the face more expressive and memorable. Try to make a make-up that emphasizes natural beauty, but does not drown it.
How to choose a tonal cream in a right way?
The tonal basis in any make-up plays the most important and key role. It is important when choosing to closely compare your natural skin tone and the tone of the product. It should fit perfectly. If it is even one tone lighter, it will block your natural beauty and rich color of your skin. It is better to give preference to slightly darker tone, in this case, dilute it with a small amount of moisturizer.
The tonal base should not be too dense and lie on your face like a mask. If you want to hide the imperfections of the skin, you can buy a denser cosmetic product, but it should be applied point-wise.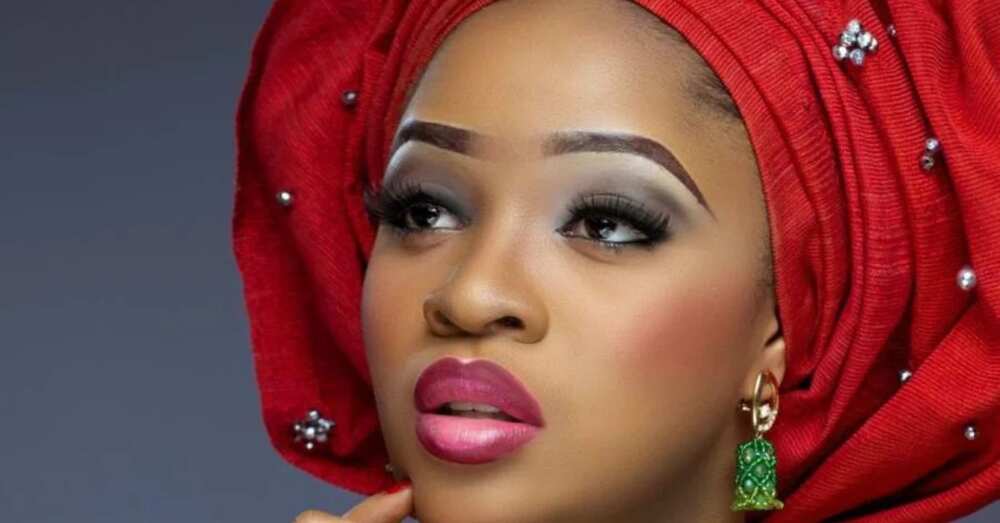 Do you have oily skin? To prevent the appearance of gloss during your wedding ceremony, use matte products. If the skin suffers from dryness, then the foundation should be with flickering particles and components for moisturizing.
Makeup for a Nigerian bride requires less toning means because the skin of such young ladies is quite even and beautiful. You can make the coating matte and fasten it for a long time with the help of a light friable powder, do not use compact means, so as not to overload the makeup. If you have any pimples or irregularities, then when applying correctors they can resemble some kind of dark cones. Therefore, it is better to use a thicker tonal remedy, rather than a corrector.
How to choose a right blush for Nigerian wedding makeup?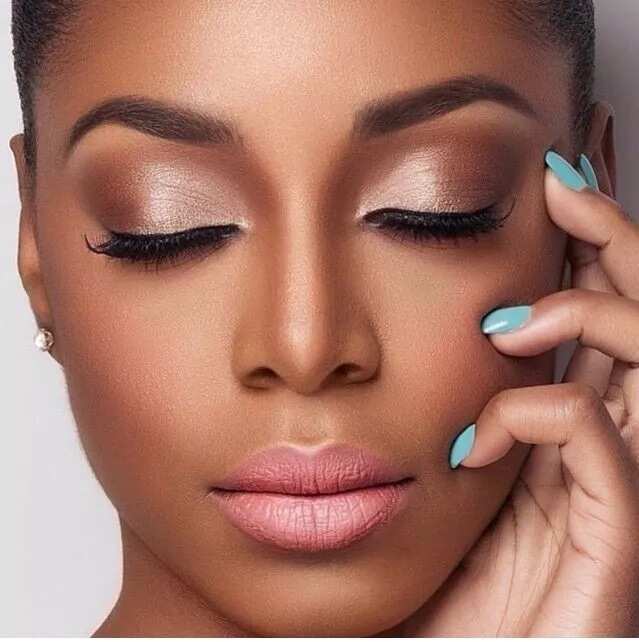 With the help of blush, you can make your face fresh, as well as 'alive'. You can get beautiful look thanks to the blush of coral or golden shades. If you plan to make a light make-up, do not overdo with the application. But for bright wedding make-up, you can experiment a little. To make the skin even more beautiful, and make the cheekbones look highlighted, apply a little-bronzed powder on them.
To make the skin glow from the inside, use a golden highlighter, but it can be replaced with shadows. Make-up for a Nigerian bride must necessarily be performed with smooth transitions. Golden blush fits perfectly. Some young ladies can use even brown or orange blush, but one should be more careful with the latter.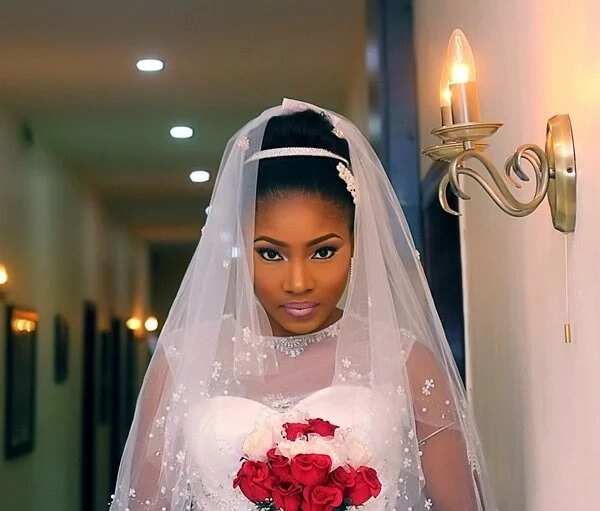 Avoid too bright pink color, as well as pastel shades, which resemble chalk on the dark skin. Blush should be applied to the most convex parts of the cheeks. Today, a lot of girls prefer cream blushers, which look just fine. They can be applied with fingers, only it should be thoroughly shaded. This product can be applied to the lips, as well, since it has a pleasant creamy texture.
Eye makeup tips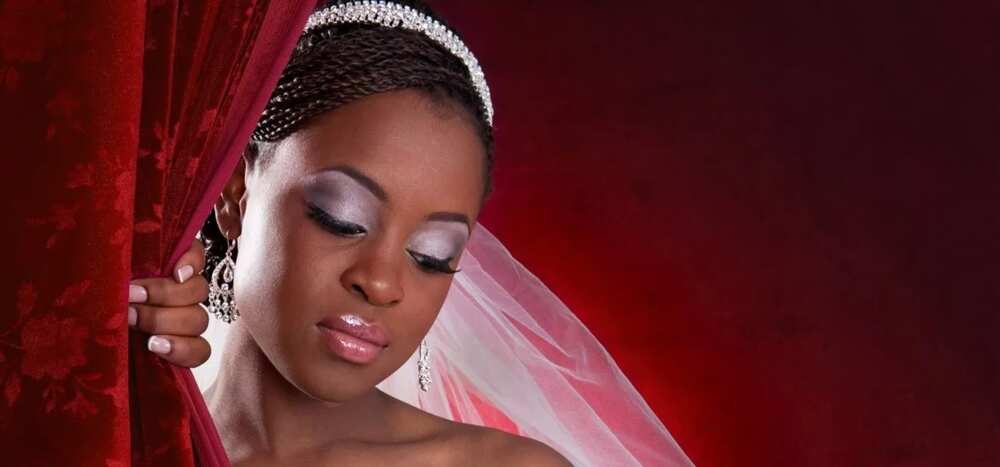 Finally, the popular fashion trend is thick eyebrows of natural form, but this does not mean that you can grow them and do not take care of them. Such eyebrows also need to be plucked, tinted with shadows, and also waxed. Try not to use a pencil to select eyebrows, give preference to shadows. And they can be applied with a thin enough brush to make the lines neat. Do not focus on the eyebrows, if you make a light make-up, they should remain as natural as possible. This is the correct make-up.
If we talk about eye makeup, then the darkest shade of shadows should be located in the fold of the eyelid and slightly higher, so the eyes will look more open and attractive.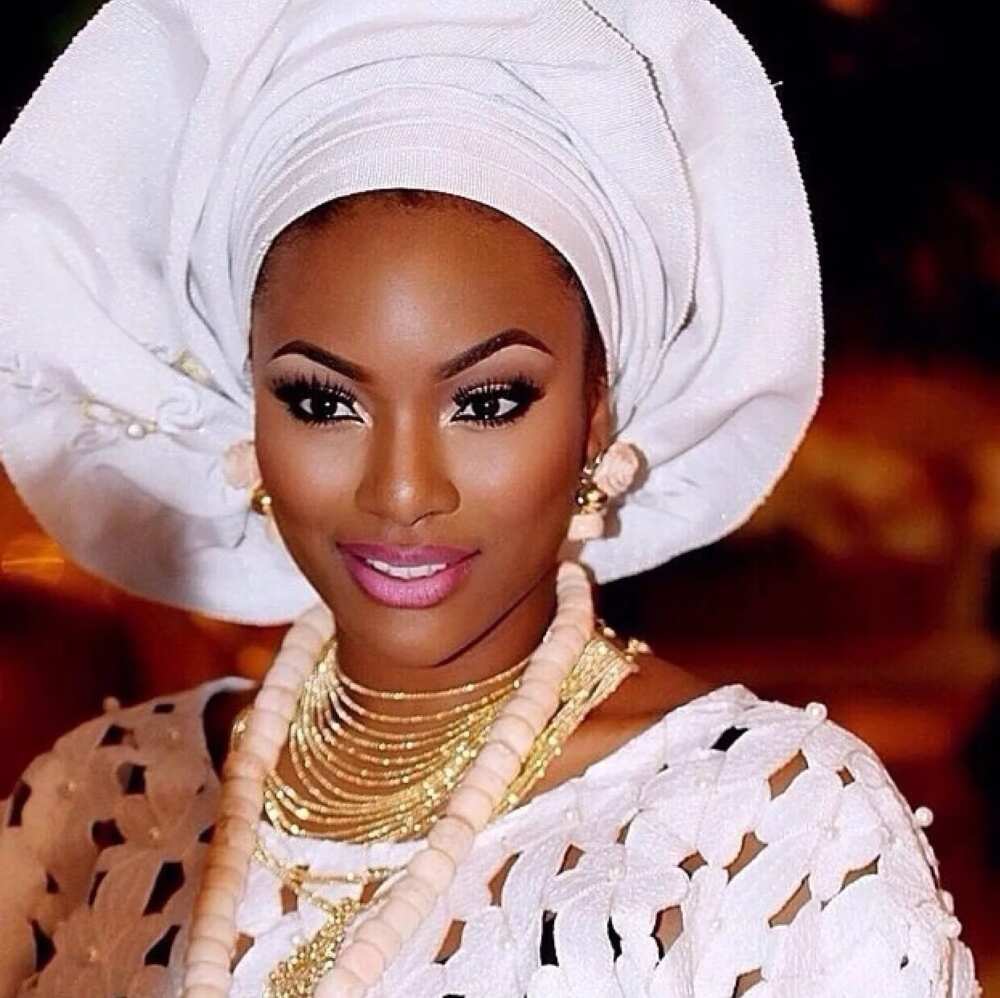 Light shadows need to be applied to the entire moving eyelid. Pay attention to the golden, peach, and orange shades, but they should not be too bright and screaming. For your bright wedding makeup, it is preferable to use shadows of blue or rich purple hue. Your eyes will look beautifully with the shadow of the sea shade. Today, at the peak of fashion, there are finally shadows with a metallic tint, only they should not have blatant sequins that make makeup will not look cheap and tasteless.
If you want to give the look some mystery and make it rich, then use golden shadows. You can simultaneously apply matte and metallic shades: purple and gold. Do not be afraid to experiment! This is the main rule of makeup. If you do not like the result, then makeup can always be remade.
Shade of lip gloss or lipstick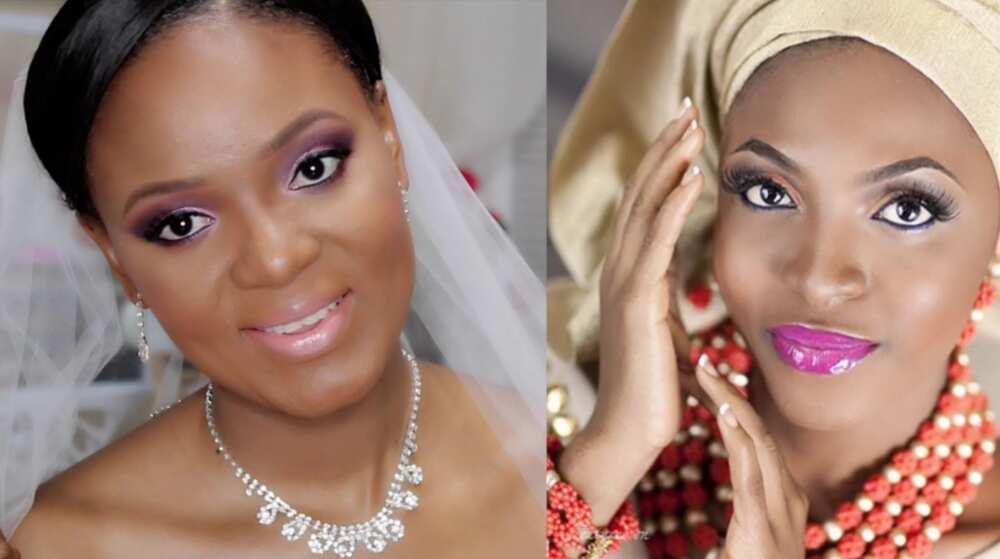 READ ALSO: 8 things Nigerian men want from their women
Pay attention to the selection of lipstick only on such shades that can emphasize your makeup. Today, the trend is matte lipsticks of dark shades: burgundy, cherry, brown. You use gentle pink lipstick.
Try to avoid light red and screaming pink shades. They will make your makeup too intense and tasteless. If you appreciate minimalism in everything, you can choose a transparent shine.
If you use the shine of a solid shade, the lips will look more voluminous and hot. Keep this in mind. If the color and lip contour does not suit you, you can adjust their shape a little with a pencil, only it should be in the tone of your lipstick, but not darker.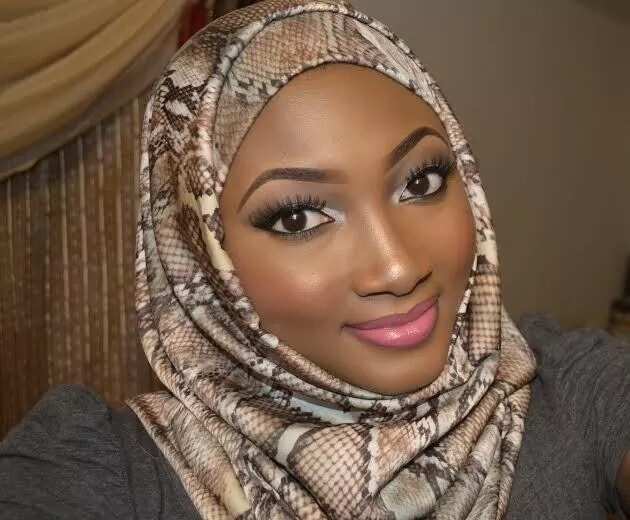 The dark outline will look too unnatural. If you plan to make the lips more saturated and bright, then the eyes should be as natural as possible, using only mascara and shadows and pencil of the same color. Always try to focus on the beauty of the skin, because the dark-skin look attractive and with a minimum of make-up, but with a smooth and perfect skin. Proper makeup should emphasize your beauty, and do not drown it.
The brown lip gloss will look especially beautiful with the addition of a small amount of flickering golden particles. It can be used both for a wedding and for an every-day use.
Nigerian wedding makeup tutorial: step-by-step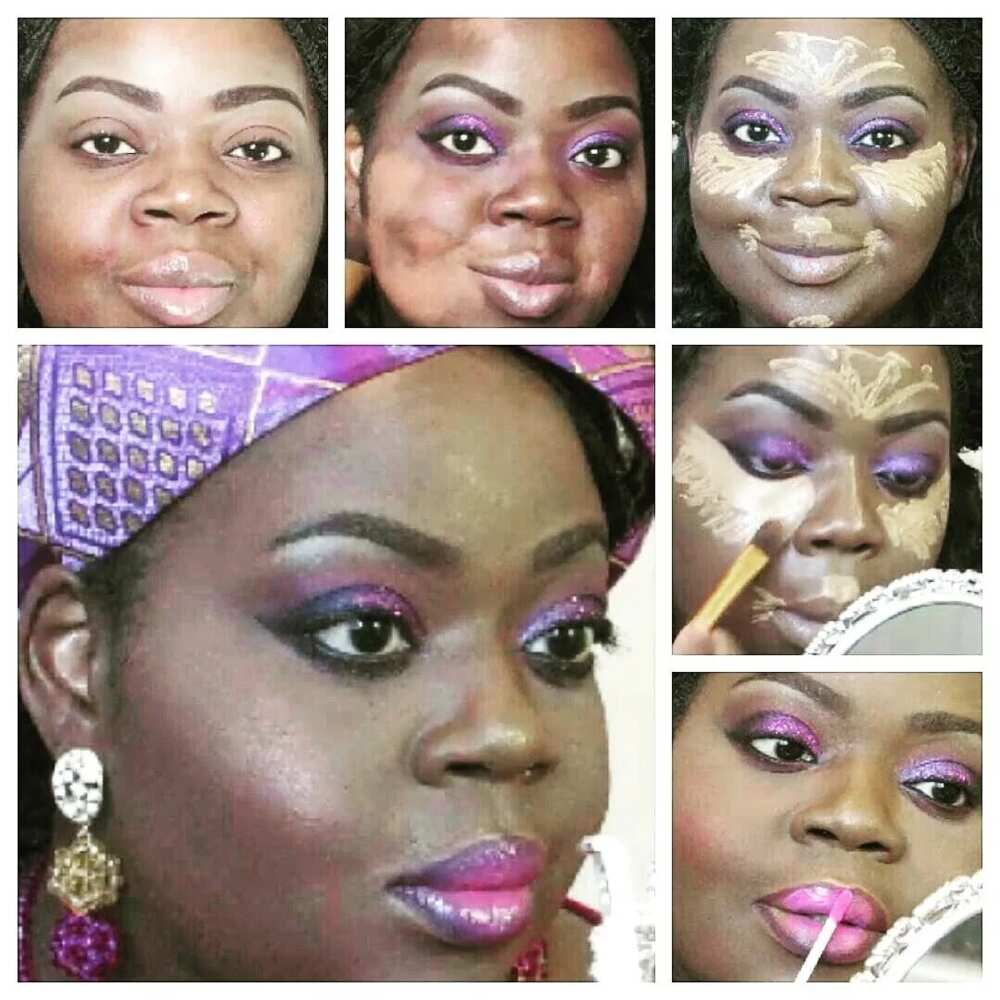 Nigerian girls can put on make-up with their own hands; it's not as difficult as it seems at first glance. You can simply follow the steps that we offer you. And in the end, you will get a stunning result! The main thing is to do everything neatly and correctly.
First, you need to clean the skin with a gel for washing thoroughly, then walk a little with a disc soaked in a tonic. And use a moisturizer.
Next, use a matte foundation, apply it using a wet sponge, so you can achieve the most natural result. You need to do everything very carefully.
After that, add a little coral or peach blush on the cheeks, for this, it is desirable to use a large brush. There should be no abrupt transitions.
Then emphasize high cheekbones, forehead, nose. Just do it with light movements. The highlighter can be applied to the décolleté zone to attract more attention.
Use the bronzing powder under the cheekbones to make them more embossed.
Emphasize the eyebrows with the help of shadows of a brown hue, and then put the light under the eyebrows with light shimmering shadows. Apply a light tint to the entire mobile eyelid, and on the fold - a darker one. As a result, make-up should look very harmonious.
Lips can be highlighted with a transparent gloss. Apply some highlighter on them to make them shine even more. Makeup for a bride at home is ready!
Magnetic Smoky Eyes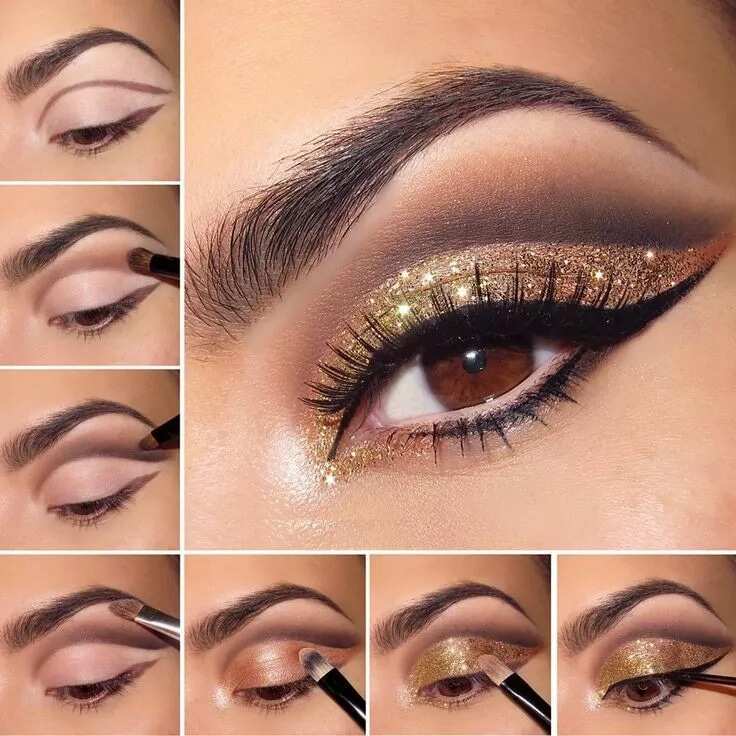 A lot of girls prefer natural makeup. Smoky Eyes is suitable for special occasions, it is the perfect solution for make-up in a restaurant or for a wedding.
First, make a black pencil substrate throughout the upper eyelid, and then carefully spread the substrate with your fingers. Then the make-up will last much longer and will not crumble.
Then apply black shadows on the entire mobile eyelid, put some gray shadows on the brush and shade the resulting borders to make the makeup smoky. Apply a few gray shadows on the lower eyelid.
Next, draw a water line of the lower eyelid with a black pencil. So the look will be even more magnetic and attractive.
At the end, make the eyelashes more fluffy using mascara.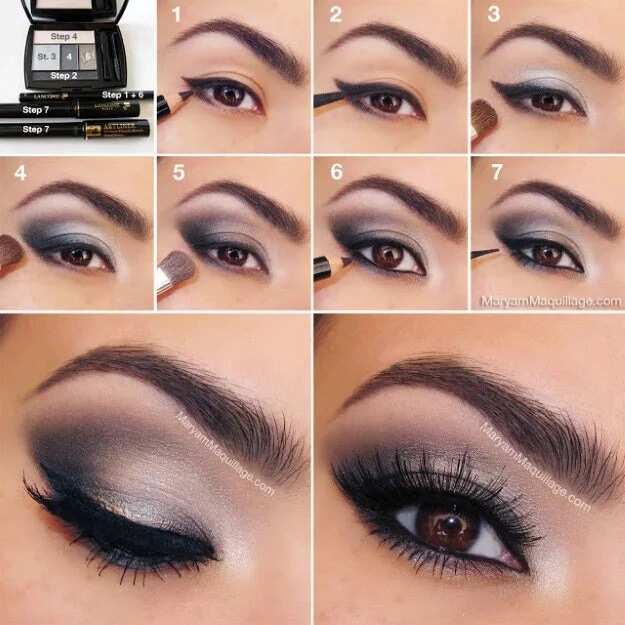 Do not be afraid to experiment. But when it is all about your wedding, then make-up should be thought in advance. You can come up with something special; the main thing is that makeup looks harmonious. Try one of our bridal makeup ideas in a few days before your wedding. If it doesn't suit you, try one of our Nigerian bridal makeup pictures and choose the best one for you!
READ ALSO: Nigerian hairstyles for ladies