Corporate dresses for ladies in Nigeria
Are fashion trends compatible with the strict corporate wears for ladies in Nigeria? Of course, yes, but it is necessary to carefully approach the selection of your attire, especially if there rules of the dress code at your workplace.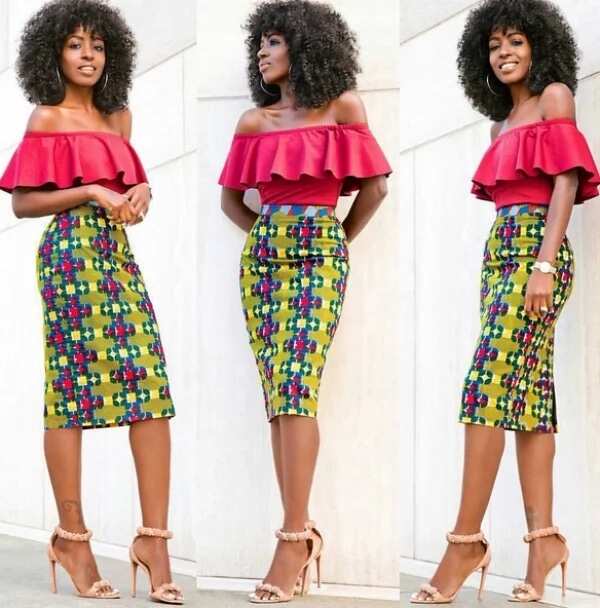 Do not assume that the business image is boring, uninteresting, and impossible to be feminine, stylish and beautiful. A suitable dress will transform you, and your individuality will be emphasized even in the office. You will look stylish, but delicate.
We present you the main trends in corporate dresses for ladies 2017.
1. Chanel style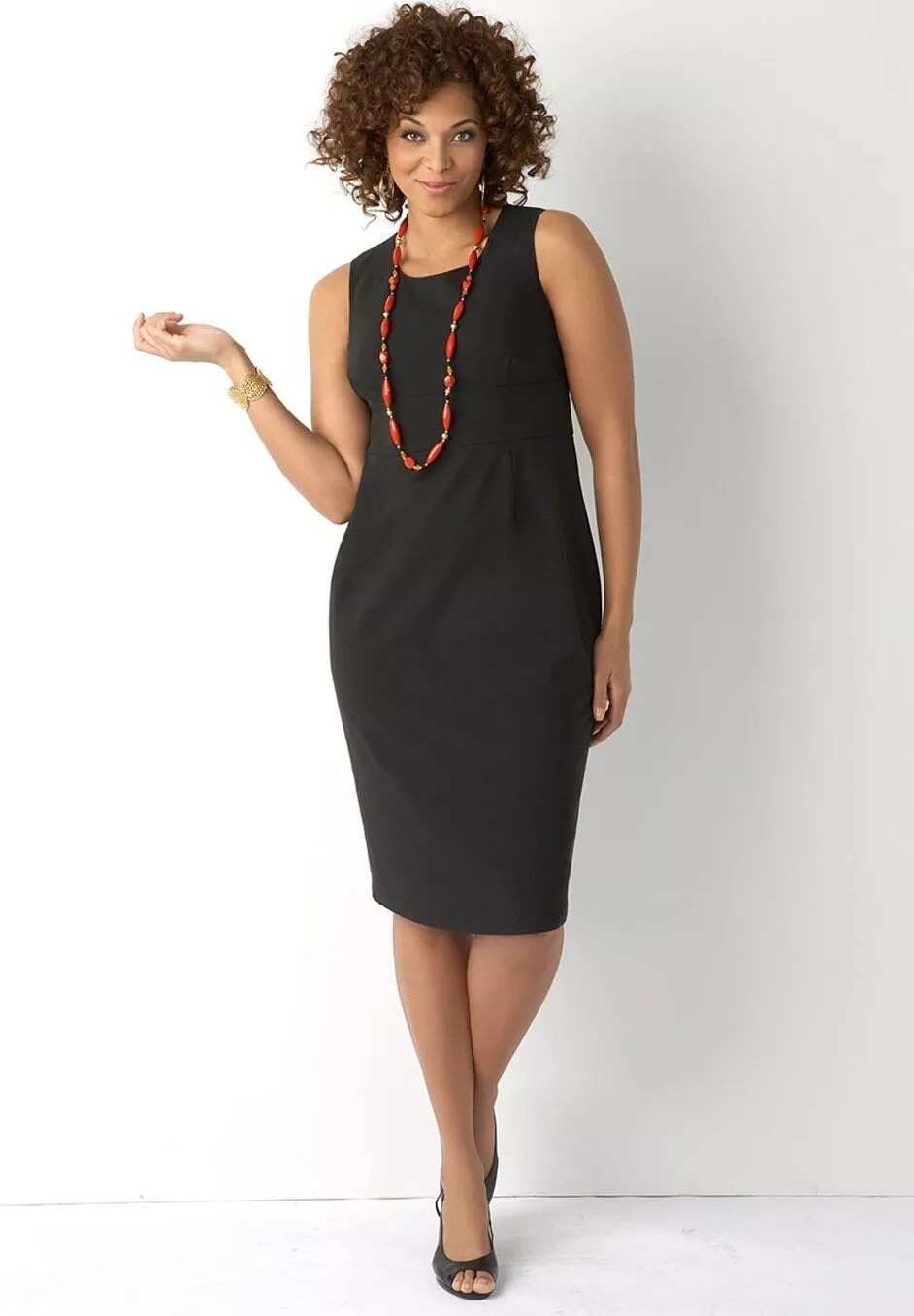 The same little black dress of Chanel is the perfect model not only for cocktail parties but also for work. If you have a beautiful shape that does not require an obvious correction with a special cut of clothes, then it is the simple design of the dress that is perfect for the office. This dress perfectly wears with an elegant jacket, silk handkerchief or scarf.
2. Business Dress-Shirts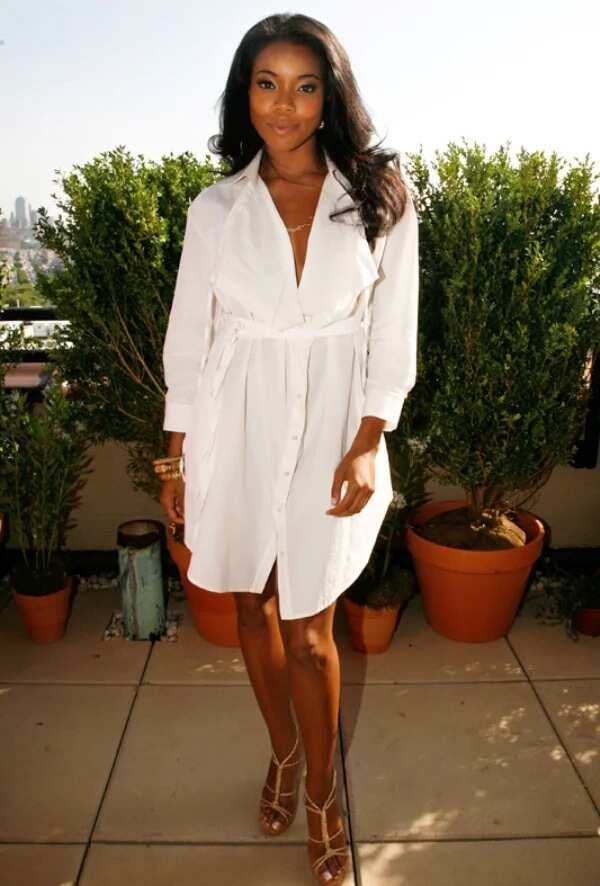 For many years the dresses-shirts are known to all women as one of the symbols of the style of safari, which conquers fashion every summer. This fashion dress has come back in 2017 because of many points. The unconditional dignity of dress-shirts is their convenience for wearing in everyday life, as well as the opportunity to adapt to the office image. Choose reserved colors and dense materials, and you will always have a stylish and convenient solution for going to work. Such corporate attire will make you feel confident.
3. Wrap-around dresses for office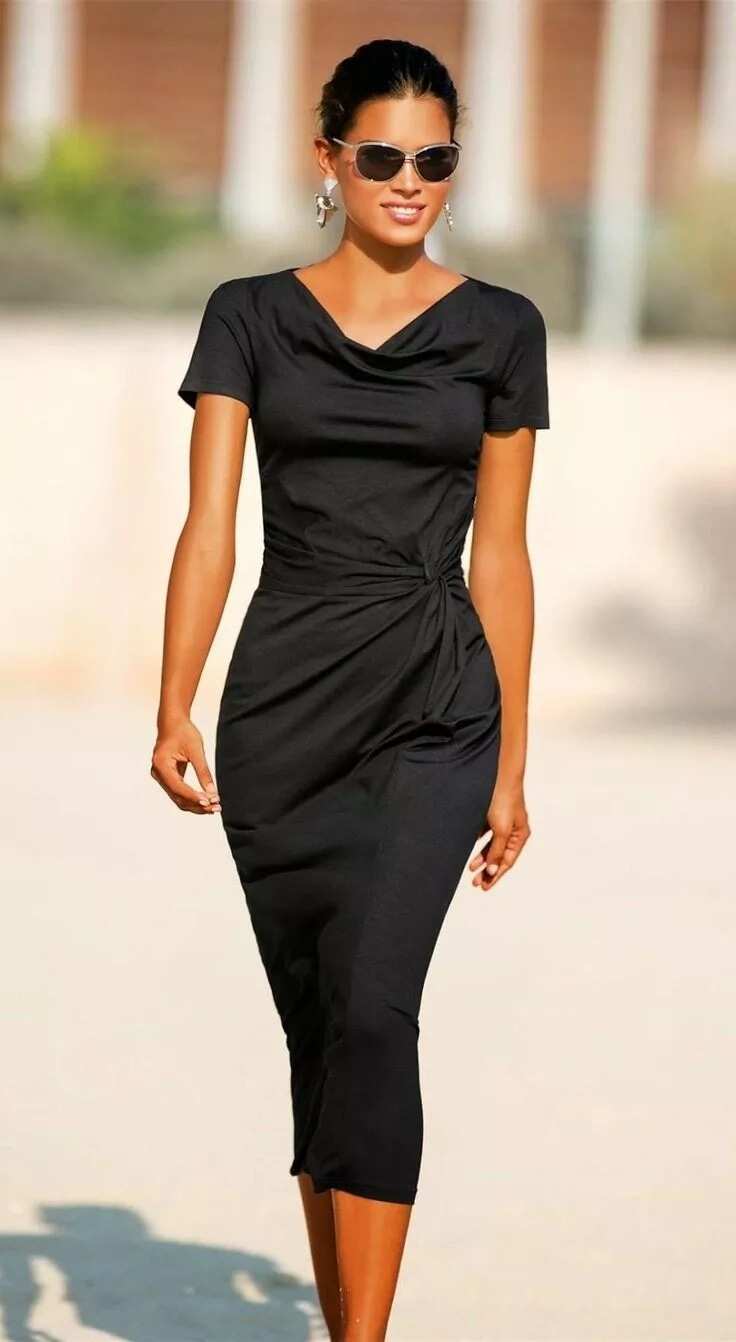 Beautiful, always topical, the feminine wrap-around dress is an enduring trend of recent years, which could not be excluded from the list of the correct corporate dress for business women. They perfectly correct the figure, bringing it closer to the perfect hourglass shape, conceal a full belly. Often wrap-around dresses have a deep V-neck, emphasizing the neckline. If you pick up a dress for work, consider less bold cut options.
4. Office black and white dresses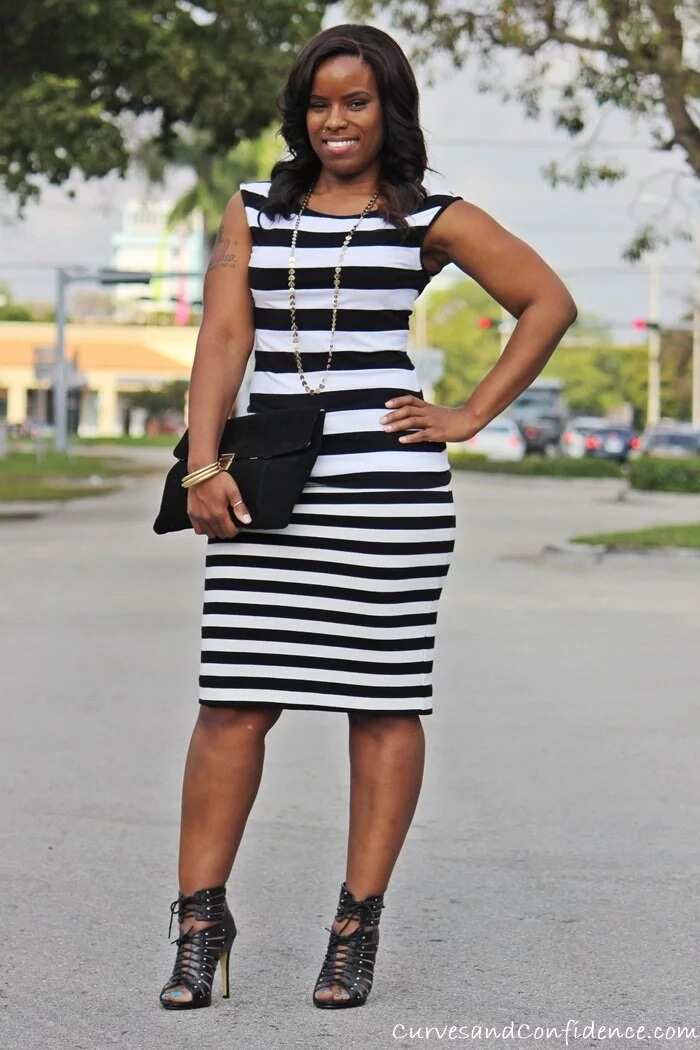 The combination of black and white is from the category of timeless classics, and it perfectly suits for office attire. Patterns on the fabric should not be too clumsy and small, it is better to stay on neutral versions of the print or contrasting rim, which fits into the business atmosphere.
5. Business dresses with stripes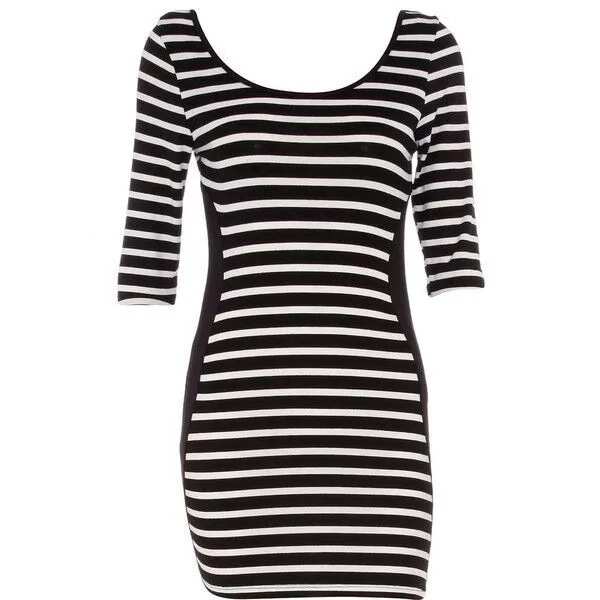 For several years strip is in a row among the most relevant trends of any season. A thin strip suits a business attire of a man and a woman as it is classic, which cannot be affected by time. This is another reason to buy a stylish dress with strips for the office.
6.Fitted dresses with short sleeves for office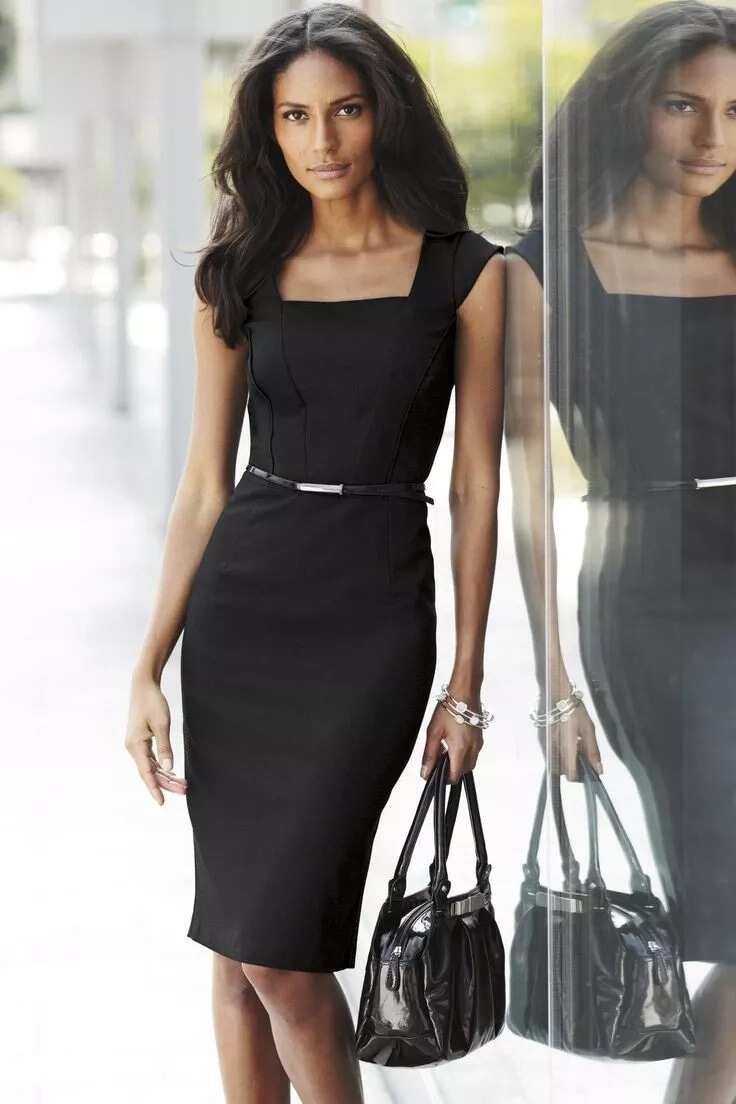 Dresses of an adjacent cut with a short sleeve are more convenient than a model with a full-length sleeve or dress with no sleeves at all. This is a restrained and at the same time relevant alternative to both models, which, moreover, ideally suits the business style. You can put a jacket or cardigan on top.
7. Elegant dress with draperies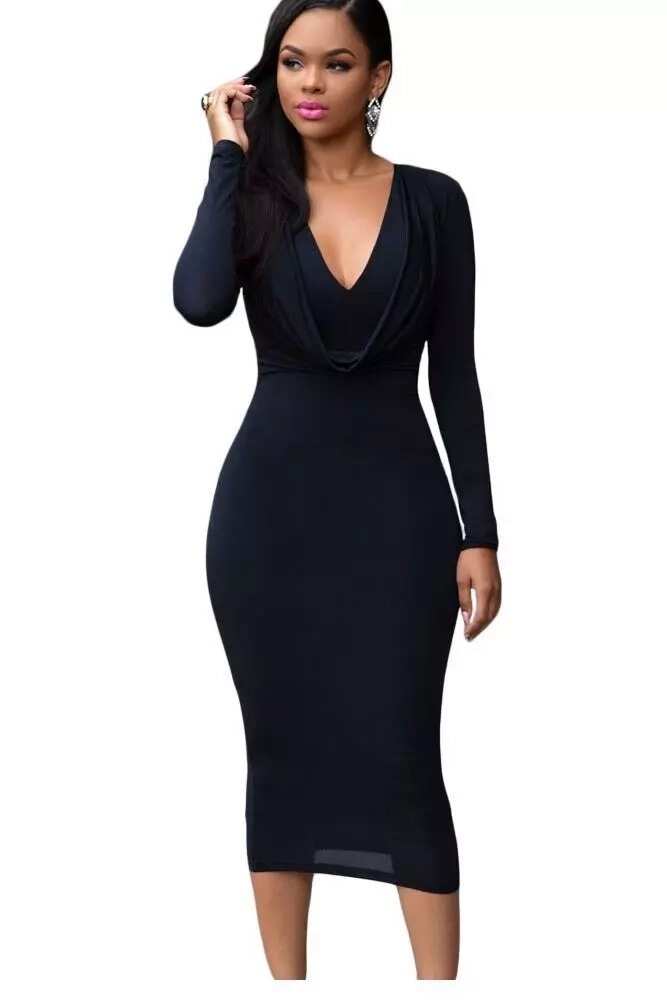 READ ALSO: Stunning bridesmaid dress inspiration
It can hardly be argued that at work it is inappropriate to walk in luxurious dresses in Greek style with flowing draperies. However, this does not mean that draperies are banned for business style. It is important that they are unobtrusive and not bulky, but in any case, their presence transforms the dress, making the simplest model refined.
8. Asymmetrical dresses in office style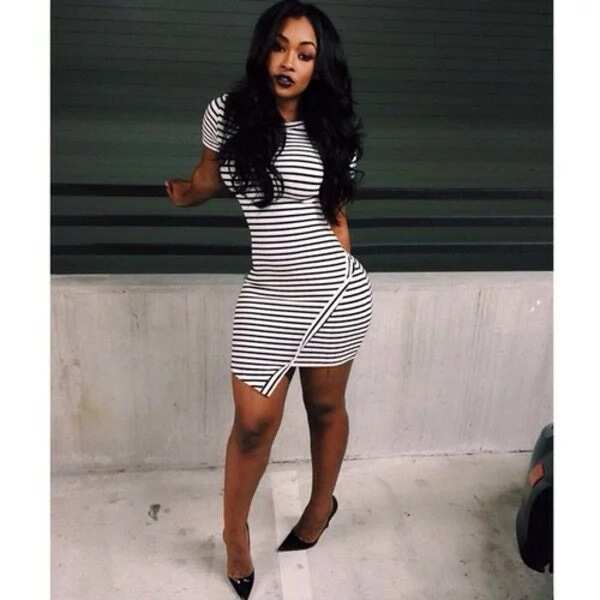 As with draperies, the asymmetric cut is the trend that must be considered for your fashionable office dress, but you must follow some rules. If wedding or prom dresses asymmetry can be at any level and practically of any scale, then for the business dress asymmetry works best in the field of the top. It can be a wrap-around model or one with an asymmetrical neck.
9. Two-piece corporate dresses designs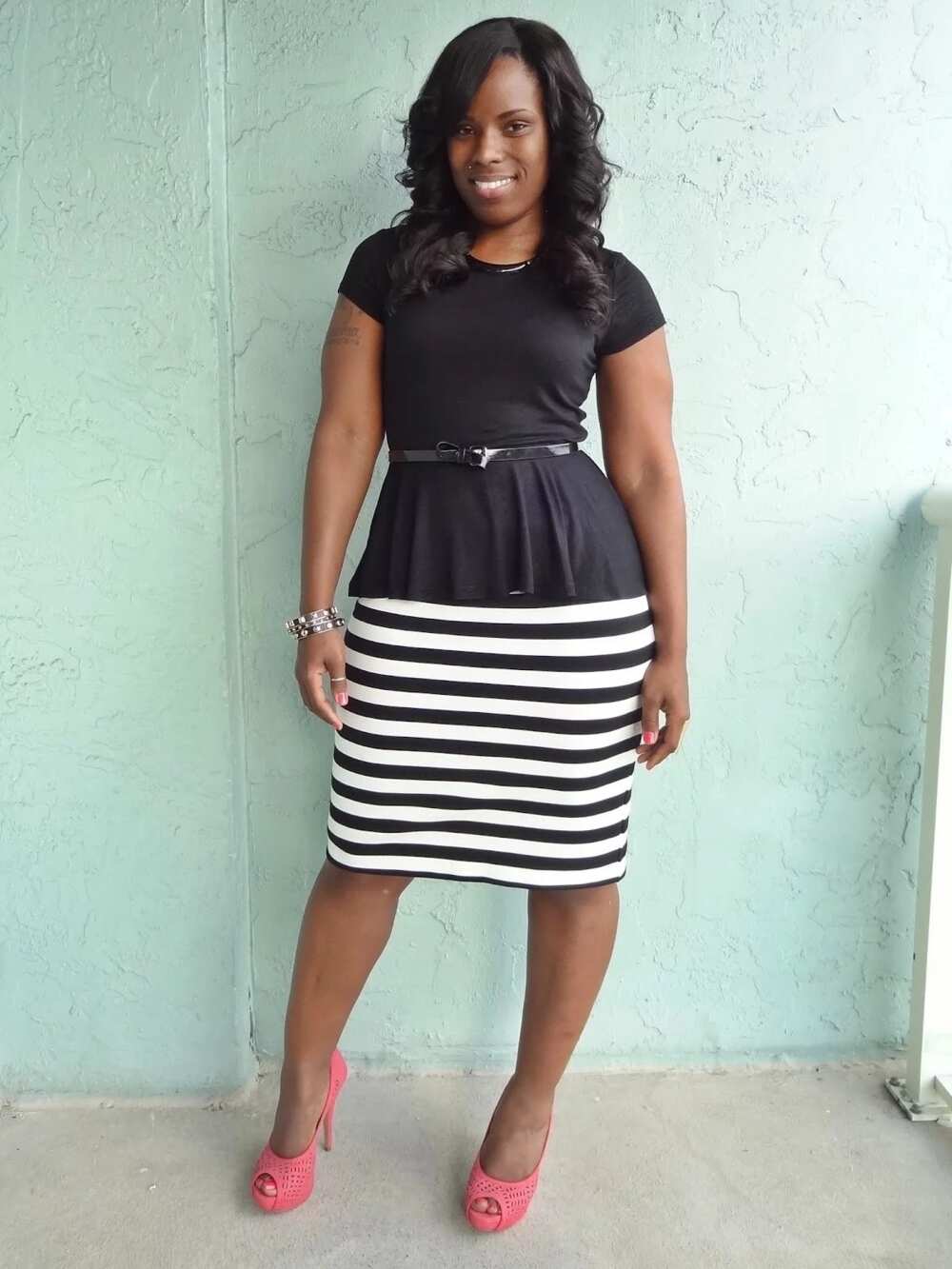 You can call it the old fashioned - suits - but in recent years, designers are increasingly releasing such suits as two-piece dresses. Actually, they are closer to dresses, and at first sight, it is sometimes difficult to notice that the outfit consists of two parts. Crop-tops are made for everyday wearing, it is inappropriate to expose the belly at work.
10. Office dress with contrast accents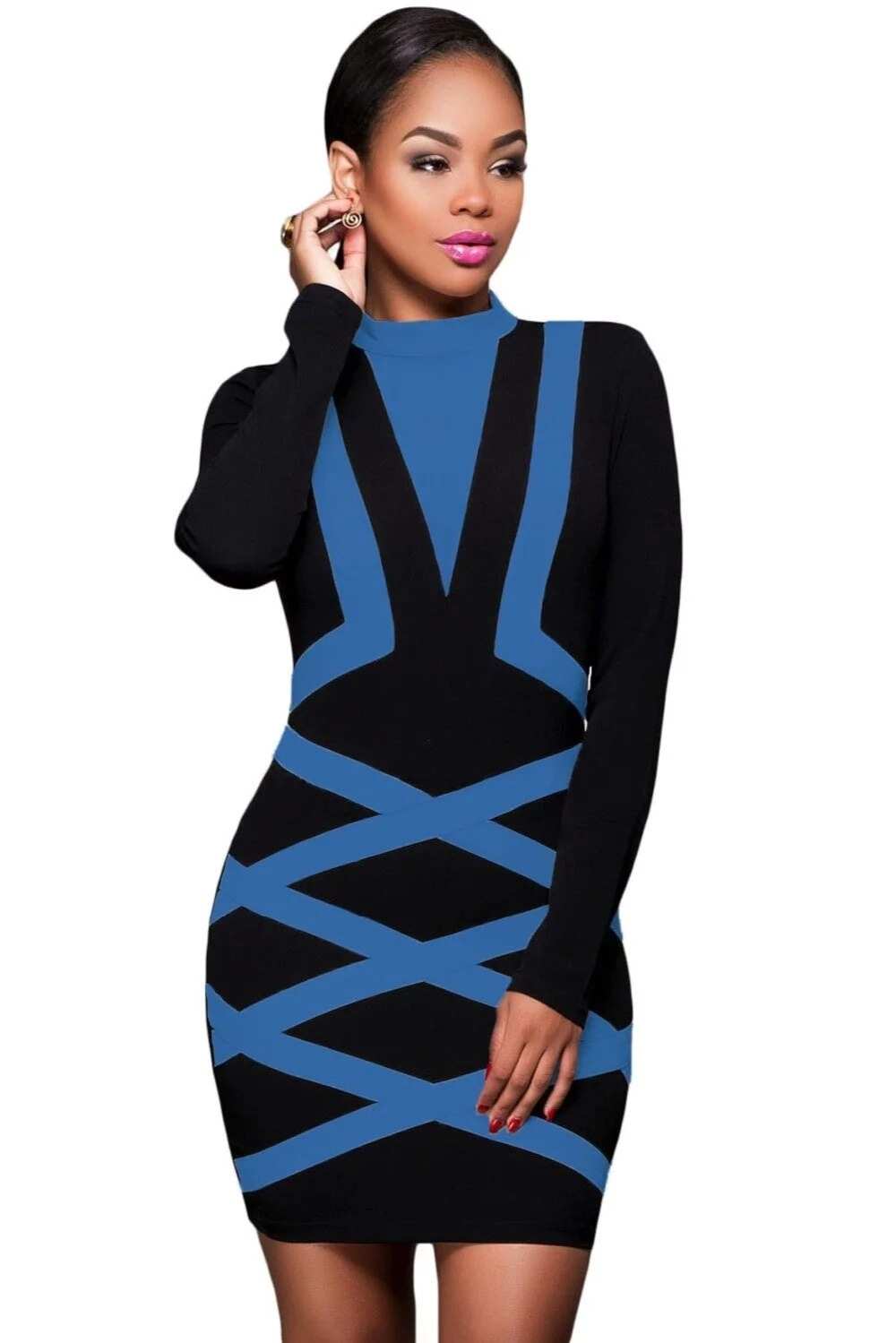 Even a business woman is not alien to the brightness of outfits, the craving for complex cut and original design. Few can afford such fashionable outfits at their work, but you can try to diversify the business outfit, for example, by choosing a dress with contrast inclusions. White on black is the simplest and safest combination. Also pockets, collar, cuffs can be contrasting in color and texture.
11. Office dress for thick ladies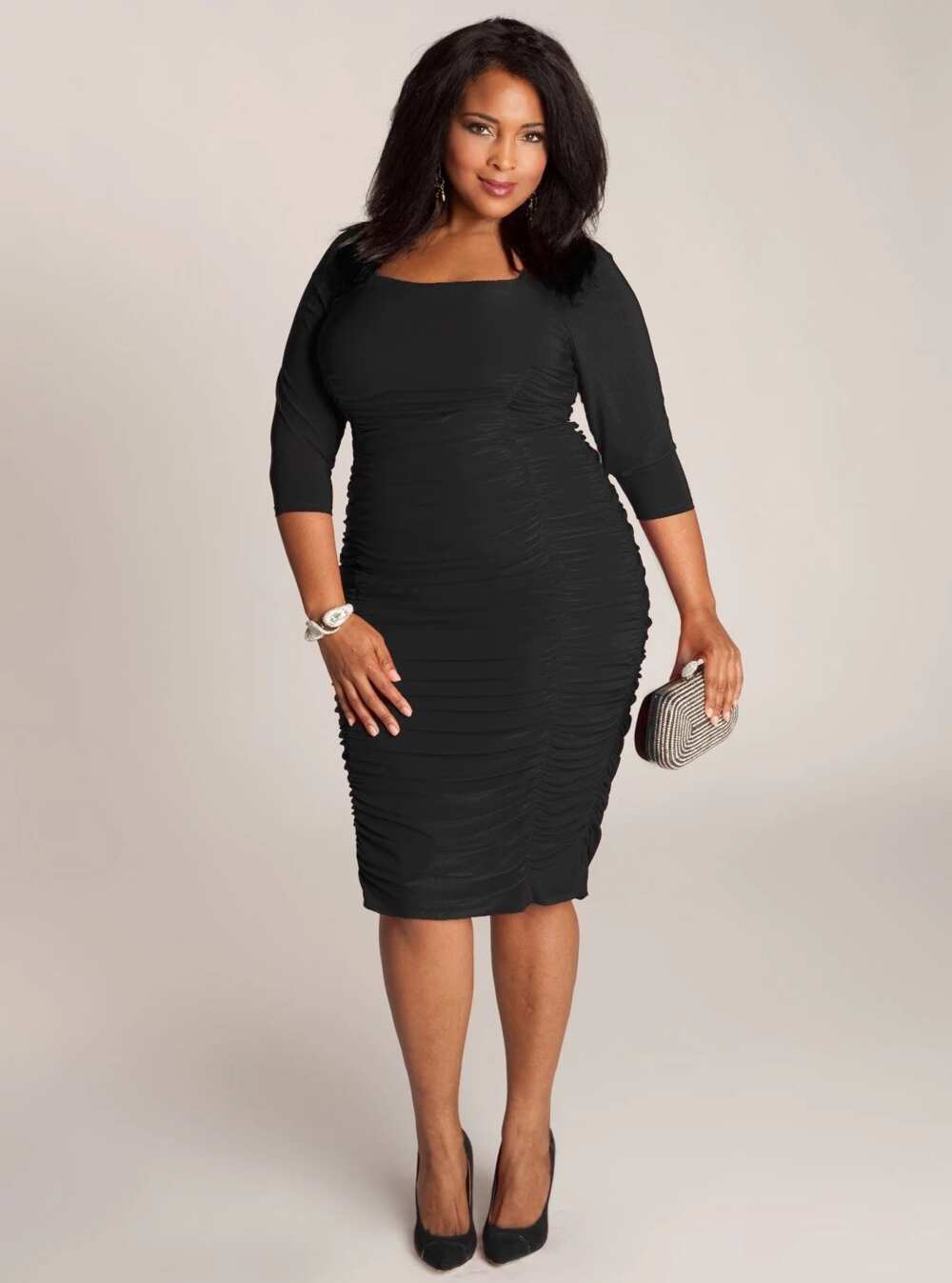 The designers offer dresses in the style of a case for girls with forms. Also, fitting models suit well for office - they can look pretty organic. Wrap-around dresses look very impressive, there are a lot of reception options for this kind of attire - it can be wrap-around bodice, and the bottom of the dress will be flared. You can work wearing this outfit and feel comfortable. The fashion designers also advise paying attention to the dresses of the straight style. In 2017 some designers have proposed fashionable sundresses - they can be supplemented with a classic blouse or shirt. Both options will suit well with the jacket.
12. Business dresses for women after 50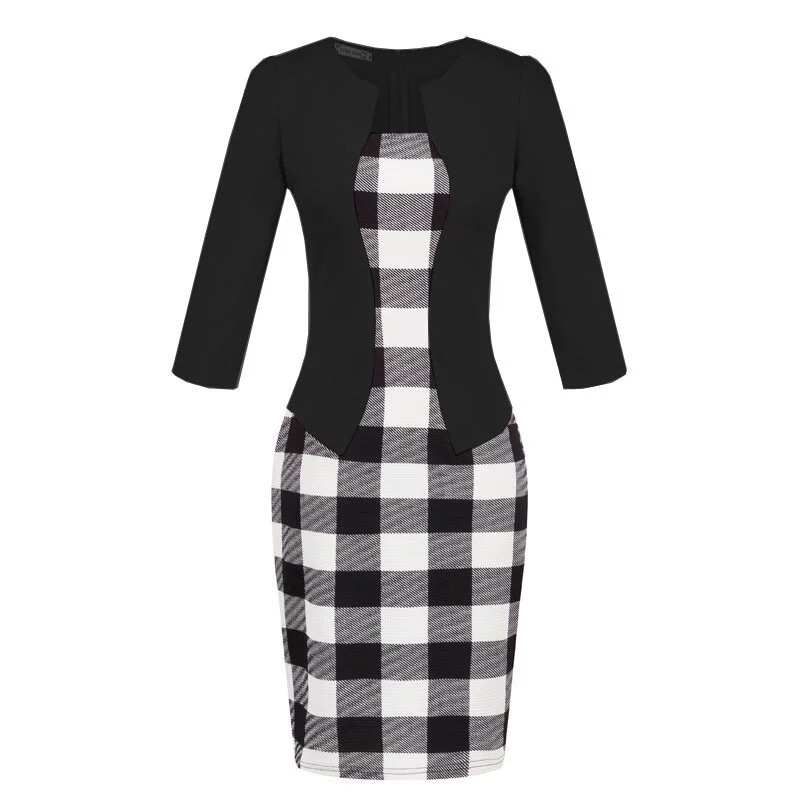 Women after 50 should remember the following details choosing office dress - this is the quality of the material, cut, and the simplicity of the silhouette. Multilayered and overstated waist is definitely not the most successful option. The best length will be a dress a bit below the knee. And tights should be chosen necessarily dense to hide the flaws of the legs. As the evening dress, the long dresses look very elegant. Be sure to pay attention to the sleeves.
Specialists in the fashion industry believe that in 2017 the sleeve as long as just a little below the elbow will be popular. Women after 50 should choose an office dress with such a sleeve or longer. A short sleeve cannot always emphasize the beauty of the shoulders. It is better to choose deep and saturated colors, avoiding neon shades. Atlas, velvet, and valor - these materials should be abandoned in favor of more dense fabrics.
13. Long office dresses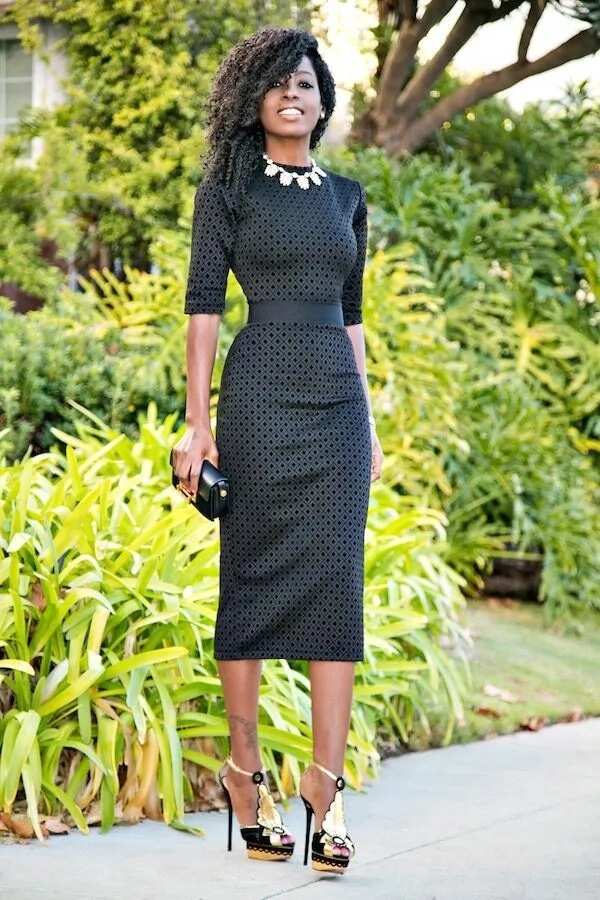 Some couturiers tend to believe that long dresses are not the most useful length for an office. However, practice shows that the girls wearing this dress feel very comfortable. It is best to choose flowing styles of dresses for work.
Tight outfits can deliver some discomfort, and it is unlikely that your thoughts will be entirely occupied with work if movements are difficult in it. It is better to adhere monochrome coloring, a long dress - is an ornament itself and does not require additional decor elements.
14. Free cut office dress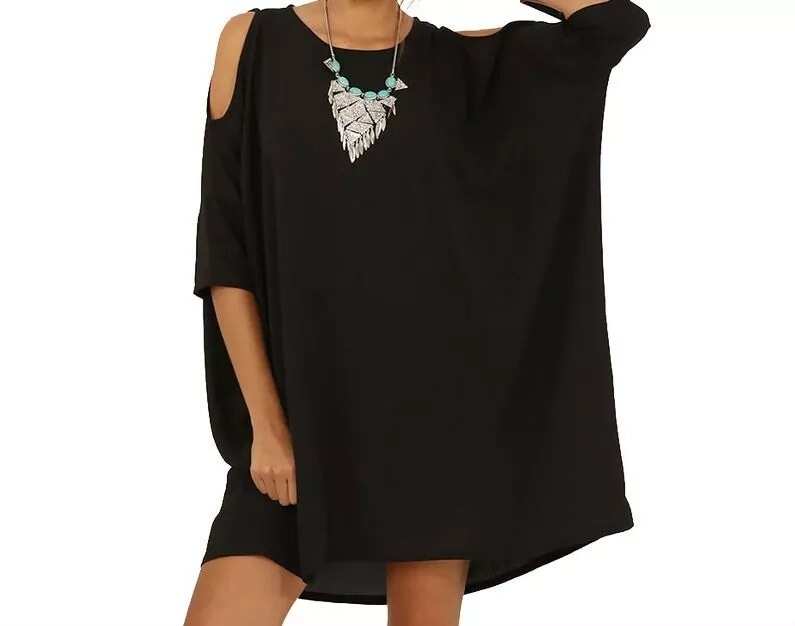 Free cut dresses are in demand for more than one season. Very often, this style is chosen by women who have a small tummy or excess weight. Despite the apparent simplicity, you can look very elegant and charming wearing such a dress.
Designers suggest us to replace black color with caramel, blue and gray shades. The A - silhouette is still relevant, which is presented at many fashion shows in 2017, it takes place in corporate wears pictures in fashion magazines. Fashion designers have added an accent to this model - a grid on sleeves, especially this detail looks well in a black dress.
15. Short office dresses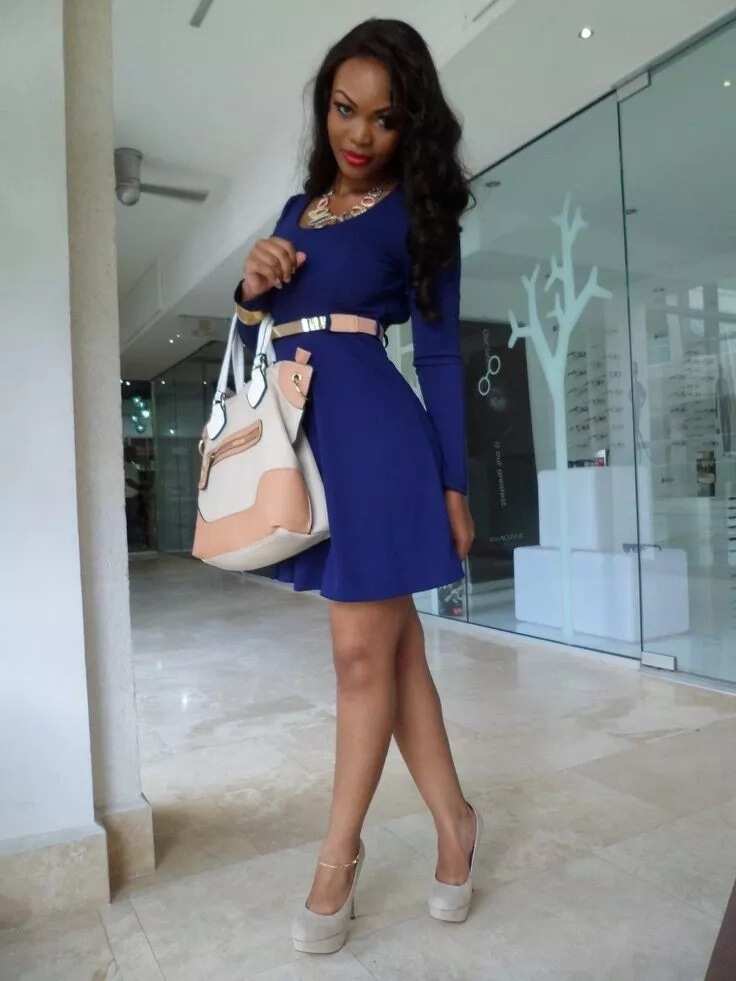 As we said earlier, short office dresses are a trend of the 2017 season. Designers suggest changing the boring everyday appearance to mini-dresses. Again, do not forget about the style - it should be free, and about materials - transparent fabrics are unacceptable.
You can choose any light materials. Complement the image with an elegantly draped jacket or cardigan.
16. Black office dress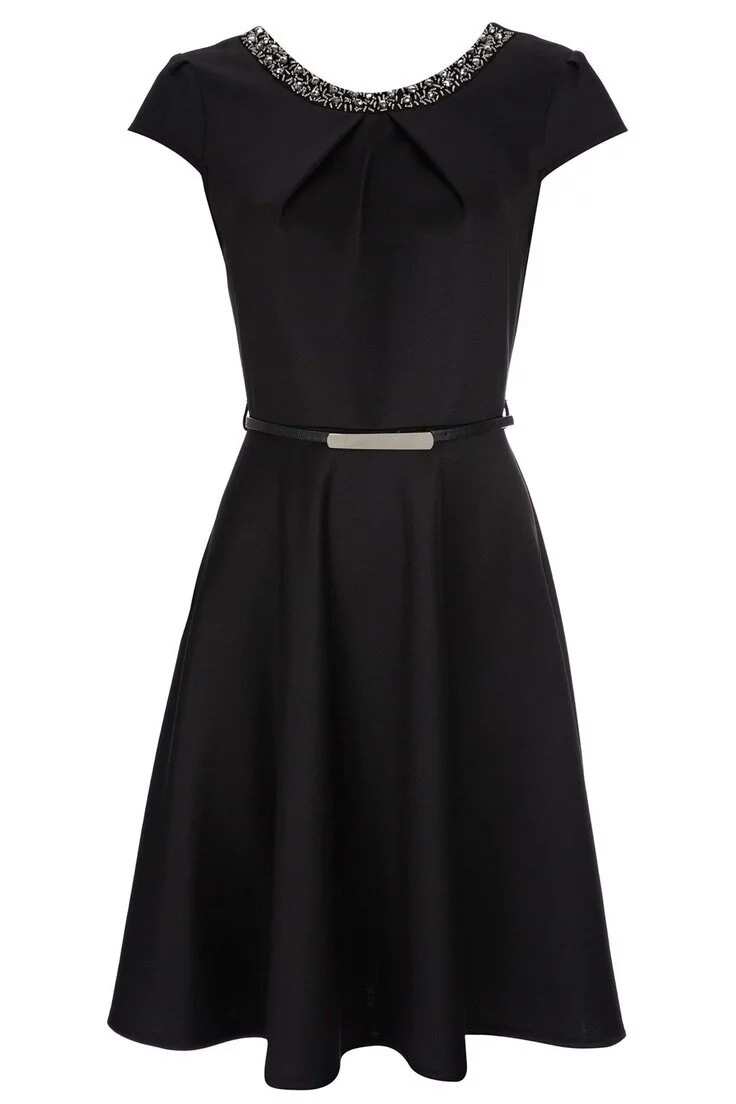 The black dress is also a trend 2017. And it always remains fashionable. Black dress is appropriate for work, and for any event. There is an office version that experts recommend choosing - the models up to the knees. Style can be different - a loose cut dress, a dress with a belt, etc.
Wearing black you will always look appropriate. A fashionable combination of 2017 is black and white color. Dress in such shades will perfectly complement the strict image for the important business negotiations.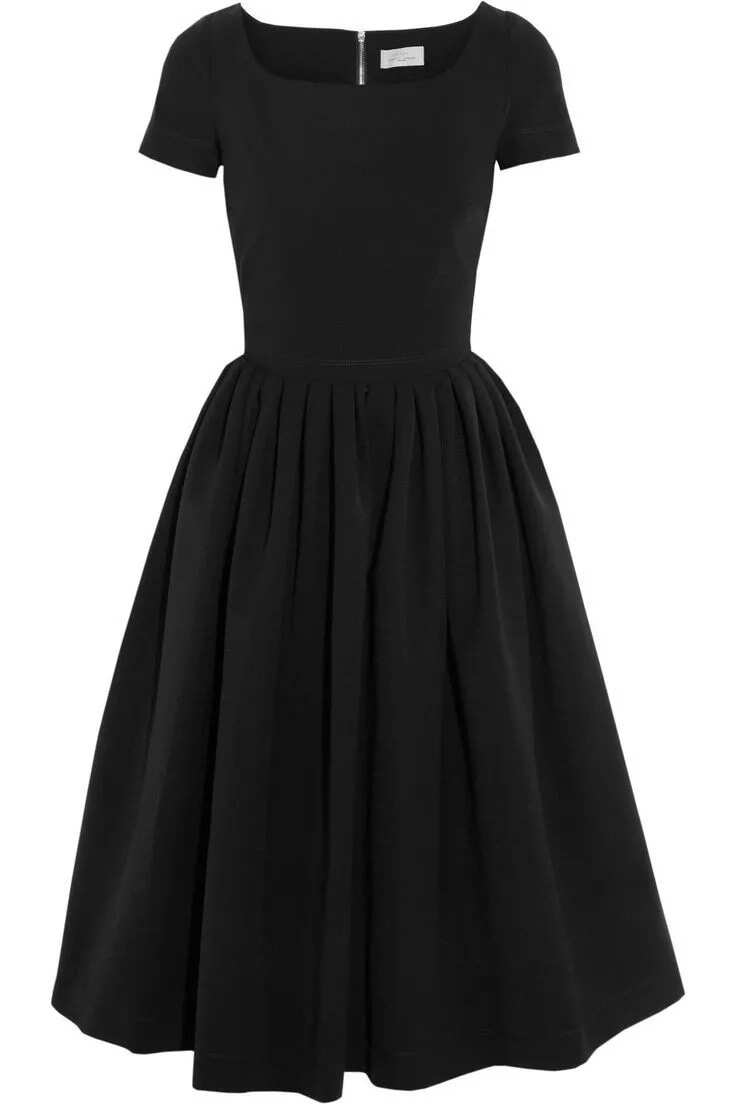 It's no secret that every woman wants to look good. This applies not only to everyday life but also to other aspects of life - work, recreation, meetings with friends, evening outings. In this article, we have talked about work, because it is this sphere of vital activity that is most responsible and obliging - at work, we spend most of our time.
And often, our professional success directly depends on the external appearance. The most actual office attire is a dress. Which one do you like most among the fashionable office dresses of the upcoming season?
READ ALSO: 11 reception dresses we love
Source: Legit.ng