President Buhari was alleged to have been told by doctors in UK to stay off work on ground of his ailing health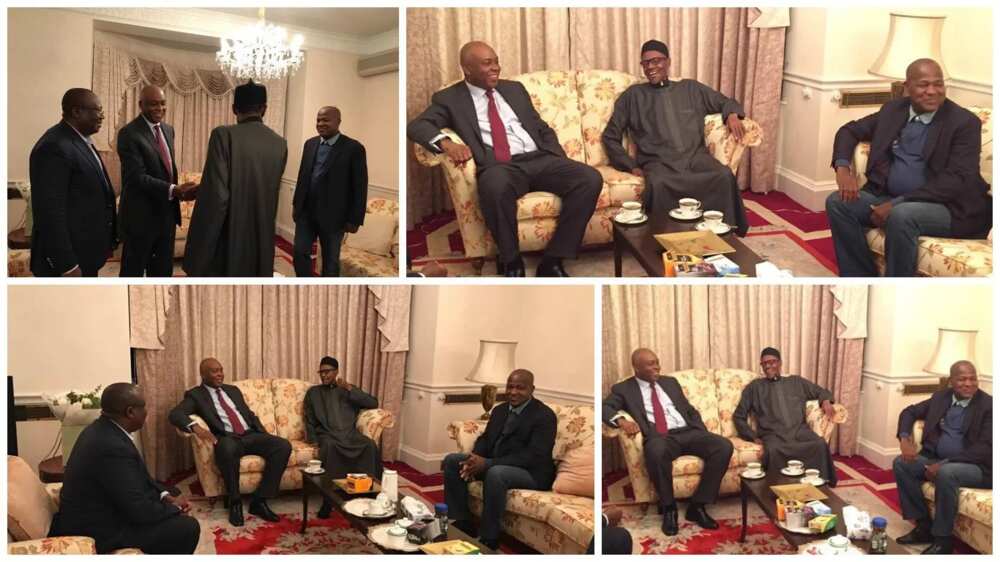 Quoting an unnamed source, Sahara reporters is claiming that President Buhari has been advised by doctors to shelve the idea of returning to the country because of the gravity of his illness but some of his closest associates are encouraging him to defy the doctors' recommendation and take up the reins of power once more in Nigeria.
President Buhari who has since twice postponed his return date left Nigeria on January 19 on what was supposed to be a 10-day medical leave
However Sahara Reporters reported that doctors managing the president have warned that his condition would certainly deteriorate should he return to Nigeria without completing the first stage of his treatment.
According to an unnamed Sahara Reporters sources, President Buhari's condition has been downgraded to "full blown illness" even by members of his kitchen cabinet who are now admitting that he is "ill."
PAY ATTENTION: Get the latest News on Legit.ng News App
Saharareporters learnt that the president's deteriorating health has got to a point where doctors are taking "extreme measures" to ensure that he eats.
The president is said to have progressively lost weight due to his illness and course of treatment, Sahara Repoter's sources disclosed.
It was further learnt the president's travelling aides have extended their hotel booking in London by at least one month starting from February 6th 2017.
This according to the report is an indication the president would not make it back to Nigerian until early March.
The sources was said to have also revealed that doctors in UK are under pressure to allow the president return to Abuja even for a short time for the purpose of face saving.
It was reported that the doctors have resisted pressures of the president's inner political circle to release him to come home.
According to the sources, the doctors view it as professionally irresponsible of them to clear Mr. Buhari at this stage to take up the demands of the Presidency
"I understand that the doctors [in the UK] have made it clear that Mr. President's flight back to Nigeria could complicate things for him."
Also, the president's supporters has appealed the president to allow his doctors address Nigerians on the state of his health.
According to Sahara Reporters, this was opposed by the president's inner cycle. They were said to have argued that since Mr. Buhari had handed over to Vice President Yemi Osinbajo, there was no need to make further revelations.
The sources also claimed that "The doctors have become very stern in restricting access to President Buhari. As a result, so many of the visiting politicians do not even get to see Mr. Buhari before returning to Nigeria empty handed," he added.
Meanwhile, Femi Adesina who is the special adviser to the president on media and publicity was said to have reiterated that when the president would return will be made known.
In the video below, Nigerians speak on the possible return of the president.