Short hairstyles are quite diverse. Any girl that likes short length will be able to choose the style she especially likes. Short hair styles have great advantages over the other haircuts. It beautifully frames the woman's face, focusing attention on the beautiful expressive features.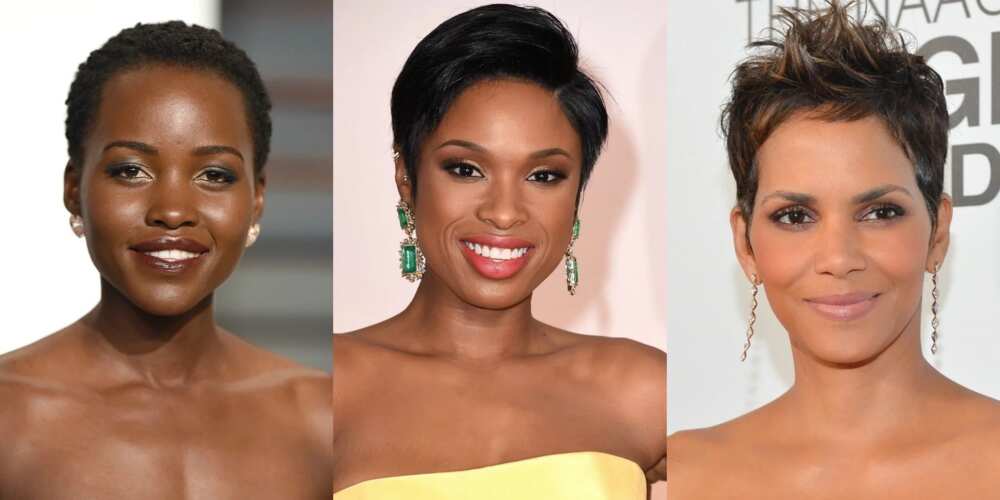 Short hairstyles are quite diverse. Any girl that likes short length will be able to choose the style she especially likes. Short hair styles have great advantages over the other haircuts. It beautifully frames the woman's face, focusing attention on the beautiful expressive features.
Short hairstyles for black women can make them look more interesting and attractive. The girl with such hairstyle definitely gets attention, because not every woman is able to choose a short hair length. Usually, the choice of a short hairstyle speaks of volitional nature of the girl, her penchant for everything new and unusual. Is not this what every young person interested in?
Trendy short hairstyles in Nigeria in 2017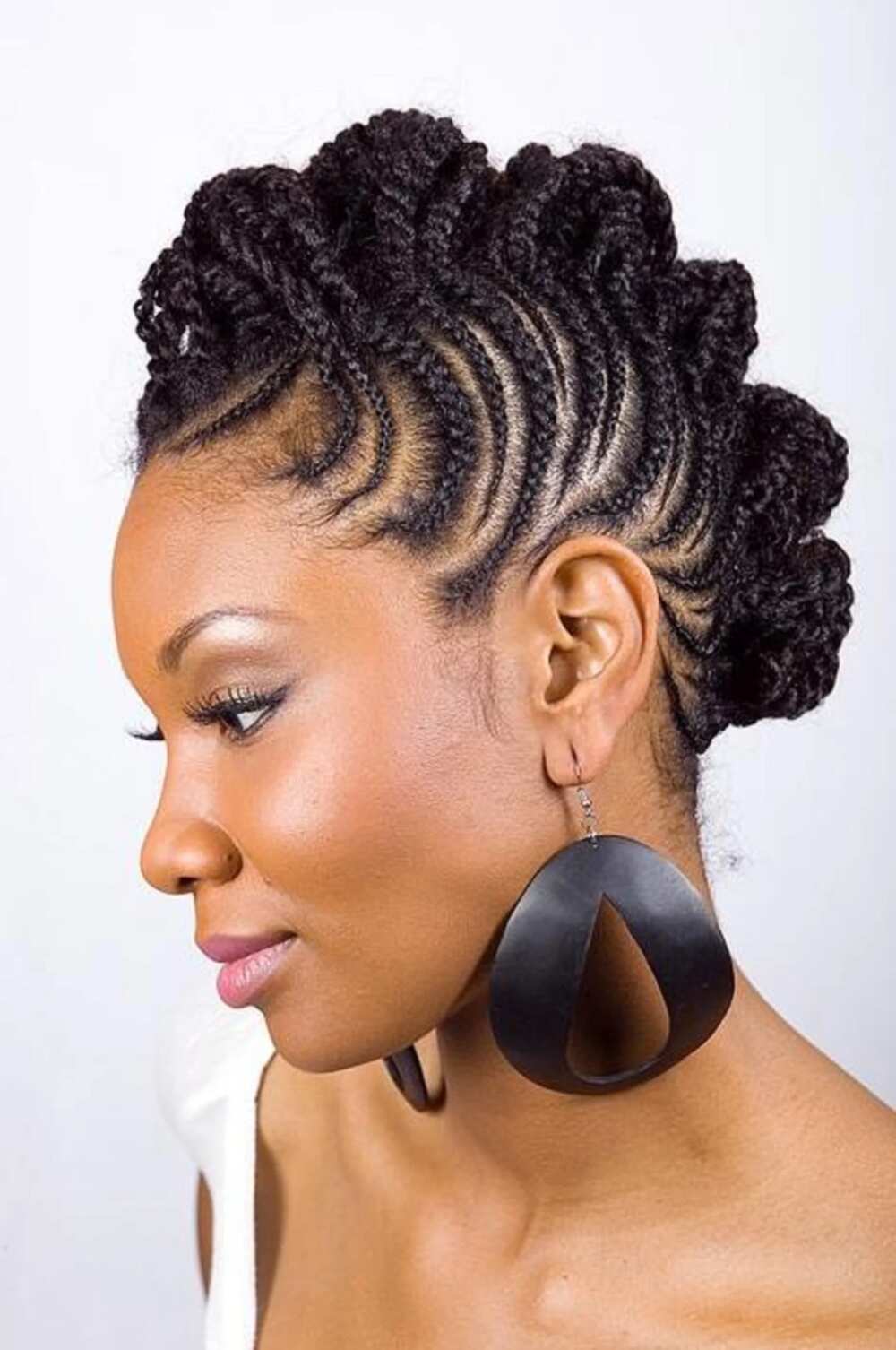 Girls who choose the shortcut are not afraid to take risks. Usually, they like to experiment with their hair. Butch suggests a large number of different options for hairstyles. Stylish and original look for ladies with short hairstyles is complemented by an element like bangs. Choose bangs depending on your wishes and on the features of the face.
In recent years short hairstyles cuts came back into the fashion industry. If you are very tired of the daily perming, washing or, maybe, straightening long hair, it is the time for a change has come. Thanks to short hair trend, you can add a fresh touch of youthfulness to your look, but also to ease the hair care.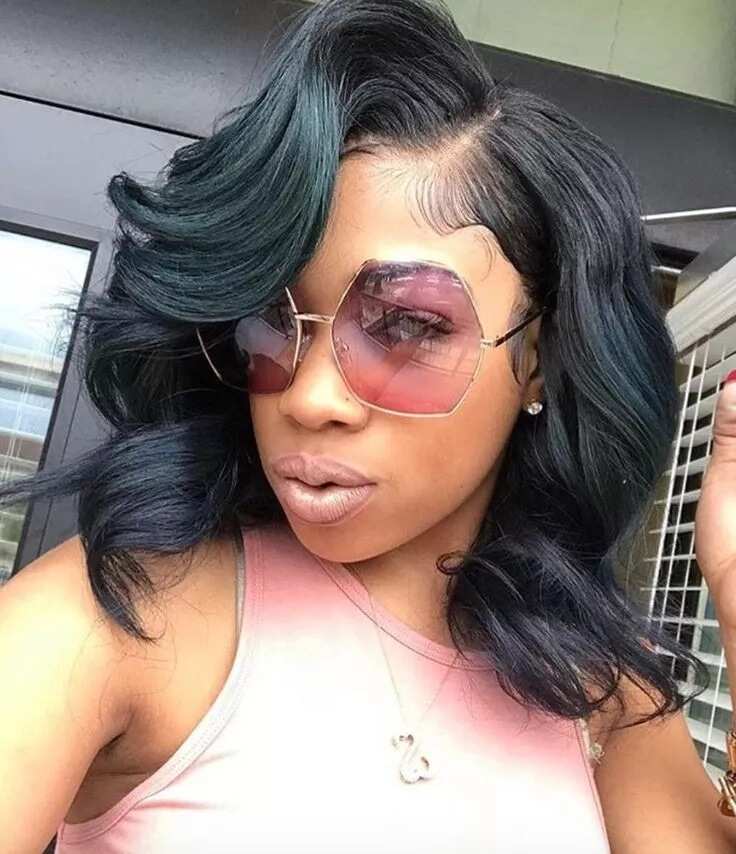 READ ALSO: Fulani attire: Traditional clothing of the tribe
There are different options for trendy short haircuts, for example, the classic one, one-sided pixie haircut which can help you get a youthful and very energetic look, or longer hair that falls to your shoulders. If you've thought that short haircuts are suitable only for men, then look at these nice classic styles for short hair of different Hollywood celebrities who have already inspired a lot of women around the world to experiment with hair.
Short hairstyles for round face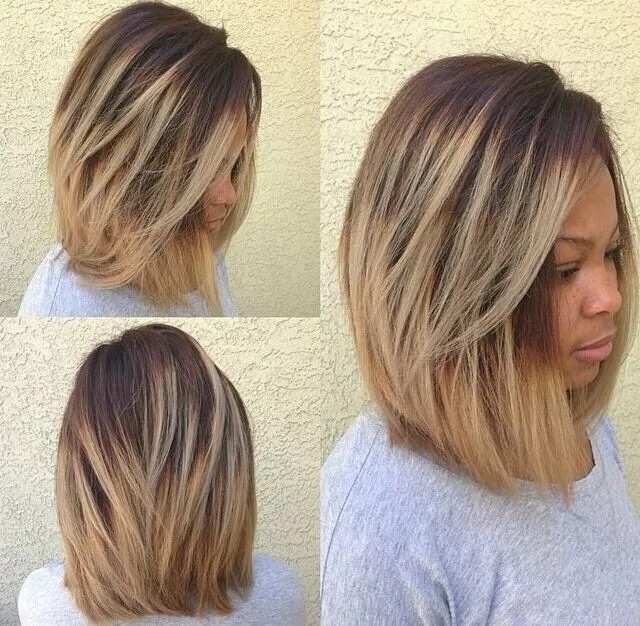 Long bangs are incredibly popular among the owners of short hair. It is suitable girls with a full round face because it will help you to visually lengthen it and make it more slender. Long bangs are usually laid on side. Also, the outside twisted bangs look styling and interesting.
Bangs may also be asymmetric. Laid out on one side and twisted elongated bangs are very trendy. Long bangs are laid back. Girls often make bouffant. This hairstyle will make the image look more elegant. In addition, this hairstyle is now incredibly popular. Very fashionable hairstyle of 2017 is a ladies' short hair with cool short bangs till the middle of the forehead. Bang can go down to the brow line.
Short haircuts are often complemented by an interesting coloring, stylish highlights. It will be especially interesting to have highlighting bang or ends. Undoubtedly, the popular trend of hairstyles for short hair is asymmetry, creative look with ragged lines, edges, elongated strands.
Short haircut bob for the ladies with young spirit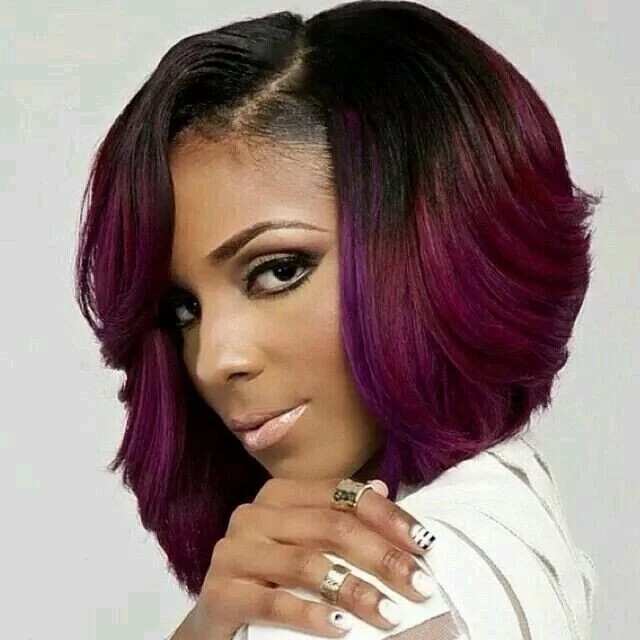 It shows the creative and curious child that you've managed to maintain. If the courage and also entrepreneurial spirit are your inner character traits, if you want to take the risk and open to some new creative ideas, you will certainly get real pleasure from such experiment, especially if you have dark thick hair.
Short asymmetric hairstyle for colored hair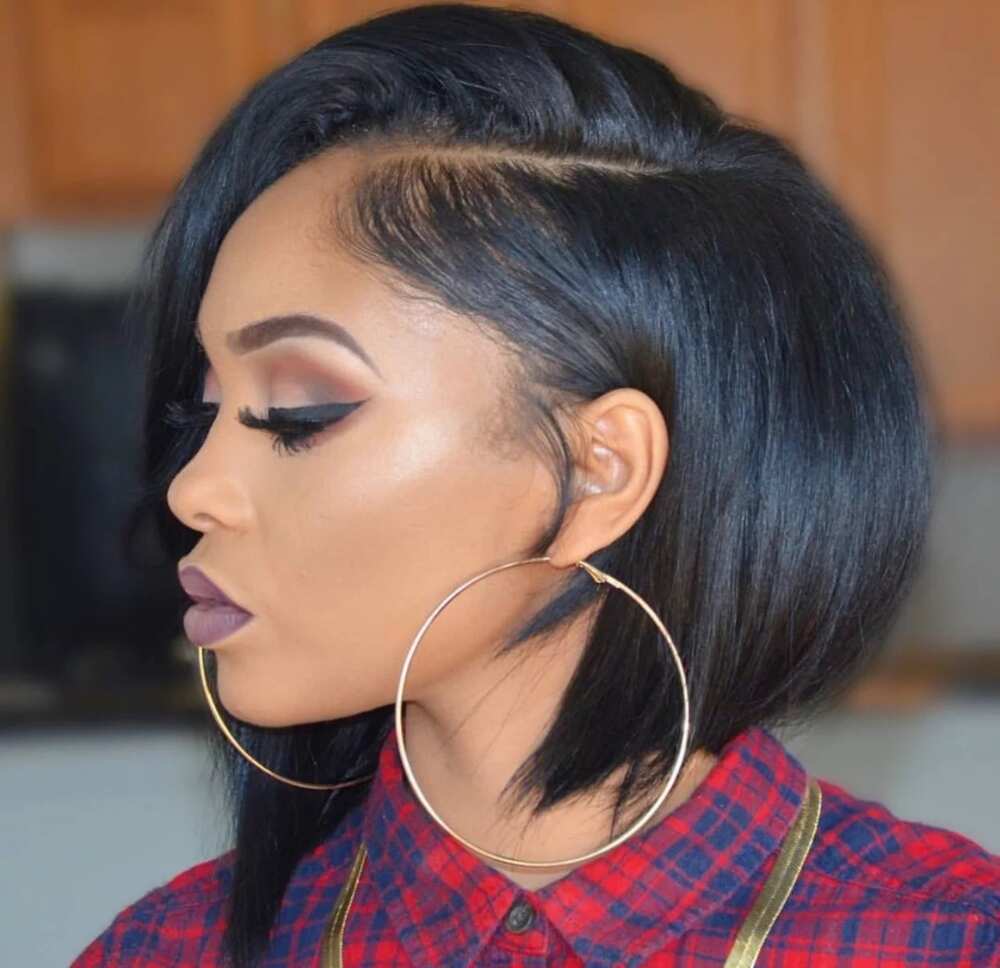 Different asymmetrical haircuts, such as this one, undoubtedly, become a great choice for ladies who have a round face, or they want to sharpen their facial features a little.
Short sided bob haircut for ladies 40+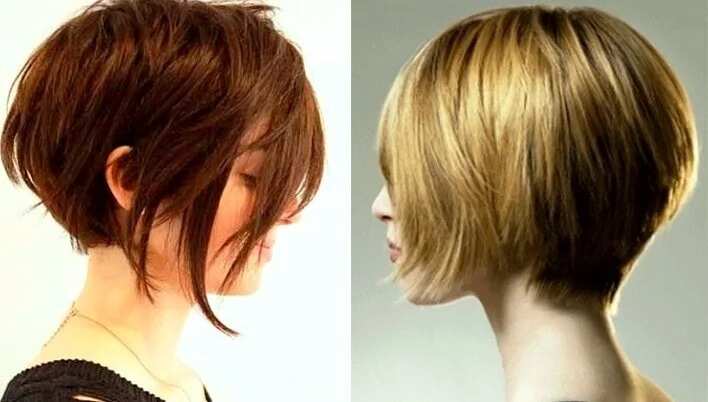 If you liked the previous hairstyle, make sure you consider its asymmetric option, which has been becoming very popular during recent years in Nigeria. This is the best idea for the fair-haired women who are waiting for changes, and it will certainly look great as a haircut for women after 40 years old.
Multi-colored short hair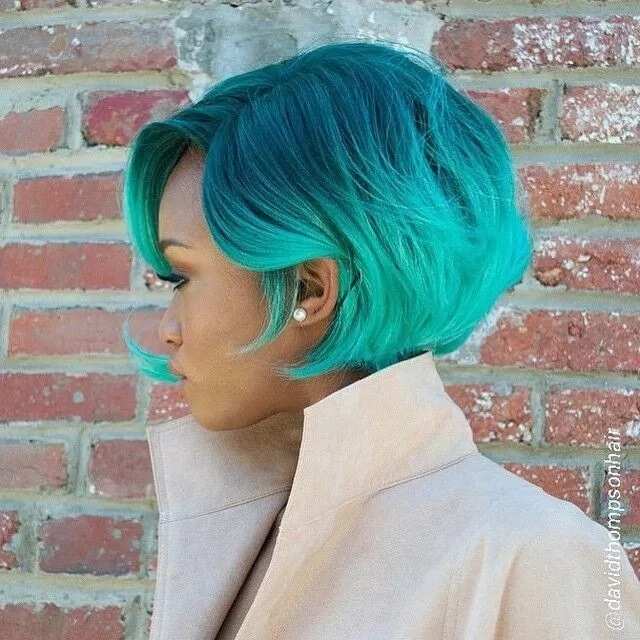 Would you like the idea to have the beautiful multi-colored hairstyles? You can practice experimenting endlessly dividing your hair into numerous layers and coloring each one in the new color. The result is the admiring glances of men and turns of heads on the street. The pixel painting is a new very stylish hair coloring method.
Short hairstyles for oval face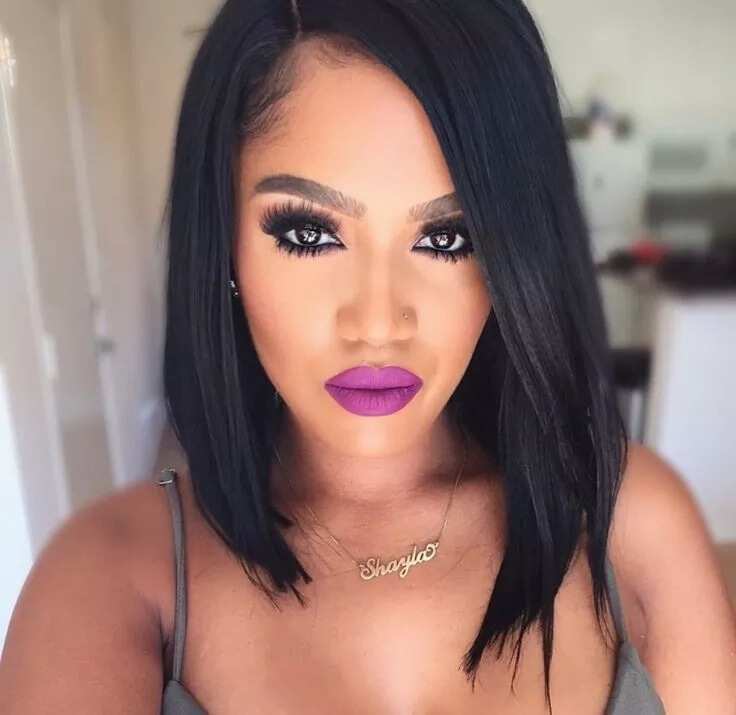 This hairstyle has become a real hallmark of numerous well-known fashion designers. It is one more great option to experiment! Such a trendy hairstyle has already attracted the attention of numerous Nigerian women because it fits almost all types of faces. A shoulder-length bob hairstyle is a wonderful idea for round, triangular, oval and rectangular face. But it is especially good for ladies with an oval face.
Short shaggy hairstyles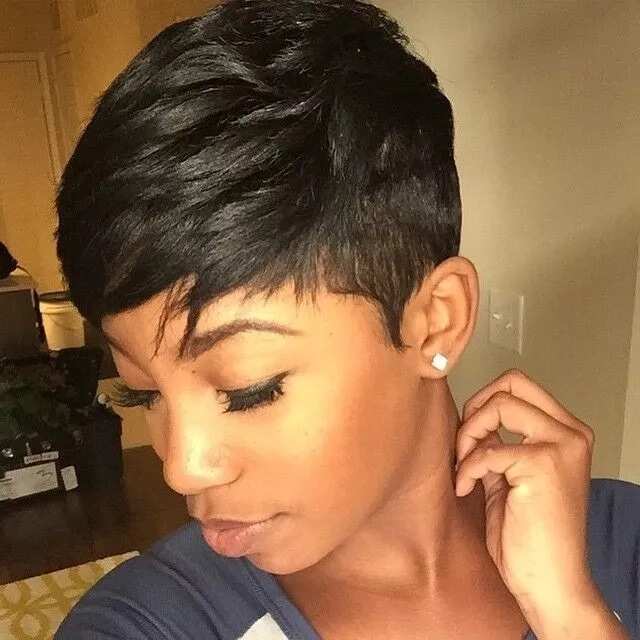 Shaggy hair may look wonderful and very easy to style, especially if you do not have much time to for getting ready in the morning. This look may be an inspiration for you. It looks very good with an oval face.
Short haircut bob
The short bob hairstyle is a wonderful idea for women with thick hair! If nature has 'awarded' you with the beautiful hair try this fashionable short hairstyle. A short haircut is classical and simple. If you are looking for something stylish, fresh, and that does not require any careful maintenance, then this idea suits you perfectly.
Short hairstyles for fine hair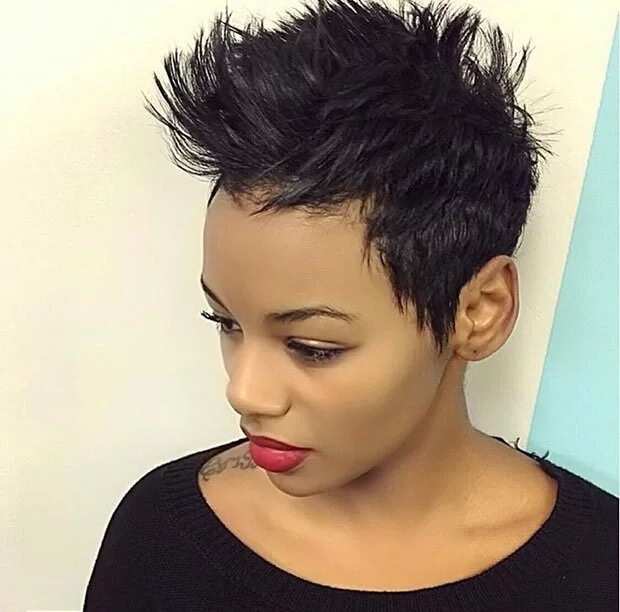 Colored hair almost always looks well, particularly natural hair shades. That's a perfect idea for those who have decided to change their look and bring some 'fresh air' in life.
There is an old saying, 'a lady who has decided to get the short hair - has decided to change her life'. If this applies to you, but simple shortening is not enough for you - try to get the extravagant trendy hair dye too!
The creative dye slso looks better on short hair. If you dream about a hairstyle that requires minimum care, then here it is. You can save a lot of money and time with it.
Short asymmetrical bob hairstyle for blonde hair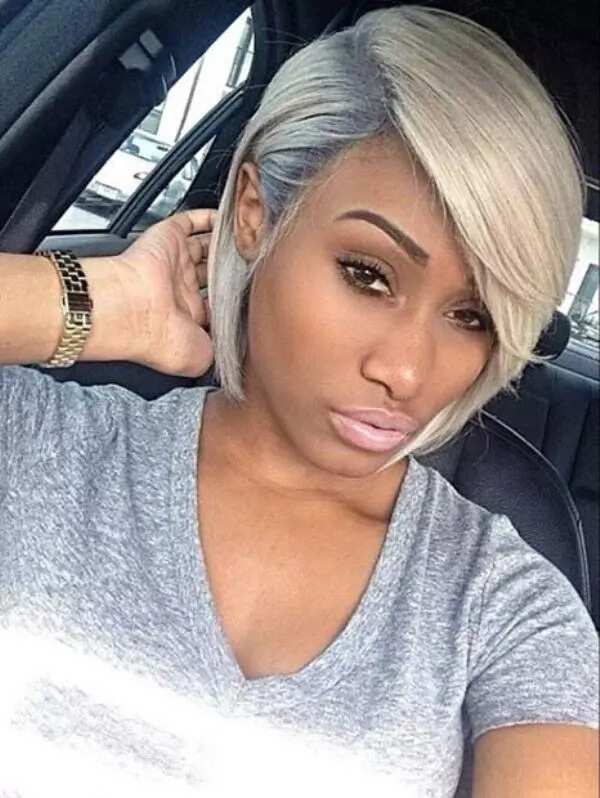 Platinum color is extremely attractive, it is difficult to achieve and also maintain for a long time, but it is definitely worth all the effort! If you feel that the continuous use of hair dyes and styling tools can damage your hair, then you should try this idea, which also make you look a few years younger!
Short hairstyles for natural hair
This hairstyle combines a little romance and retro, so every lady should try it at least once in her life. Check, whether such a hairstyle can meet your needs.
Short pixie haircut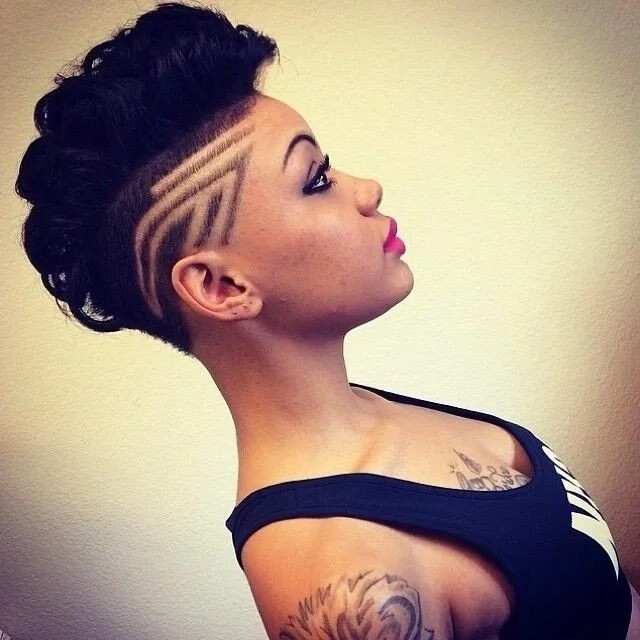 This variant of hairstyles for short hair looks very nice, but still, has some 'trick' - a tiny mohawk on a top. Check it up! It is truly perfect for those women who are not afraid to experiment and express themselves.
Short hairstyles. Braids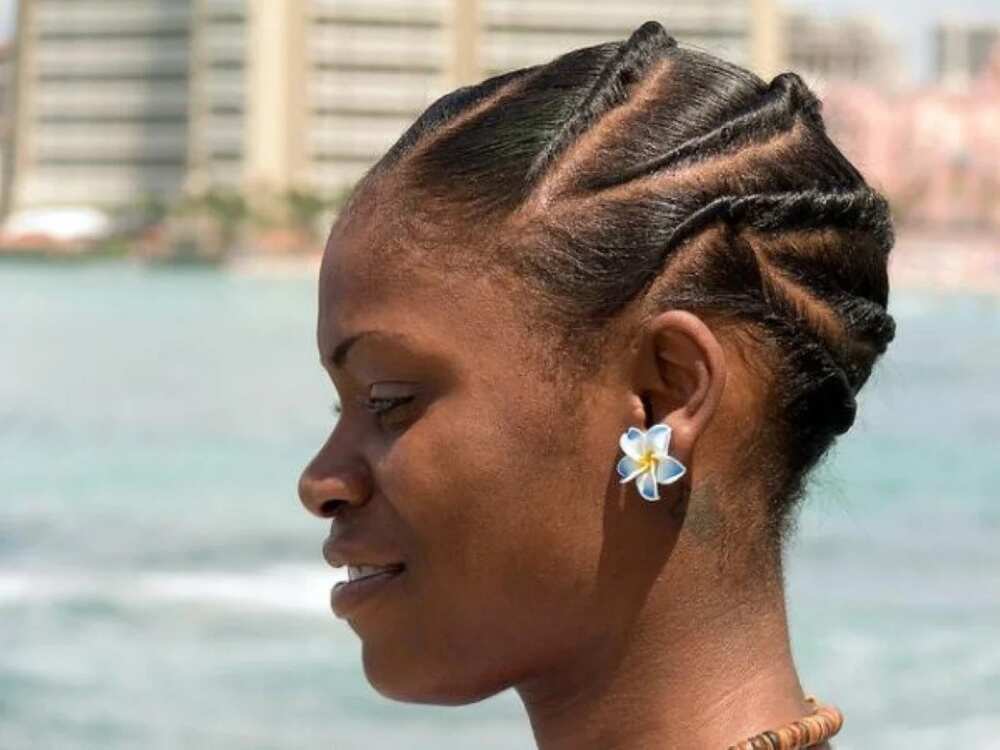 A classic hairstyle has between 100 and 250 very small, tight braids, woven by hand. Netting African braids is the very laborious and time-consuming process. It may take from 3 to 15 hours! Although it all depends on the number of braids and skills of a hairdresser.
It may sound weird, but the African pigtails are mostly braided on short hair. Because short hair is easier to style. Before weaving it is better not to wash your hair and do your braids when the hair is slightly dirty.
Short pixie haircuts for blondes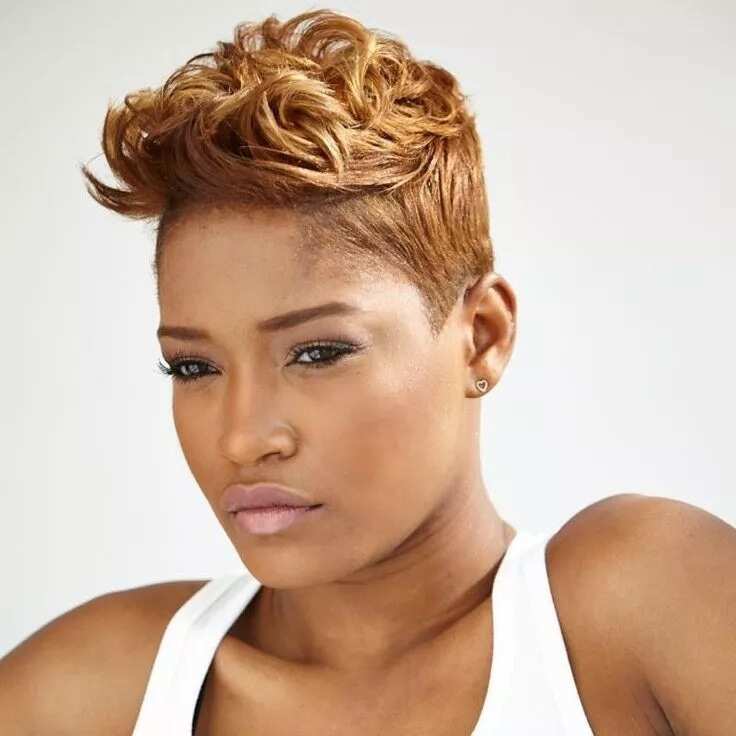 This haircut has already taken its place in the history of the movie industry, so it can be hardly said that it can ever become old-fashioned! Check it out and see if you are looking for a hairstyle for yourself.
Short haircuts with long bangs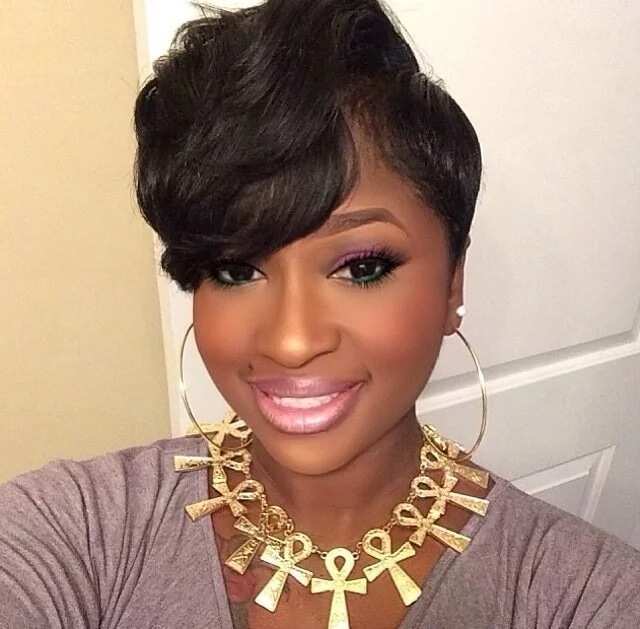 You'll be very surprised how easy it is to wash this hair and tidy it. You will have to spend only a few minutes styling it once or twice a week. It will save you a lot of time and also effort.
Short hairstyles with bangs to the side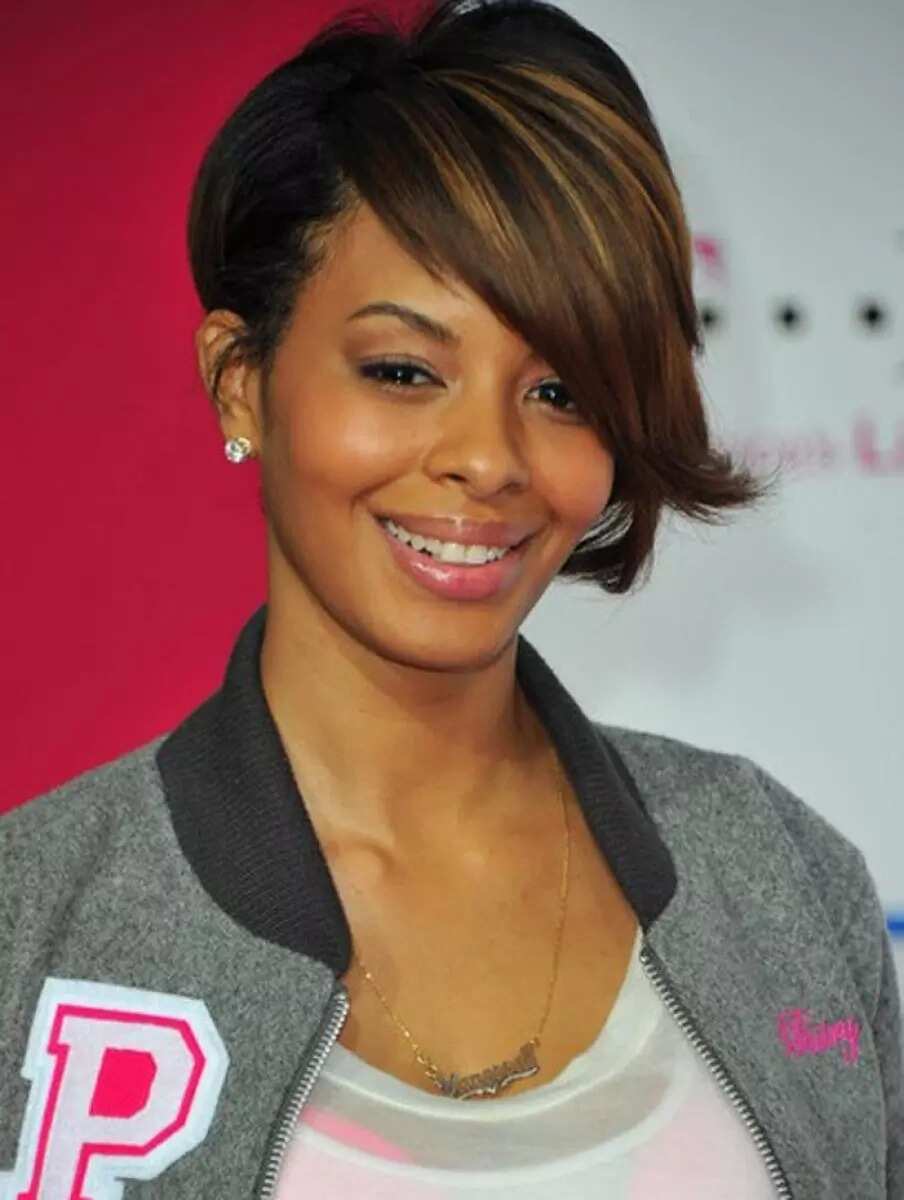 Could you ever imagine that short hair can be styled in dozens of different ways? If you need any inspiration, then this simple but still glamorous hairstyle will give it to you.
Gathered short hair
We all have a situation where in a hurry to work we do not have time to bring the hair in order. When this happens, you can gather hair quickly in order to save your time.
Pink short haircut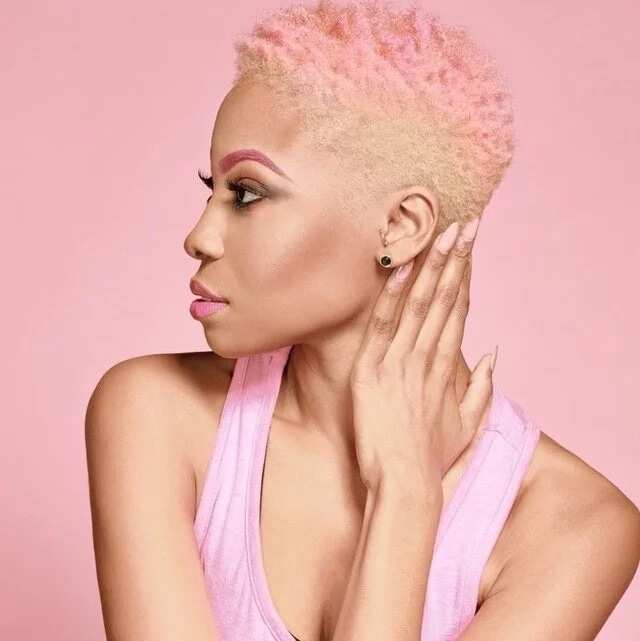 If you are looking for adventure and you feel that a child inside you needs to have fun, try a pink haircut. This is a cool and original idea, but will you dare to try it?
The idea for a short hairstyle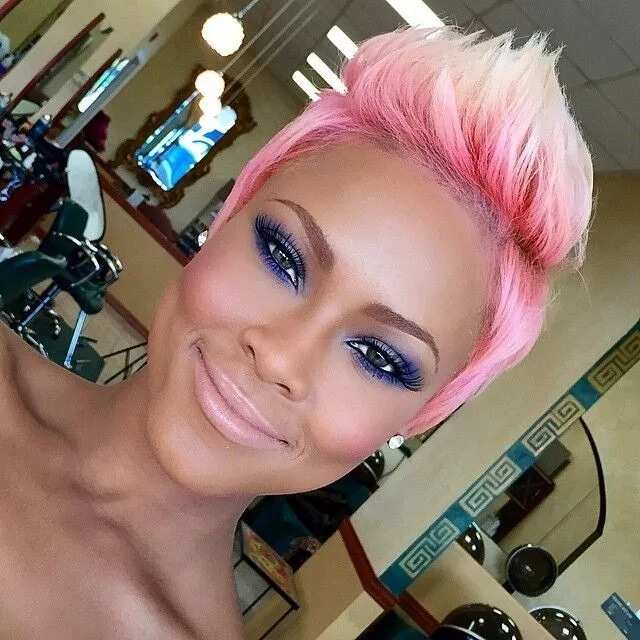 Feel bright and attractive like the Hollywood star on the red carpet, thanks to this extravagant short haircut, which will attract the admiring and even envious glances to you.
Short haircuts with the effect of negligence
This is a little inspiration for you if you want to upgrade your look and you are searching a new trendy hairstyle that does not require significant maintenance.
Short haircut thick bob with bangs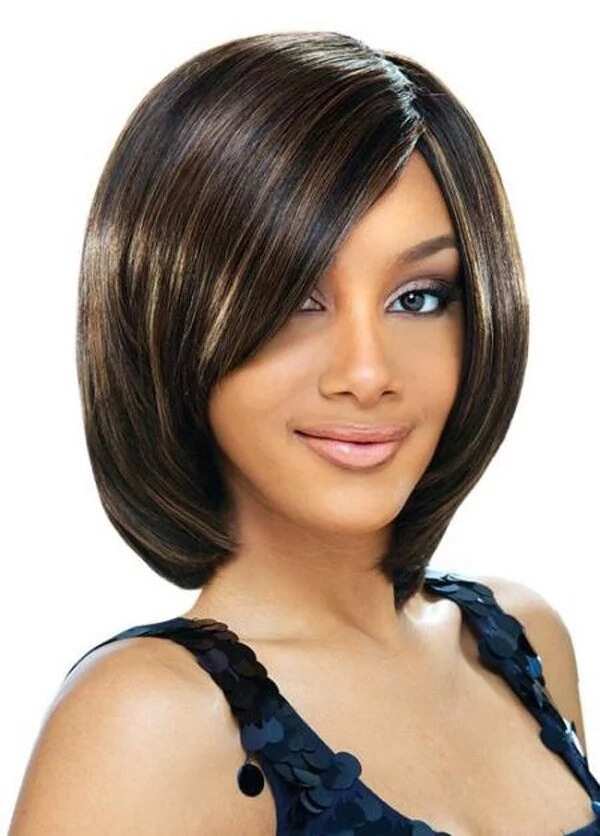 When it comes to short hairstyles, during the last few years the most popular ones are such simple, but incredibly nice short haircut with bangs.
Short colored hair
There are hundreds of colors that can be easily combined to get a truly incomparable and attractive look. You won't have to worry that you see a lady with the same hair color as you have. Such extraordinary haircut and bright colors can help any outfit look good.
Emma Watson's short hairstyle
If you are a huge fan of an actress Emma Watson, who has a stunning short haircut, then you should certainly pay attention to this lovely option that can change your attitude to lady's short hair forever.
Beautiful hairstyle 'Lob'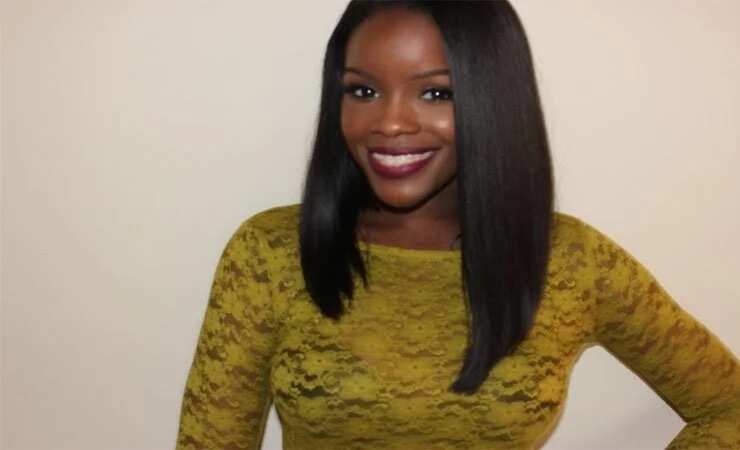 This style is relatively new, but it may be called perfect for ladies who dream of shortening their hair, but stay stylish and trendy at the same time. 'Lob' means 'long bob' (which is a long bob haircut).
If you would like to have a short hairstyle, but do not have an idea what to choose, then check up these ones and select a picture you like. Finally, 2017 brought the world of fashion lots of fresh ideas, among which every lady can find something for himself. We have the opportunity to decide whether we want classic style, or maybe, something new, fresh and original!
Nigerian women like short hairstyles as they do not have to spend a lot of time styling them in the morning. And, of course, they are fashionable and trendy! Sometimes even more than long hairstyles.