Vegetables is a fantastic decision for weight loss. They can reduce body fat and fill your body with fiber content. Vegetables are also a good source of minerals and vitamins. Even amongst vegetables, you can find some perfect examples for your weight loss diet. One of the quickest decisions for your diet is vegetable soup for weight loss. In vegetable soup calories decision – you can find everything you want!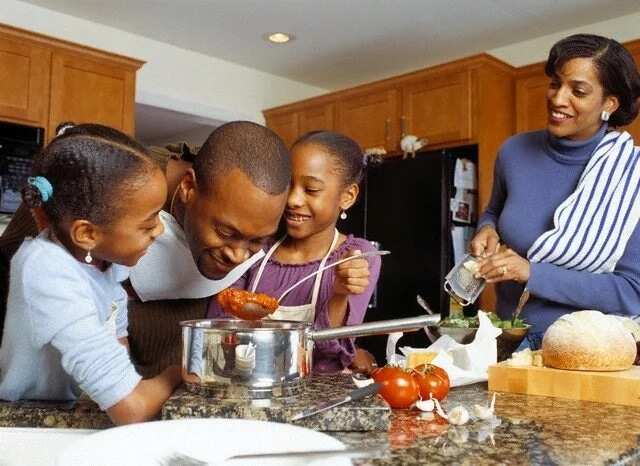 Vegetable soup - is it good for weight loss?
If you want to become slimmer, then eating vegetable soup can be a perfect idea. Try to make just a pot of some fresh vegetable soup, and you will get a great source for the weight loss!
For one of the simplest vegetable soup recipe you need next:
one pot;
one vegetable broth cube;
two green peppers;
one small cabbage;
one bunch of celery;
two tomatoes ;
six average onions.
Steps to prepare a vegetable soup for weight loss
cut all the vegetables into the average size;
fill the pot with water;
fill the pot with vegetables;
season the pot with salt and pepper;
if you want some extra taste - add spicy sauce;
boil the pot for ten minutes;
continue to cook on a low flame until the vegetables become soft.
You can eat this soup whenever you see fit. It adds very little calories - that's why it's perfect for weight loss. Here comes another simple vegetable soup for weight loss, you need:
chicken bones;
bell peppers;
one cabbage;
spinach.
Cooking steps:
boil the chicken bones in a small pot;
cut cabbage and bell peppers;
add the mix to the pot;
add spinach;
serve hot.
If you want something more pro with vegetable soup recipe, then try to check this top five vegetable soups for weight loss.
Garden Vegetable soup recipe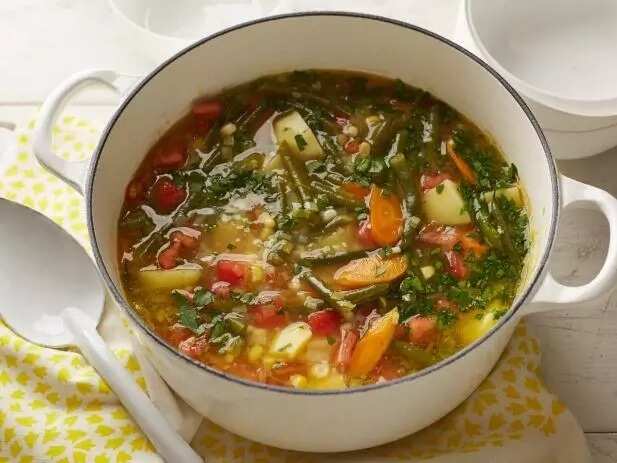 Ingredients you need for vegetable soup preparation:
Salt;
Two tablespoons of minced garlic;
Two cups chopped leeks;
Three tablespoons of sun oil;
Two cups peeled and chopped carrots;
Four cups of pilled and chopped tomatoes;
Two cups of peeled and chopped potatoes;
Two cups of green beans;
Two ears corn;
A quarter of chopped parsley leaves;
A half of tablespoon black pepper;
Two teaspoons of lemon juice, freshly squeezed.
Use a heavy-bottomed stockpot to heat the sun oil with medium heat settings. When it`s hot, add a pinch of salt, garlic, and the leeks. Boil them for seven-eight minutes until they begin to soften. Then add the green beans, potatoes, carrots and continue to cook for five more minutes. Do not forget to stir the vegetable soup. Five minutes later, add the stock and increase the heat to the high level. Add the simmer, corn kernels, tomatoes, and pepper. Reduce the heat to the low level and stir the vegetables. Continue to cook the vegetables until they become a fork tender. It consumes around twenty-thirty minutes. After that, remove the pot from the heat and add lemon juice and parsley. Season the vegetable soup with salt and serve right away!
READ ALSO: How to fry groundnut?
Tuscan Vegetable soup Nigerian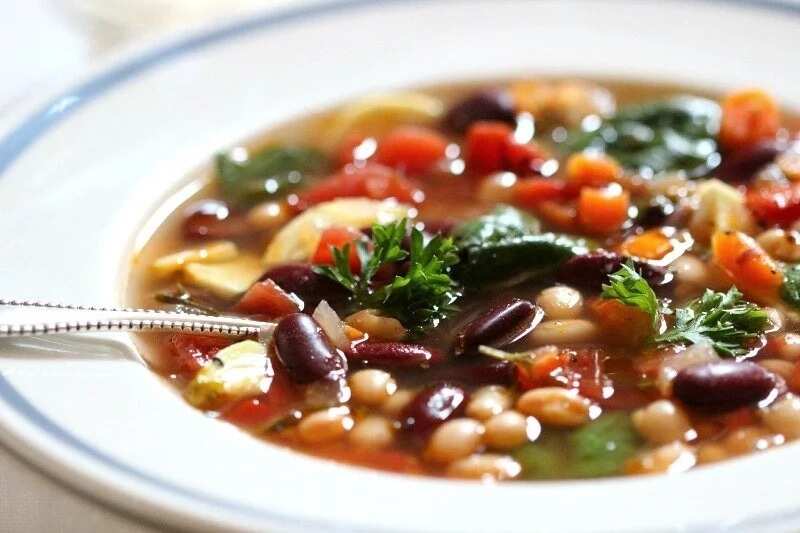 Ingredients:
One tablespoon of sun oil;
One-half of large onion;
One can of beans;
Two stalks of celery;
Two carrots;
One tablespoon of chopped thyme leaves;
Two teaspoons of fresh sage leaves, chopped;
One clove of garlic;
A half teaspoon of salt;
Thirty-two ounces of chicken broth;
A third cup of cheese;
A half teaspoon of salt.
Take a small bowl and the half of the beans with a masher. Take a large soup pot and heat the sun oil in there with the medium high heat. Add sage, celery, thyme, garlic, zucchini, carrots, onion, salt, and pepper. Cook the soup for five minutes until the vegetables become softer. After that, bring some tomatoes and broth to the vegetable soup. Add mashed beans and spinach – cook for three more minutes. Serve the soup topped with cheese.
Provencal Vegetable Soup Preparation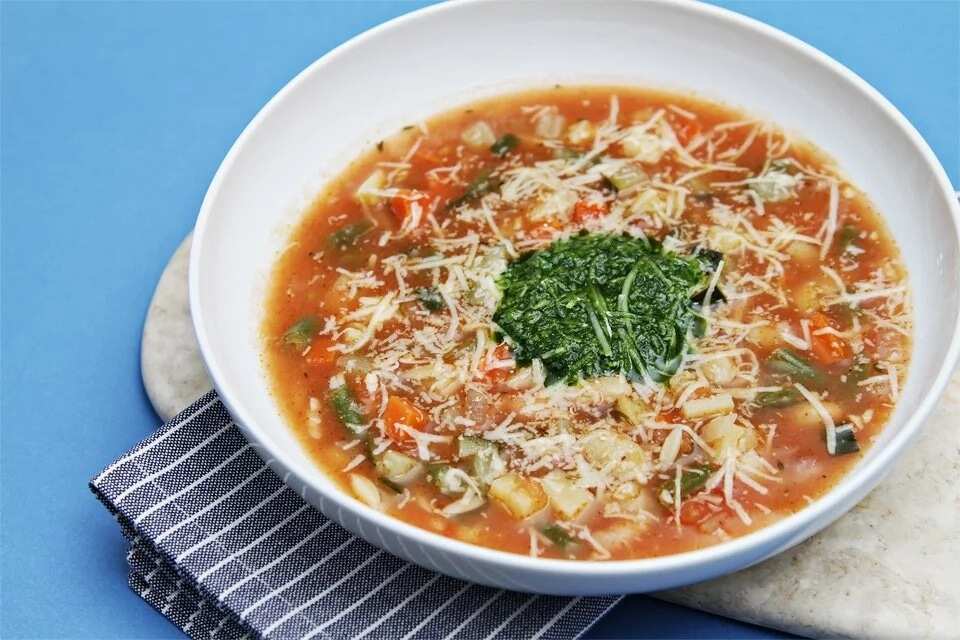 Ingredients:
Two cups of onions chopped;
One pound of diced potatoes;
One pound of diced carrots;
One teaspoon of salt;
One teaspoon of black pepper;
Two tablespoons of sun oil;
Three quarts of homemade chicken;
Half of pound of haricots;
Four ounces of spaghetti;
One cup of Pistou;
Grated cheese.
Use a large stockpot and heat the sun oil in there. Add the onions and leave it on the low heat for 10 minutes. Add pepper, salt, carrots, potatoes, leeks, and heat over the medium level for five minutes. Add the chicken – boil for thirty minutes. You should boil until the vegetables are tender. Add the spaghetti and haricots, and cook for fifteen minutes more.
When you want to serve the soup – add a quarter of the pistou cup to the soup. Vegetable soup seasoning is to be fit to your taste. Depending on your taste, add some more salt to the soup. Do not forget to serve the soup with the grated cheese and pistou.
Pistou in vegetable soup recipe
Ingredients:
Four large garlic cloves;
A quarter of tomato paste;
Twenty-four large basil leaves;
A half cup of grated cheese;
A half cup of sun oil.
Use the bowl of food processor to make a puree out of the Parmesan, basil, tomato paste, and garlic. Slowly pour the sun oil into the mix to create a paste. Try to pack the mix into a container and then pour some sun oil on top. Do not forget to close the lid.
Vegetable soup final word
If you want to make a tasty vegetable soup for weight loss, then you need to make some preparation. Nevertheless, it`s worth it as these soups are quite tasty and provide you minimum calories!
READ ALSO: Soursop leaves for diabetes. Does it work?