According to a recent poll by NOIPolls, majority of Nigerians feel that the Buhari government is not doing enough to help with the state of the country and the president's absence makes matters worse.

The poll focused on the recent '#IStandWithNigeria' campaign. The poll reveals the following:
Majority of Nigerians about 67 percent declared their support for the "#IStandWithNigeria" campaign. Why? One strong reason is the economic hardship facing the country according to 38 percent of those complaining.
READ ALSO: Tuface insists protest must go as planned, gives dresscode for peaceful march
Also 21 percent felt that hunger is in the land and the high cost of goods and services is what 16 percent of them complained about.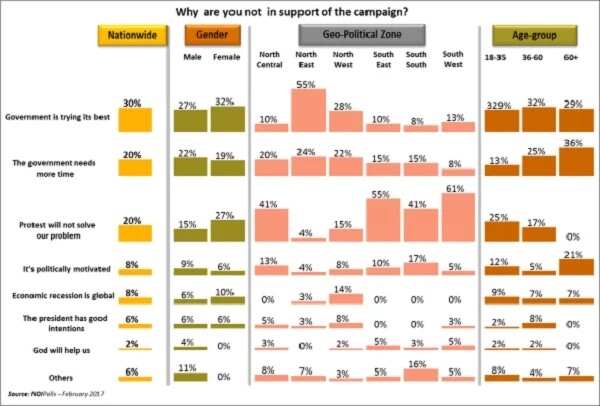 However NOI reports:
"On the other hand, 33 percent showed no support for the campaign and of this proportion, 30 percent admitted that the government is doing its best, 20 percent advocated that the government needs to be given more time to settle in and govern well; while another 20 percent stated that they see no basis for supporting the campaign because they feel protests will not solve Nigeria's problems."
READ ALSO: Breaking: 2baba cancels nationwide protest
The stance was clearly shown when the massive nationwide protest against the federal government today February, 6 was announced by music star 2baba Idibia.
The protest was earlier championed by the musician but on Saturday, February 4; he released a video saying he was cancelling the protest due to security concern.
The singer said the protest was never his creation but a call to action to speak up for his people. In spite of the cancellation, some Nigerians vowed to continue with the protest and protest they did.