18 ways Nigerian govt plans to improve economic growth
On Friday, February 3, the federal government identified 59 ways under a comprehensive plan to achieve economic recovery and growth within the next three years for Nigeria.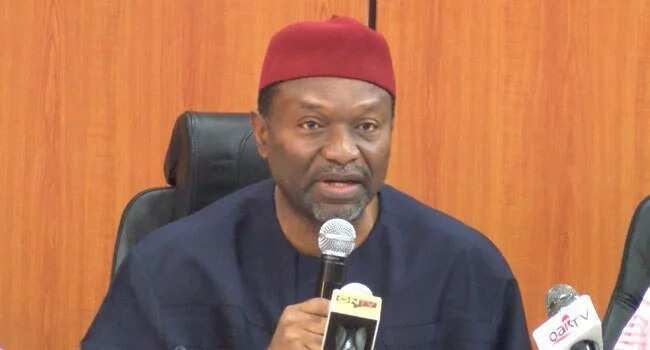 These ways are included in the proposed Nigeria Economic Recovery and Growth Plan (NERGP), 2017 – 2020 development process which is currently undergoing final touches.
According to the minister of national planning, Akpandem James, the focus of the plan would be to address current economic challenges, restore growth and reposition the economy for sustained inclusive growth.
Below are some of the ways:
1. Restoration of oil production to 2.2 million barrels per day and a target of 2.5 million barrels per day by 2020
2. Privatisation of selected asset
3. Acceleration of non-oil revenue generation
4. Drastic cut in costs
5. Alignment of monetary, trade and fiscal policies
6. Expansion of infrastructure, especially power, roads and rail
READ ALSO: FG'll complete all ongoing federal road projects in Enugu State in 18 months — Fashola
7. Revamping the four existing refineries
8. Improving the ease of doing business
9. Expanding social investment programmes
10. Delivering on agriculture
11. Accelerating implementation of National Industrial Revolution Plan using special economic zones as well as focusing on priority sectors to generate jobs, promote exports, boost growth and upgrade skills.
12. Key industrial and trade policy initiatives
13. Export expansion grant to provide export policy orientation for foreign exchange earnings
14. Diversification and global competitiveness and strengthening the presidential enabling business environment committee (PEBEC), to facilitate the improvement of the country's business environment
READ ALSO: Governor Ajimobi says Nigeria is lucky to have Buhari
15. Leveraging ICT to improve global competitiveness of the country establishment of an ICT Ecosystem
16. Expansion of broadband coverage
17. Establishment of "Innovations and Experience" centres and ICT clusters
18. Improved support to micro, small and medium enterprises to maximize their contribution to growth, employment and export earnings as well as promoting the policy of made-in-Nigeria goods.
Meanwhile, the above ways is part of the initiative that, due to the current economic recession in the country, the federal government has invited the private sector stakeholders to an economic discuss to find solutions to the problems of the country's ailing economy.
Source: Legit.ng