Why I decided to join nation-wide protest against President Buhari - Endiong John
Editor's note: The proposed nationwide protest against the President Muhammadu Buhari led government by the Nigeria First Initiative and promoted by a hip hop musician, 2face Idibia, has continued to generate controversy as many Nigerians see it as a welcome idea, especially now that the economic recession is biting harder while others believe that the protest is not only political but a means to discredit the government of the day.
In this piece, Endiong John, the Legit.ng contributor, explains why he has decided to join nation-wide protest against President Buhari regardless of what people say about it
Endiong is the founder of Responsible Citizens of Nigeria.
Yesterday, just like I said, I fasted and prayed for the quick recovery of President Buhari. As a responsible citizen of the Federal Republic of Nigeria, I continue to sincerely wish Nigeria's president and commander in chief a quick recovery.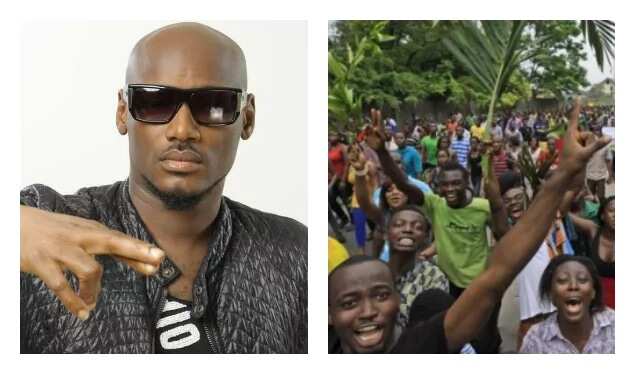 Today, after due consultation with my God, conscience and soul, I have resolved to be a pivotal part of the proposed nation-wide protest organized by Nigeria First Initiative and promoted by celebrated and respected musician, 2face Idibia. I am joining the protest and I am mobilizing five thousand Nigerians within Akwa Ibom state to join.
READ ALSO: Religious leaders making money from Southern Kaduna killings – Group
In joining this protest, I am accepting my role and responsibility as a responsible citizen of the Federal Republic of Nigeria and I really do believe that I owe this country some phenomenal duties as a citizen especially in the face of harsh economic realities.
Just like millions of Nigerians, I am hungry and I have zero tolerance for hunger. I will not continue to moan in silence, we can't afford to die in silence.
Hunger does not have a political party; ulcer respects no tribe and religion. I don't care which political party is responsible for this hardship, I care for salvation.
Daily, food prices are on the rise, so is prostitution and crime. Companies are closing just as brothels are opening. I can't keep quiet when my sisters are forced by circumstances into prostitution and my brothers learn new skills on crime.
It is not enough to report crime; we must be courageous enough to report the circumstance in which crime occurs. Most thieves steal because our politicians have stolen their entitlements as citizens and as members of the country's workforce. This must stop.
No government has the moral right to prosecute crime when it is not paying salaries, leave grants, pension and gratuities. No police force has the right to stop lives when it can't stop the daily evil actions of political criminals that threaten the livelihood of common criminals. Nigerians are hungry and there must be someone or a group of people responsible for it.
Whoever makes it impossible for Nigerians not to afford kerosene, thereby returning to the Stone- age method of cooking with firewood, we will say no to them.
DOWNLOAD: Legit.ng current affairs app for android to get the latest news
Whoever makes Nigerian students to fail their exams and impoverish their minds because candle is no longer affordable nor can they afford to burn midnight oil, we shall ask them for explanation.
Whoever drives our young girls into prostitution because their earnings wouldn't buy sanitary pads, food and clothes, we will resist them. This is spitting to our faces, this is a handshake below the elbow and we must arise, unite and reply.
How is it that petrol is unaffordable for generators yet light is seen only on the week that the power distribution company distributes outrageous bills for the light we don't have? Gas is not affordable, kerosene is now a luxury, and candles are scarce.
How long shall we continue like this? Shall I remain sheepishly silent when President Buhari's economic policies are hooking me in the neck? I won't take this no more.
On the 5th of February, 2017, except I am dead,I will lead a battalion, an army of fearless concerned and affected Nigerians to cry, weep, wail, speak and protest in the streets of Nigeria. We will lead the media to Itam market, Urua Akpan - andem and other markets so that they can beam and highlight the prices of commodities for the awareness of the insensitive and ignorant ruling class.
Our message will be simple: fix the economy or resign. Keep the promises or resign. Pay salaries or resign. Stop tribalism, religious bigotry or resign. Fix electricity or resign. Normalize the value of the naira or resign. Support the farmers or resign. Support small scale businesses or resign. Equip our hospitals or resign.
Improve our schools or resign. Prosecute blood - thirsty herdsmen or resign. Fight corruption or resign. End insurgency or resign. Respect the judiciary or resign. Free political prisoners or resign. Free the press or resign. Fulfil the campaign promises or resign.
Stop religious persecution or resign. Strengthen the banks to give loans or resign. Sack unqualified ministers or resign. Sanction corrupt cabinet members or resign. Lead Nigeria or resign.
Like I said, no power, natural or supernatural will stop this protest. While I commend the great, patriotic, responsible, intelligent, fearless, erudite, dutiful, conscious, passionate, noble, celebrated and respected Nigerians like Arch Ezekiel Nyaketok, Innocent Idibia (2face) and Inibehe Effiong, I call on all Nigerians to seize this chance and be heard.
I am currently working on all logistics and procedures required for this exercise and everything being equal, we will take off at Ibom plaza on that day by 8am.Those coming with me will be moving at the instance of the NGO called Responsible Citizens of Nigeria. We need your support, and above all, we need your prayers.
We shall not surrender to the forces of evil. We act knowing fully well that evil thrives when good people do nothing.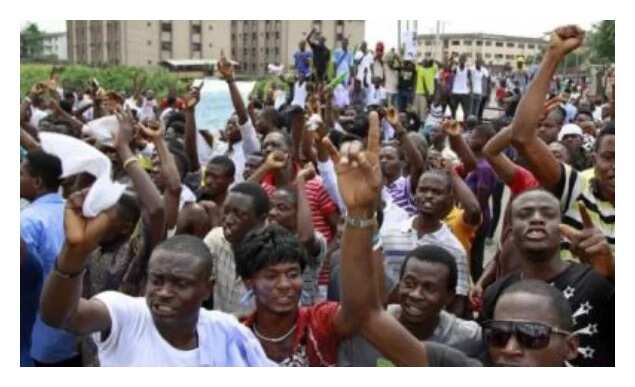 To those who would allow political, religious, ethnic sentiments to becloud your sense of judgment, I fear for you. This move is for our country and we must arise, unite and reply. If you show indifference, I cannot but remind you of the truth that the hottest part of hell is reserved for those who maintain neutrality in the face of moral and social injustice.
READ ALSO: Opinion: SSS vs Apostle Suleiman: Let the truth be told
As for me and my friends, we shall adhere to the admonition of the immortal Gani Fawehnmi to stand up for what is right even if we're standing alone. God forbid that I should stand alone on this. Contact me for more information if you're coming.
The views expressed in this article are the author's own and do not necessarily represent the editorial policy of Legit.ng.
Your own opinion articles are welcome at info@naij.com — drop an email telling us what you want to write about and why. More details in Legit.ng's step-by-step guide for guest contributors.
We're ready to trade your news for our money: submit news and photo reports from your area using our Citizen Journalism App.
Contact us if you have any feedback, suggestions, complaints or compliments. We are also available on Facebook and Twitter. Subscribe to Legit.ng Opinion page!
More details in Legit.ng's step-by-step guide for guest contributors.
Source: Legit