I gave birth to my son, i did not give birth to his lifestyle - Boko Haram member's mother speaks
The mother of a Boko Haram member has spoken on her experiences and how she currently feels about the actions of her son.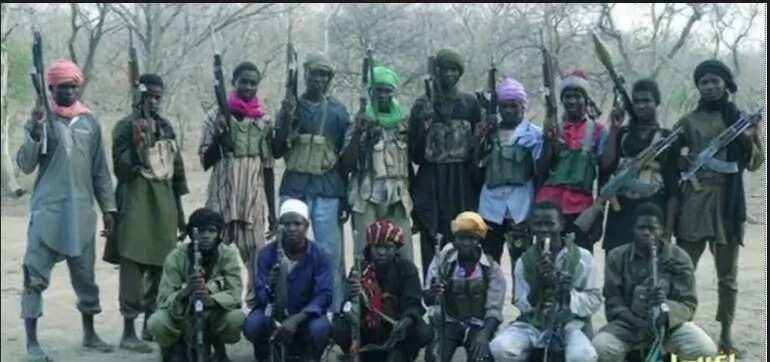 Her name is Falta and she is a grandmother. Her son joined the Boko Haram sect with three wives and children.
These days, Falta is worried about her son, Mamman Nur, who is believed to be one of Boko Haram's leading commanders.
According to news reports, Nur was the suspected mastermind behind a bomb on U.N. headquarters in the capital Abuja in August 2011 that led to the deaths of 23 people.
A $160,000 bounty has been offered for information leading to his capture by the Nigerian army. When she speaks of her experiences, Falta describes herself as an "old woman."
In this interview with Reuters, she explains that her son insisted that his entire family move to the Sambisa for their safety following clashes between Boko Haram and the army in their hometown of Banki.
Because there was no one to look after her, Falta said she had no choice but to go with her son and his family to Sambisa forest.
READ ALSO: Boko Haram leader Shekau reportedly captured in Borno
She says: "He is my only remaining child … his father died when he was a child."
She explains that life in Sambisa was quite comfortable. Vans arrived regularly with food and clothes, a hospital staffed with doctors and nurses tended to the ill, and Falta had her own room in a house she shared with her son and his wives.
"I was happy to have my grandchildren around me," she said.
Life went on like that for four years, before she and her son's wives were captured by the Nigerian military in a 2015 raid on the Sambisa forest.
READ ALSO: Boko Haram invade military camp in Borno, 3 soldiers feared dead
Falta says she repeatedly tried to talk her son out of joining Boko Haram.
"But he did not listen to me. I gave birth to him, but I did not give birth to his lifestyle.
"After he moved to the Sambisa, I decided it was no longer any use talking … I could see he was already deeply involved."
Falta is currently in a government safe house and while the government is ready to release her, she has no where to go.
She is worried about her child, whom she has not heard from.
"Anybody who has a child will know exactly how I feel, I don't know if he is dead or alive."
Watch a video of a mother whose daughter was abducted by Boko Haram:
Source: Legit.ng