The Sen. Ahmed Makarfi-led Peoples Democratic Party (PDP) has expressed confidence in the ability of Gov. Ayodele Fayose of Ekiti to lead the PDP Governors' Forum.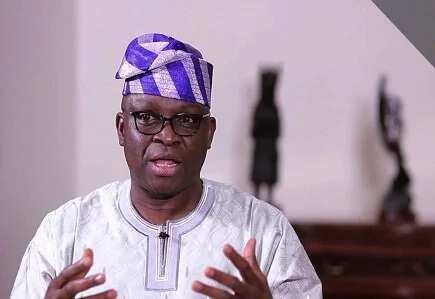 Mr Dayo Adeyeye, the PDP National Publicity Secretary serving on the Caretaker Committee said in a statement issued on Saturday in Abuja.
Adeyeye said the party believed that the Ekiti state governor would perform on his new assignment with responsibility and candour.
READ ALSO: Pastors against retirement age are money Launderers - Tunde Bakare
"He has come on board at a crucial time in the life of our party. We have confidence in his uncommon courage to pull together his colleagues to work more in the interest of the party, its membership and democracy in general.
"We are optimistic that he will bring to bear his wealth of experience as he takes up this onerous task.
"The party appreciates Fayose's doggedness and perspectives on national issues as he amplifies the voice of opposition by holding the government in power to be more accountable to the people,'' Adeyeye said.
According to him, the public is looking forward to a more vibrant and constructive opposition by PDP,'' he said.
Also, the Ekiti PDP NASS caucus hails Fayose election stating that it's new dawn for PDP
In a statement made available to Newsmen in Abuja at the weekend by the Senator representing Ekiti South in the Senate, Senator Biodun Olujimi, the forum declared that it received "the news of the election of Governor Fayose as the new Chairman of our great party's Governors" forum with great joy".
According to Senator Olujimi,a one time Deputy Governor of the state "Governor Fayose to us, is a goal getter and we know he will go to places to carry his colleagues governors along in bringing hope to our great party
"We salute Governor Fayose on his new assignment aimed at rebuilding and re branding the party ahead of the 2019 general elections
" We also commend his colleagues for deeming it fit to push him forward for the enormous task of making PDP to regain its lost glory
READ ALSO: Biafra: South East senators, IPOB spit fire over killing of pro-Biafrans in Port Harcourt
"To us in the National Assembly, we will always stand by him and pray for him in the new task before him which we have no doubt he will pursue to a logical conclusion
" To us in the caucus, it is a new dawn in PDP with the emergence of Governor Fayose as the Chairman of the Forum".
Gov Fayose was last week Thursday elected the Chairman of the Forum following the expiration of the tenure of his Ondo State counterpart, Dr Olusegun Mimiko.
Source: Legit.ng