Participants of the popular Ponzi scheme MMM Nigeria can now smile a little as the scheme has started matching orders.
Stanley Oz wrote on the group's Facebok page: "Hello Nigerians, thanks for your patience, am glad to announce to you that MMM is matching orders now, all you do is make sure you check your PO and honor your order when it comes, am telling you this because 10 of my downline have received orders and honored this afternoon, it will get to your turn soon. It's not a must to PH if you do not have money to redeem your PH and do not PH because you are expecting GH, please let's make our community healthy."
READ ALSO: Angry MMM participant gives Sergey Mavrodi 2 weeks ultimatum to payback money
Also on Twitter, the group tweeted that people are being matched.
Another evidence.
Some are of the opinion that it is not about being matched.
Mztar Oluwatimilehin Timothy wrote: "It's not about been matched to get help a anymore for now, it's about participants trusting the system and willing to really provide help!"
Meanwhile, the scheme issued new guidelines on its blog on Wednesday, January 18. The guidelines are:
1. As a necessary measure, we decided to set limit to withdrawal this week thus the N31000 maximum withdrawal on your PO.
2. We are still committed to prioritise paying smaller amounts first and gradually increase the amount to higher ones.
READ ALSO: It is not working! MMM members lament
3. The system does the calculations and knows how to calculate everyone's mavros.
4. Between Friday that we opened and today, hundreds of thousands of GH orders have been matched.
5. More and more GH orders will be matched as time goes on. If you see error notification when trying to GH, just keep trying.
6. PH to GH is still a suggestion to be tabled before Sergey Mavrodi for consideration. Disregard any info suggesting that you must PH to GH till further announcement in your PO.
7. Freezing of bonuses for now is another suggestion to be tabled before Sergey Mavrodi for his consideration. Which means if approved, you will only be able to GH your personal contributions for now until the system recovers and stabilizes.
READ ALSO: MMM participant reveals why it is failing
8. Another suggestion for consideration is whether Mavro growth should stop on the 30th day or continue till you GH your confirmed PH.
9. How early the system recovers depend on our positivity. If we work to make it recover, it will recover in a very short time. Don't spread panic.
10. Let's do more promo tasks to create further awareness that MMM Nigeria is open, working and paying.
11. We will keep you informed of any updates as soon as possible.
Despite the scheme's plea for members to be patient and assurance that they will be paid, they still cannot keep calm and are still complaining about not being paid.
Some are of the opinion that MMM is gone and the hashtag #MMMGone has been trending.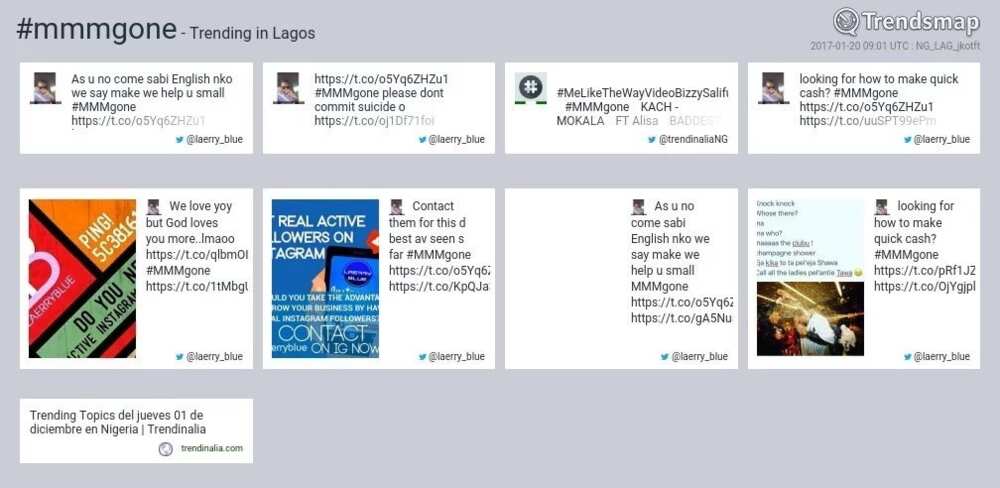 So just keep calm and be patient, it will get to you. You know it is turn by turn.