8 facts about Gambia's new president-elect, Adama Barrow
Little is known about Gambia's President elect, Adama Barrow who has never held any political appointment before. Below, we try to demystify the man about to rule Gambia.
On December 1, 2016, Gambia witnessed a presidential election that saw to the defeat of its incumbent president, Yahya Jammeh. The man who defeated Jammeh in the 2016 election to become Gambia's President-elect is Adama Barrow.
Without any previous political appointment, little is known about the 51-year old man soon to be sworn in as Gambia's president.
Below, are eight facts about Gambia's President-elect, Adama Barrow:
1. Ethnicity
Adama Barrow associated with multiple tribes. His mother is a member of the Fula ethnic group while his father is from Mandika ethnic group. Barrow however associates more with his mother's tribe, Fula. He grew up speaking the Fula language.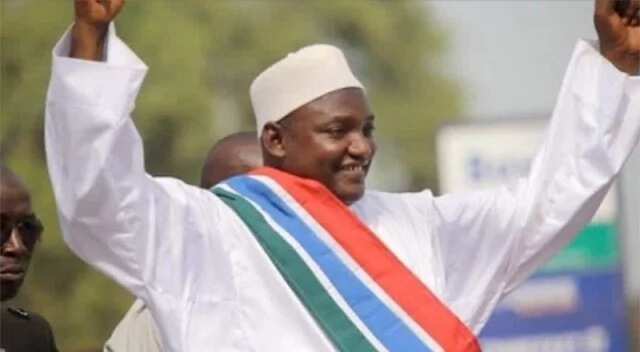 2. Religion
Barrow is a devotee of Sunni Islam. He often invokes the name of Allah in his speeches. He has also referred to himself on several occasions as a very religious person.
3. Football
Barrow is an ardent lover of football. He is a devoted supporter of Arsenal football club. He talks about his love for football and his support for Arsenal a lot of times.
4. Education
He first attended the local Koba Kunda primary school and then Crab Island secondary school in Banjul, Gambia before receiving a scholarship for Muslim High School. After secondary school he worked as a sales manager for a while. He has a degree in real estate from a British university.
5. Marital life and family
Barrow is married to two women. Both Barrow's wives are from the Fula ethnic group. He has four children. His fifth son, died less than a week to his inauguration after being bitten by a dog.
6. Migration
He migrated to London in the early 2000. When he was in London, he worked as a security guard at Argos catalog store for several years while financing his university education.
7. Business
Barrow is the CEO of a real estate company called Majum Real Estate in Gambia.
8. Exile
Barrow is probably on exile at the moment. Because of Gambia's Yahya Jammeh's refusal to leave power, Barrow's inauguration will be held in Senegal Today, January 19. It is not sure yet if Barrow will return to Gambia to face Jammeh.
Source: Legit.ng