- Ohaneze Ndigbo has said it will throw its weight behind the call for the unconditional release of the leader of the Indigenous People of Biafra
- The group said it will ensure that peace reigns in the South-East region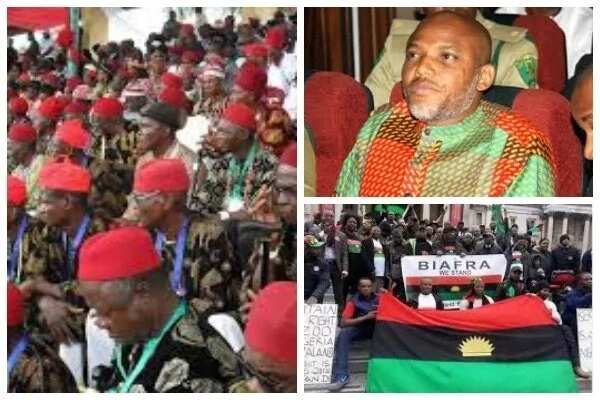 The leadership of Ohaneze Ndigbo has promised to throw its weight behind the unconditional release of the leader of the Indigenous People of Biafra (IPOB) Nnamdi Kanu.
Ohaneze Ndigbo also promised to bridge the gap between the IPOB and the Movement for the Actualization of the Sovereign State of Biafran (MASSOB).
READ ALSO: IPOB invites DSS, police to join its Trump solidarity rally (SEE EVIDENCE)
Speaking with Vanguard, the new leader of Ohaneze Ndigbo Damian Okeke said the group will ensure that peace reigns in the South-East region.
Okeke said that the agitation for Biafra is for equity, justice and fairness.
He also insisted that the struggle for the freedom of Biafra will not be done violently.
He further assured to establish a link between similar bodies in the South-East to restore the dignity of the Igbo people in Nigeria and in diaspora.
READ ALSO: To spite Uwazuruike, IPOB lists schools Nnamdi Kanu attended
"We are no longer prepared to lose any life in the name of the struggle. Ohanaeze Ndigbo will, among other things, reach out to law enforcement agencies and minimize conflicts between them and the people, especially with regard to extortion at checkpoints," Okeke said.
"We also intend to empanel a legal team of volunteers to take care of injustices against Igbo and will also assemble medical experts to take care of emergency situations," he said.