- 3, 920 persons have lost their lives in the bloody crises between Agatu farmers and Fulani herdsmen in Agatu local government area of Benue state between 2013 and 2017
- The sole administrator of Agatu local government, Mr Mike Inalegwu also said property, farmlands and economic trees worth several billions of naira were lost during the period under review
No fewer than 3,920 persons lost their lives in the bloody crises between Agatu farmers and Fulani herdsmen in Agatu local government area of Benue state between 2013 and 2017.
Also, property, farmlands and economic trees worth several billions of naira were lost during the period under review.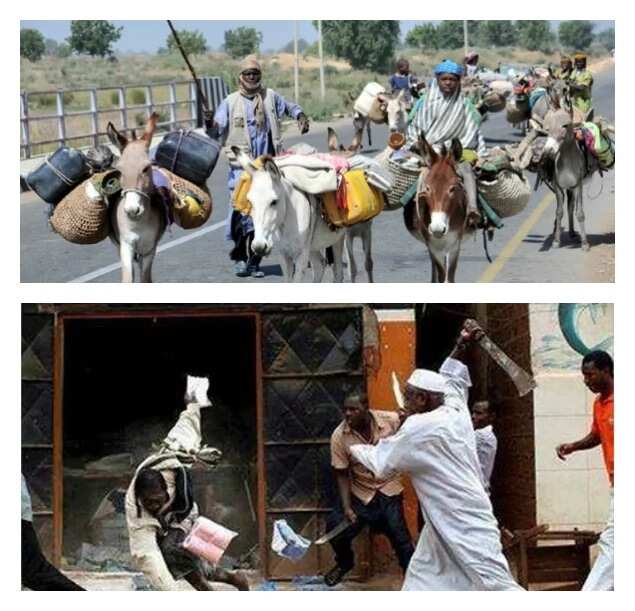 The Punch reports that sole administrator of Agatu local government, Mr. Mike Inalegwu, made this known on Monday in Makurdi, shortly after signing a peace agreement on behalf of the people of the area and the leaders of Fulani herdsmen from Nasarawa State.
Inalegwu when asked to give the actual figure of lives lost so far, he said, "With the available data in our possession, Agatu communities have lost 3,920 lives between 2013 and 2017."
He explained that despite the number of casualties, Agatu people were willing and prepares to cohabit with the Fulani in an atmosphere of peace and mutual trust.
Giving an insight into some of the provisions of the agreement, the council boss said that unarmed herdsmen from Nasarawa state would be allowed entry into Adapati Island in Agatu to graze their cows.
He, however, said such herdsmen would not be allowed to take permanent residence in the area.
Inalegwu added: "It also provides that no herdsman is allowed to graze beyond the Island while they would be held accountable for destruction done to any farmland or farm produce within or in any nearby Island other than Adapati.
"Moreover, herdsmen would not be allowed to cross to Agatu hinterland until normalcy is restored and by extension neither the Agatu nor the herdsmen will be allowed to carry arms and dangerous weapons to the area."
The sole administrator, who added that the agreement could be withdrawn in the event of a breach, assured the people that military personnel would constantly be on ground to monitor its implementation and when violated the military would occupy the area.
Meanwhile, the Benue state deputy governor, Benson Abounu, has condemned the killing of 10 members of the Civilian joint Taskforce in Katsina-Ala local government area of the state by unknown gunmen.