Family Homes Fund launches affordable housing project
The Ministry of Finance has partnered with public and private sector organization to introduce the Family Homes Fund program to increase access to finance for housing in Nigeria.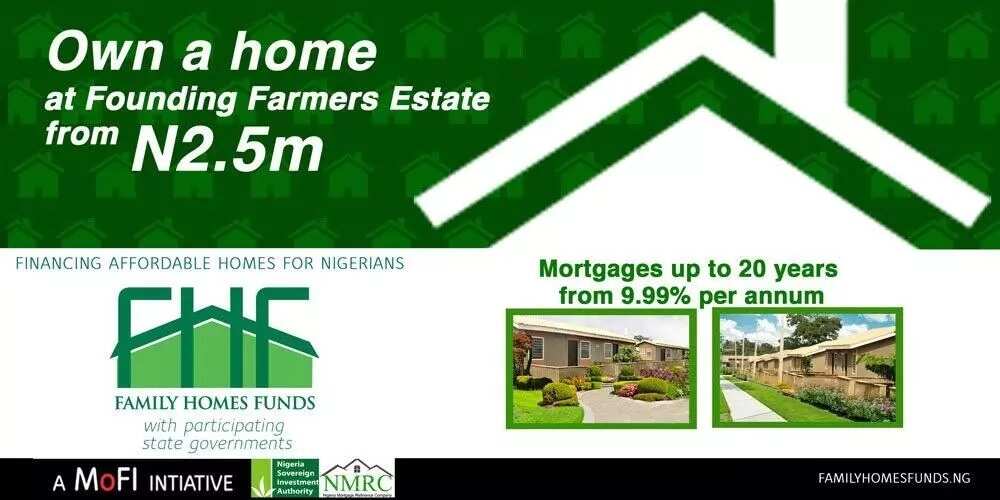 The Family Homes Fund (FHF or "the Fund") program is private sector driven and a financing solution to Nigeria's housing challenges, notably the 17 million deficit in housing provision for households across the country.
As a Public Private Partnership (PPP) initiative, it will create a blended pool of long term funds which will be used to provide long term, low interest mortgages to qualifying home buyers as well as long term, low interest rate loans to property developers. Affordable housing will be delivered in a 'ready to occupy' condition, with essential services such as water and power already connected. The first houses will go on sale in Nasarawa by April 2017 but so far nine states including the F.C.T. have also allocated land for housing provision through the FHF program. States are Ogun, Delta, Anambra, Kano, Kaduna, Gombe, Niger and Rivers.
Affordable housing describes housing units with total housing costs that are considered "affordable" to a group of people within a specified income range. In this case the Family Homes Fund houses are targeted to low and middle income earners with house sale prices from 2.5 million to 18 million. A commonly accepted guideline for housing affordability is housing cost that does not exceed 30 - 35% of a household's gross income. This housing cost includes taxes and insurance for owners as well as any other related costs. Based on this, the FHF program is structured in a way that allows a household with monthly income of ₦80,000 pay a monthly mortgage of ₦24,000 over a 20 year period for a ₦2.5 million home. Interest rates for mortgages start at only 9.99% compared to the average of 23% offered by financial institutions in Nigeria.
Also, families can move in as soon as they approved, so they are making these payments while they are already living in their own home through the program. In this case, "affordable housing" must not be confused with "public housing". Though the government is involved in and regulates the program, housing is actually provided at market rates by private developers and the Fund will receive a great deal of private investment. The developers will also have access to subsidies in the form of reduced interest rates, savings from central procurement of goods and services for the program and access to land allocated by the state government. They will also benefit from the knowledge, expertise and support of government agencies such as the Nigerian Mortgage Refinance Company and the Nigerian Sovereign Investment Authority (NSIA)
This program will also encourage the development of more primary mortgage institutions across the country and in addition, these institutions will become instrumental in building a stronger mortgage culture in the country. Access to mortgages is the most important factor in home ownership and this is something that has been neglected in Nigeria thus far, leading to home ownership rates that are lower than even neighbouring developing countries in Africa. This goal of the scheme will be achieved through workshops/exhibitions to sensitize these institutions as well as the general public on the best way to provide and gain access to mortgage finance for housing.
For more information on the program, visit http://familyhomesfunds.ng/
[Sponsored]
Source: Legit.ng