- More revelations have continued to emerge of how political parties and their candidates flouted the electoral law in the Edo and Ondo governorship elections
- In both elections, the candidates of the All Progressives Congress, Godwin Obaseki and Oluwarotimi Akeredolu, won
While many reeled under Nigeria's harsh economic situation, the All Progressives Congress (APC) and the Peoples Democratic Party (PDP) spent over N3.07 billion on the governorship election in Edo and Ondo, a report has revealed.
Candidates of the APC, Godwin Obaseki and Oluwarotimi Akeredolu, were declared winners of the elections in Edo and Ondo respectively.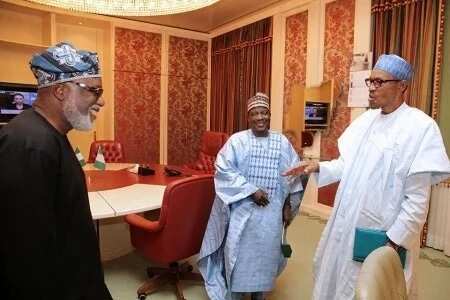 The Centre for Social Justice (CSJ) reportedly revealed this in Abuja with a breakdown that showed that the candidates allegedly flouted the electoral law for spending beyond the approved limit.
According to the report, while the APC spent N1.07 billion in the campaigns in Edo state, the PDP spent N614.88 million against section 91(3) of the Electoral Act 2010 (as amended) which sets the limit of campaign expenses to be incurred by a candidate in a governorship election at N200 million.
READ ALSO: Mimiko, Jegede stopped PDP from challenging Akeredolu's victory
Daily Trust reports that an analysis of the Edo election cost the APC N197.92 million for campaign rallies, N14.32 million for billboards, N679.80 million for electronic media publicity, N38.46 million for electronic media advert, N130.50 million for vote buying, N2.94 million for print media expenses and N3 million for office and operational expenses.
The PDP, on the other hand, spent N103.68 million on campaign rallies, N9.84 million on bill boards, N399 million on electronic media publicity, N51.78 million on electronic media advert, N47 million on vote buying, N1.57 million on print media expenses and N2 million on office and operational expenses.
Concerning the Ondo governorship election, Rotimi Akeredolu reportedly spent a total of N981.32 million while Eyitayo Jegede of the PDP allegedly spent a total of N409.24 million.
READ ALSO: Amosun has exposed how APC bought votes in Ondo, his senatorial ambition - PDP
According to the report, Akeredolu spent N97.93 on campaigns, mobilisation and rallies while Jegede spent N97.75 million on the same purpose.
None of those candidates or their political parties had reacted at the time of this report.
Source: Legit.ng