- A Dubai-based airline, Emirates, on Monday, January 2, cancelled its flights from Muscat, Oman, to the UAE after a snake was spotted in a plane
- It has been confirmed that no passengers were aboard the aircraft when the reptile was spotted
-The carrier later confirmed the serpent was eventually captured and the plane has been returned to service
A hungry snake was spotted on a plane of a Dubai-based airline, Emirates on Monday, January 2, 2017.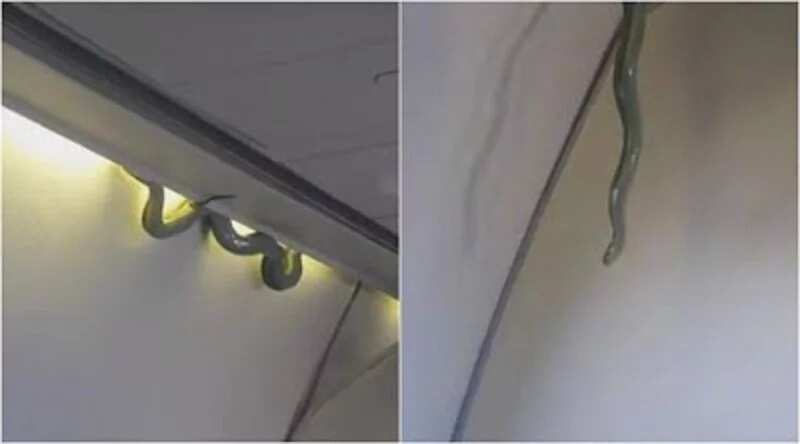 It was said that a flight from Muscat, Oman, to the UAE was cancelled after the snake was spotted slithering in the cargo hold.
The Punch reports that the no passengers were aboard the aircraft when the reptile was spotted.
READ ALSO: Senate to probe Emirates Airlines for employing 10 Nigerians
According to the airline: "Emirates can confirm that flight EK0863 from Muscat to Dubai on January 8, 2017 was cancelled due to a detection of a snake in the cargo hold prior to passengers boarding.
"Engineering and cleaning teams are working to clear the aircraft to re-enter service. We apologise for the inconvenience caused," the airline said.
The carrier later confirmed the serpent was eventually captured and the plane has been returned to service.
The airline has however said it currently has over 60 Nigerians as employees contrary to the recent news that it employs only 10 Nigerians leading to big trouble with the senate.
''Emirates employs more than 130 Nigerian nationals across the Emirates group, of which over 60 are employed in Nigeria and not 10 as reported in some local media.
READ ALSO: Protests as Turkish Airlines suspends Lagos–Istanbul flight
"Emirates' operation also supports many more jobs in Nigeria's aviation services supply chain such as in ground handling and catering, and brings broader benefits to the Nigerian economy by supporting tourism and trade.
"The airline prides itself on its diversity and employs workers from more than 170 countries around the world and connects people from all backgrounds across our international network.
''We welcome applications from suitably qualified and experienced candidates for available vacancies from all nationalities, including Nigerian nationals,'' airline said.
Meanwhile, the Nigerian Civil Aviation Authority (NCAA) recently intervened in the Arik Air crisis and strike commenced by the airlines labour unions over the unpaid salaries and illegal deductions.
As a result of the intervention, Arik Air representatives on Friday, December 23, 2016, promised that the company would pay all salary arrears owed to its workers.
Source: Legit.ng