Senate sets up a committee to probe southern Kaduna Killings
- The Nigerian Senate has condemned the ongoing killings in the southern area of Kaduna
- The Senate set up a committee to investigate the killings
- The Senate is yet to name members of the committee
The National Assembly on Tuesday, January 10, condemned the killings in southern Kaduna, where no fewer than 808 persons were reportedly killed in 53 villages; 57 people injured, farm produce worth about N5.5 billion destroyed and 1,422 houses and 16 churches allegedly razed by herdsmen.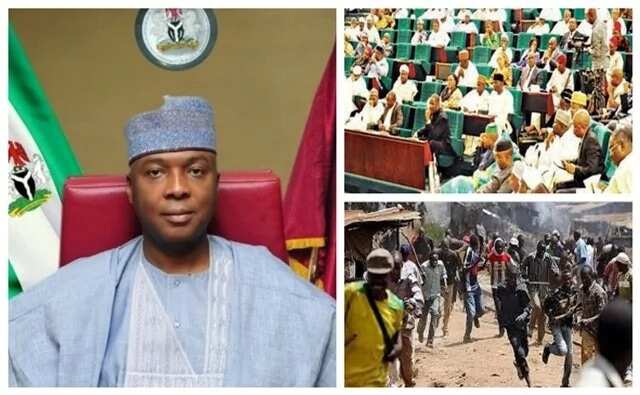 READ ALSO: Mimiko, Jegede stopped PDP from challenging Akeredolu's victory
The Senate resolved to set up a committee that would carry out a holistic investigation into the killings, just as the upper chamber of the National House of Assembly bemoaned that since 2011, various communities in southern Kaduna have been consistently attacked by herdsmen.
This came as Speaker of the House of Representatives, Mr Yakubu Dogara, said there was urgent need to crush Boko Haram as the spate of killings across Nigeria is fast becoming unbearable.
Dogara said: "Many developments in the polity require legislative and executive responses.
"An enduring solution can only be attained if all of us—northerners, southerners, Christians, Muslims, politicians, the apolitical, traditional rulers and religious leaders— accept the fact that we are responsible and rise to confront and rid our communities of these evils."
Though it was yet to announce membership of the committee, the resolutions of the Senate on the ongoing killings were sequel to a motion sponsored by Senator Danjuma La'ah (PDP, Kaduna south).
In his presentation, Senator La'ah said: "The Senate notes that since 2011, various communities in Southern Kaduna senatorial district of Kaduna state have been consistently attacked by herdsmen, resulting in deaths, injuries, loss of property and displacement of the communities."
According to him, since December 23, 2016, communities of Ambam, Gaska, Dangoma, Tsonje, Pasankori, Gidan Waya and Farin Gada of Iama'a and Kaura councils have been under attack by the herdsmen.
While presenting the statistic, La'ah said: "In southern Kaduna, 808 persons were killed in 53 villages across the four councils, while 57 people were injured, farm produce estimated at N5.5 billion destroyed and 1,422 houses and 16 churches burnt.
"In the last one year, we have witnessed a harvest of killings by these marauding herdsmen with several cases of massacre in Agatu, Benue tate; Uzo Uwani, Enugu state, with several attacks in Taraba, Delta and Edo states, to mention a few."
Following a recommendation by the Deputy President of the Senate, Senator Ike Ekweremadu, that the motion should not be debated so as to avoid bad blood, additional contributions were not accommodated.
READ ALSO: Nigerian economy to grow by 1% in 2017 - World Bank
In his remarks, Senate President, Dr Bukola Saraki, said: "We condemn in totality the depravity being exhibited on the streets of Kafanchan.
"This Senate will not pay lip service to it, neither will it sit idly by and watch innocent Nigerians being killed on the basis of their religion, ethnic group or political persuasion."
Meanwhile, Taraba state governor, Architect Darius Ishaku has urged Christians across the country to rise up and defend themselves.
The statement was made during a thanksgiving service organised by the Christians Association of Nigeria (CAN) in Taraba state to celebrate New Year and to pray for victims of southern Kaduna massacre and other victims of terrorism across the country.
The governor said the deliberate and systematic massacre of Christians in southern Kaduna, the North-east and other parts of the country by terrorists over the years has called for actions on the part of the people.
Source: Legit Newspaper