ENDTIME! Terrifying giant 'winged demon' spotted recently (photo)
- A photo purporting to show a giant winged 'demon' in Arizona has become an online sensation
- Some are convinced it is a demon, others assume it is an angel and some individual thinks it is a palm tree
- The image has been viewed almost 100,000 times
A creepy picture which purportedly shows a giant winged 'demon' has gone viral.
The picture posted to Facebook by Arizona resident Richard Christianson shows a figure which is shrouded in darkness with wings and spikes on its head and it has been viewed almost 100,000 times.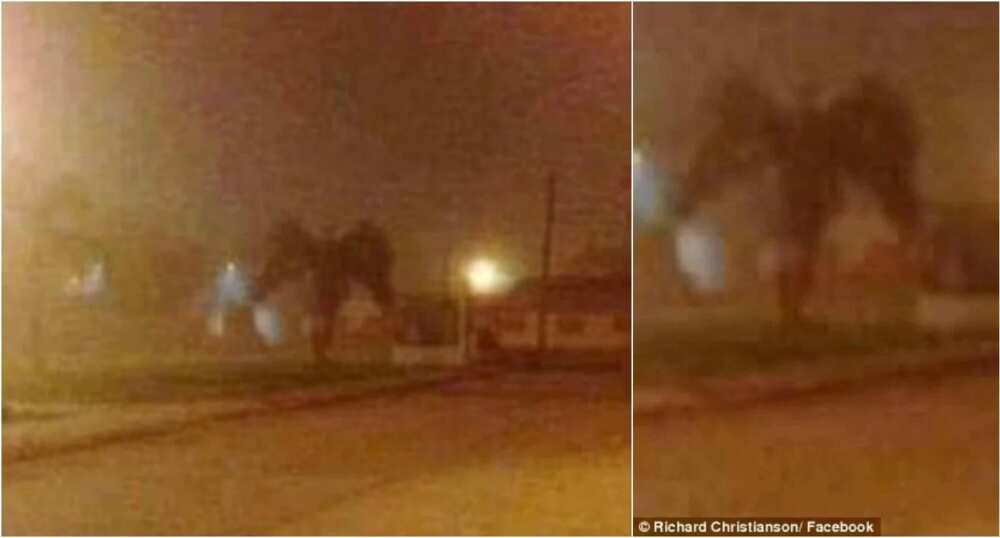 The scene where the photograph was taken appears to be shrouded in fog with streetlights bathing the area in a yellowish haze.
Christianson posted the photos with the caption: "What the hell do you see in this picture for reals ??? Anybody."
READ ALSO: Endtime! Fake or true miracles, disciples or demons?
Some are saying the image is a demon and it could be signs of the endtime.
One Facebook user wrote: "Looks like a frontline demon!! Where this at?"
Another wrote: "But with the EVIL days we live in now , what if it is a demon wreaking evil deeds all around us? Whether you want to believe it or not, these are the END TIMES."
"So true, we are in end times. Any evilness can pop up," another suggested:
However, some are convinced that the 'demon' is actually a palm tree.
"Richard it's a damn palm tree and you tried making this s*** famous but it's not working," one Facebook user said.
Watch the video below:
What do you see?
Source: Legit.ng