What happened to 2016 budget? Mixed reactions trail 2017 budget
The N7.298 trillion 2017 budget presented by Presented Muhammadu Buhari to the National Assembly on Wednesday, December 14, has been greeted by mixed reactions.
The budget which is said to be a budget of recovery and growth is 20.4% increase over the 2016 estimate which was N6.07 trillion.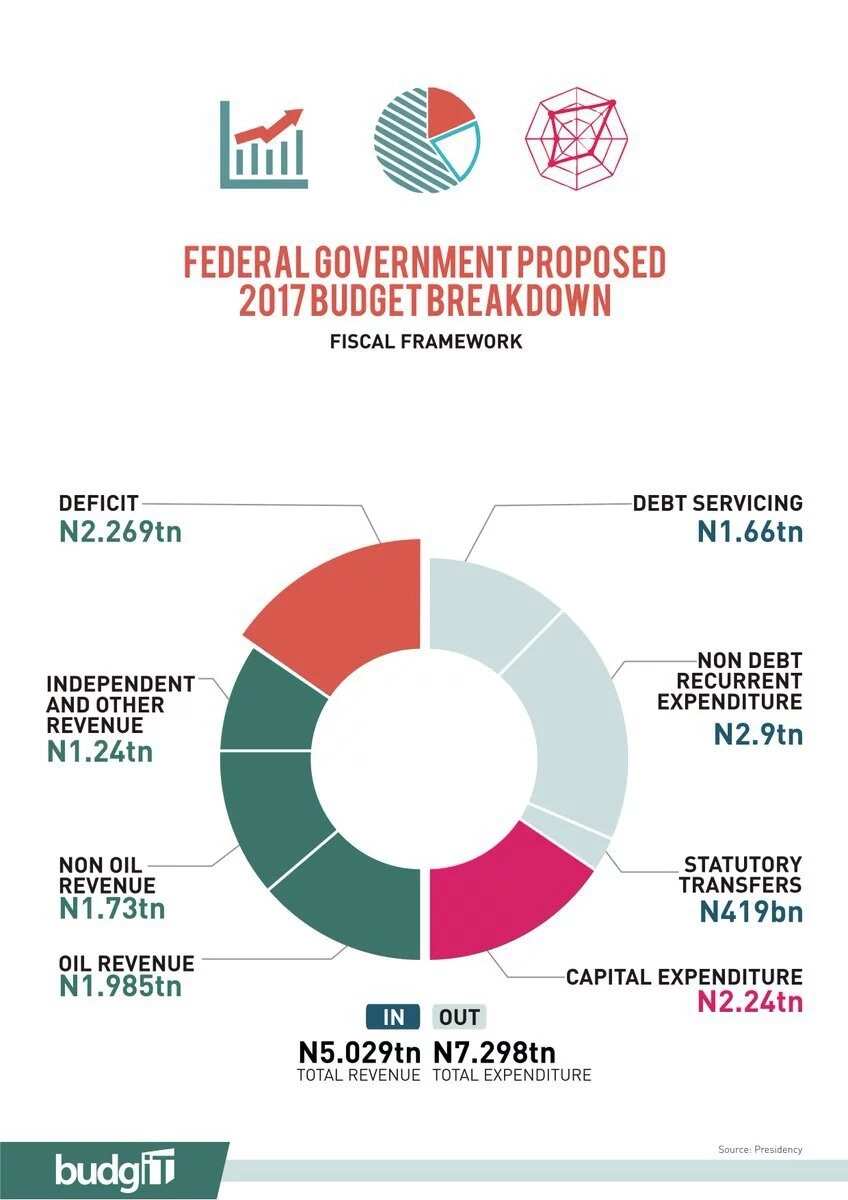 As expected, Nigerians have already started talking about the budget. Some are hoping it will not be like the controversial 2016 budget. Some others are wondering what impact the 2017 budget will have as that of 2016 had no positive effect.
Below are some of the things Nigerians have to say about the 2017 appropriation bill.
READ ALSO: Recovered loot to fund part of 2017 budget
Ogundare OluwaKayode Jr. wrote: "They are just wasting this country money on the name of budget without fulfilling anything. Our government is using budget to embezzle money. With the budget of 2016, what did they achieve it. You close all borders saying they shouldn't smuggle anything into the country without producing anything in this country,what type of govt is this for God sake. Citizen are hungry no foods, no work, no money in the economy, no electricity, no water.......this govt is clueless."
David Abumere Anetor wrote: "PMB, the man sent by God to rescue my dear country! I see light at the end of the tunnel. You may not see it, if you choose not to , the country is moving forward! Am happy the prices of food items have started to fall. I guess this is just the begining of good things to come. Men are now returning to the farm. Soon, our agro-allied industries will be revived to take in this produce for processing. Contrators are back on all federal roads.! For the first time in the history of my great country, our President and vice president are God fearing and incorruptible! If you like see backwardness and hunger. What you see is what you get! I love PMB anD Osinbajo. #Nigeria is moving forward."
Eli Kal said: "2016 was budget of hope and we all witnessed the hope now 2017 is tagged recovery. APC will come out tomorrow and deny that it was called budget of recovery when the time comes. A budget that will be powered by borrowing base on optimism for a slight rise in crude oil which will lead to the rise in prices of everything because dollar is not available is bound to fail."
READ ALSO: 6 takeaways from Buhari's speech during 2017 budget presentation
Callistus Cally Bunke Nwabuikwu wrote: "Let's all hope and pray the budget will really lead us to growth and recovery. God/Allah please help us in this country, the pains and suffering of the people is too much. It shall be well with Nigeria."
The budget sets a benchmark of N305 against the US dollar ($1) with 2.2 million barrels and a benchmark of $42.5 per barrel of oil, as against $38 in 2016
Source: Legit