- Some militants who are yet to be identified blew up an oil pipeline in Delta state on Sunday and caused great fire in the area that lasted for about five hours
- Residents say the quick intervention of firefighters was what saved their homes from being destroyed by the raging inferno that followed the explosion that destroyed the oil pipeline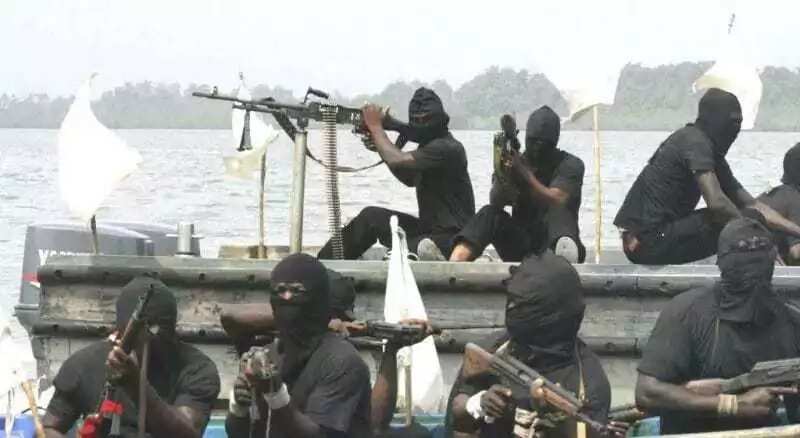 [caption id="attachment_1059099" align="alignnone" width="800"] Niger Delta militants have destroyed major oil trunk line called the Abura oil pipeline[/caption]
An unknown Niger Delta militant group have blown up an oil pipeline in Delta state on Sunday, November 27, Punch reports.
The attack on the Abura oil pipeline; a major oil trunk line operated by the Nigerian Petroleum Development Company around Osieta Avenue near Otu-Jeremi in Ughelli South local government area of the state, occurred in the early hours of Sunday.
READ ALSO: 18 vehicles burnt, 15 shops destroyed along Lagos-Ibadan expressway (Photo)
Punch reports that the trunk line was reportedly bombed by the militants causing a serious fire outbreak in the area just about a kilometre near the West Africa's biggest Otorogu Gas Plant, at Otu-Jeremi, Iwhrekan and Otor-Udu communities across Ughelli South and Udu council areas of the state.
The swift intervention of the fire service from the Otorogu Gas Plant was what prevented the raging fire from spreading to residential buildings which was just less than a kilometre from the scene of the incident.
Chairman of Ughelli South Council Area, Paul Etaga, who had earlier visited the scene of the attack along with Lt. Col. U. Abdusalam, Commander, 222 Battalion, Agbarha-Otor, Ughelli North council, confirmed the incident.
Etaga decried the attack on Sunday evening, saying several economic trees in the area were razed down by the fire outbreak.
The Ughelli South Council Chairman said, "The incident led to a fire outbreak. Meanwhile, firefighters had quenched the inferno. We appeal to our youths and militants to desist from vandalising oil facilities. It only causes more harm to us, please.
READ ALSO: Ibe Kachikwu reveals important development that will happen in 2017
"Whoever that is responsible for the attack should stop. Youths and militants should know there are better ways of agitating rather than destroying your environment. If not for the fire service that acted swiftly nearby houses would have been burnt and maybe lives would have been lost too."
As at the time of this report, no militant group has claimed responsibility for Sunday's attack on the oil facility.
Bombings of oil pipelines in the Niger Delta region have continued despite negotiations with the federal government for some months now.
Former militant commanders under the aegis of National Coalition of Niger Delta Ex-Agitators have also rejected the entire 16 point demands presented to President Muhammadu Buhari by leaders and representatives of the region led by elder statesman, Chief Edwin Kiagbodo Clarke.