Some Nigerians have berated Prophet TB Joshua of the Synagogue Church of All Nations (SCOAN) for saying his prediction on the outcome of US presidential election failed because God had a rethink of events.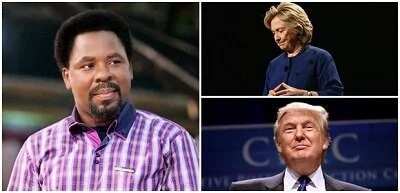 Joshua had predicted that Hillary Clinton would win the election which held on November 8, but the outcome shocked most people around the world as Donald Trump took the day.
READ ALSO: Apologise over false prophecy – Nigerians tell TB Joshua
The cleric few days after the US election results were announced said people would need the spirit of a prophet to be able to recognise one.
He also hinted that his reference to Hilary Clinton as eventual winner was reflected in her winning more popular votes than Donald Trump.
However, TB Joshua in a newly released video, has said after his prediction, Americans prayed to God and He heard their prayers. This, according to him, was why Trump won.
But Joshua's latest statement has again generated social media outrage from some Nigerians who have accused the cleric of covering up for his failed prediction.
READ ALSO: We are not of the same spiritual level, TB Joshua blasts critics
Others called on fellow Nigerians to refrain from listening to Joshua who they tagged a deceiver.
See reactions below:
From the way things are going what should we believe, TB Joshua or the Nigerians accusing him of making false prophecy?
Meanwhile, following the news of 'fake prophecies' across the country over the US Presidential election, reports suggests Prophet (Dr.) Emmanuel Omale, the founder and general overseer of the Divine Hand of God Prophetic Ministry International predicted that Donald Trump will emerge winner at the just concluded US presidential election.
In a video, which has gone viral, Prophet Omale in May 2016, reportedly predicted the that Trump will emerge president if prayers are not offered to avert the victory.
The Abuja based cleric is also known to have prophesied the victory of the former governor of Kogi state Ibrahim Idris, the emergence of James Bala Ingelari the former governor of Adamawa State, the emergence of the current Attah of Igala, Attah Michael Ameh Oboni , the victory of the All Progressive Congress (APC) in Edo state in the last election.