- Olusola Oke has described the reports of his alleged arrest as the work of detractors who are afraid of his growing profile ahead of the Ondo election on November 26
- Oke also blamed PDP for putting out the rumour because it is afraid to lose power in Ondo state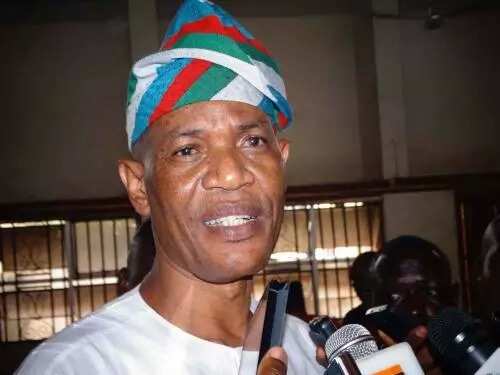 Olusola Oke, candidate of the Alliance for Democracy (AD) in the forthcoming Ondo election, has denied that he was arrested by the military men earlier today.
Leadership reports that Oke said his rumoured arrest was the work of political detractors to score cheap goals.
READ ALSO: Ondo election: Buhari, Osinbajo to lead NATIONWIDE APC rally
Oke said through his media aide Kolawole Olabisi that he had not been detained by any law enforcement or security agencies.
He blamed the Peoples Democratic Party (PDP)  and the All Progressives Congress (APC) for putting out the rumour.
Olabisi said: "As I talk to you now, Chief Olusola Oke is in Mahin in Ilaje Local Government Area of Ondo State canvassing for the support of the people of the area in the forthcoming gubernatorial election."
"Oke is a responsible citizen of Nigeria and he has been moving round the state since he launched his campaign. He left Akure this morning for Ilaje Local Government and he had met with different people there.
"By the way, why will oke be arrested when he did not commit any offence? He did not carry arms, neither did he carry ammunition. The rumour was the handiwork of his detractors whose aim was to soil the good reputation he has built over the years.
"The PDP resolved to peddle the rumour of Oke's arrest and use the social media to circulate the rumour as a result of the court of the indefinite adjournment given by the Court of Appeal in Abuja. The PDP led by Governor Olusegun Mimiko is afraid of Olusola Oke, especially with the court decision which did not favour them, hence the baseless rumour."
READ ALSO: This party WILL rule after 2019 – Guru Maharaj Ji predicts
"Oke is a free Nigerian and he will return to AKure today to meet with his co-ordinators. This is to tell you that he was not arrested by any agency of government."
Earlier in the day, there had been reports that the AD candidate was arrested by the Military for allegedly carrying arms.
Meanwhile, PDP has expressed shock at the outcome of its Appeal court case against Jimoh Ibrahim, the candidate of the Ali Modu Sheriff faction of the party.
The Appeal court panel had ruled earlier today, Friday, November 18 that it was adjourning the case indefinitely to let the Supreme Court make its own decision.