- Kenneth Okonkwo clarified that he was not in court to support Nnamdi Kanu
- He maintained that he support one Nigeria
- The popular actor said his presence in court was for another case
Kenneth Okonkwo has denied that he was in court to support Nnamdi Kanu, the director of Radio Biafra.
The Nollywood actor was spotted in his lawyer's garb in court on Tuesday, November 8 where Kanu had appeared.
READ ALSO: Kenneth Okonkwo spotted in court with Nnamdi Kanu
His appearance was hailed by Biafra supporters as a testimony of his defence and support of Nnamdi Kanu and the agitation for an independent Biafra state but the actor took to his social media page to correct the assumption.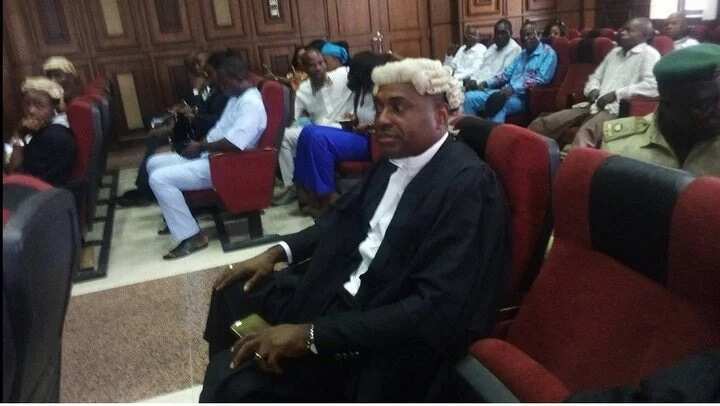 "My attention has been drawn to some write ups insinuating that I am one of the Defence Counsel of Nnamdi Kanu of the IPOB fame. I state categorically that I am not one of the Defence Counsel.
"I had a different matter at the same court where he was arraigned and we met at the Court by chance. Everybody recognized my presence and in my usual fashion, I greeted everyone."
Okonkwo insisted that the destiny of the Igbo people was in Nigeria and that differences can be resolved through dialogue.
READ ALSO: Saraki, Ekweremadu reveal what they discussed with Buhari
He said: "I believe in the unity of Nigeria and believe that the destiny of Ndigbo will be better served within a Nigeria based on equity and justice. God bless Ndigbo and God bless the Federal Republic of Nigeria.
"I believe in the peaceful resolution of the Biafran crisis through dialogue. We must recall that Dr Nnamdi Azikiwe opted for one Nigeria because he believed that the arrangement will best suit our itinerant and commercial nature."